Abstract
The surface of Saturn's haze-shrouded moon Titan has long been proposed to have oceans or lakes, on the basis of the stability of liquid methane at the surface1,2. Initial visible3 and radar4,5 imaging failed to find any evidence of an ocean, although abundant evidence was found that flowing liquids have existed on the surface5,6. Here we provide definitive evidence for the presence of lakes on the surface of Titan, obtained during the Cassini Radar flyby of Titan on 22 July 2006 (T16). The radar imaging polewards of 70° north shows more than 75 circular to irregular radar-dark patches, in a region where liquid methane and ethane are expected to be abundant and stable on the surface2,7. The radar-dark patches are interpreted as lakes on the basis of their very low radar reflectivity and morphological similarities to lakes, including associated channels and location in topographic depressions. Some of the lakes do not completely fill the depressions in which they lie, and apparently dry depressions are present. We interpret this to indicate that lakes are present in a number of states, including partly dry and liquid-filled. These northern-hemisphere lakes constitute the strongest evidence yet that a condensable-liquid hydrological cycle is active in Titan's surface and atmosphere, in which the lakes are filled through rainfall and/or intersection with the subsurface 'liquid methane' table.
Relevant articles
Open Access articles citing this article.
Sébastien Rodriguez

,

Sandrine Vinatier

…

Robert A. West

Experimental Astronomy Open Access 11 January 2022

Ali H. Sulaiman

,

Nicholas Achilleos

…

J. Hunter Waite

Experimental Astronomy Open Access 01 December 2021

Giuseppe Mitri

,

Jason Barnes

…

Peter Wurz

Experimental Astronomy Open Access 22 July 2021
Access options
Subscribe to this journal
Receive 51 print issues and online access
$199.00 per year
only $3.90 per issue
Rent or buy this article
Prices vary by article type
from$1.95
to$39.95
Prices may be subject to local taxes which are calculated during checkout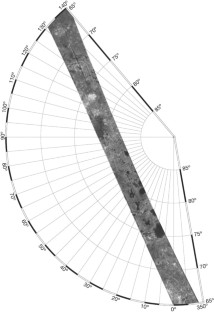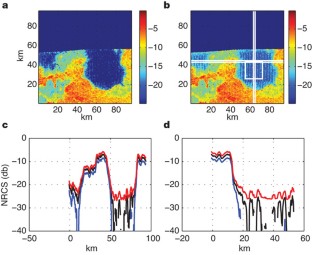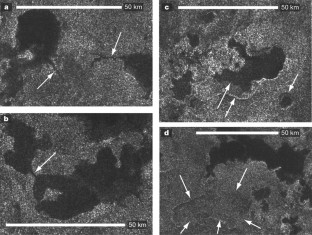 References
Lunine, J. I., Stevenson, D. J. & Yung, Y. L. Ethane ocean on Titan. Science 222, 1229–1230 (1983)

Lorenz, R. D., Kraal, E., Asphaug, E. & Thomson, R. The seas of Titan. Eos 84, 125–132 (2003)

Porco, C. C. et al. Imaging of Titan from the Cassini spacecraft. Nature 434, 159–168 (2005)

Elachi, C. et al. Cassini radar views the surface of Titan. Science 308, 970–974 (2005)

Elachi, C. et al. Titan radar mapper observations from Cassini's T3 flyby. Nature 441, 709–713 (2006)

Tomasko, M. et al. Rain, winds and haze during the Huygens probe's descent to Titan's surface. Nature 438, 765–778 (2005)

Mitri, G., Showman, A. P., Lunine, J. I. & Lorenz, R. D. Hydrocarbon lakes on Titan. Icarus (in the press).

West, R. A., Brown, M. E., Salinas, S. V., Bouchet, A. H. & Roe, H. G. No oceans on Titan from the absence of a near-Infrared specular reflection. Nature 436, 670–672 (2005)

Lorenz, R. D., Griffith, C. A., Lunine, J. I., McKay, C. P. & Renno, N. O. Convective plumes and the scarcity of Titan's clouds. Geophys. Res. Lett. 32, L01201 (2005)

Rannou, P., Montmessin, F., Hourdin, F. & Lebonnois, S. The latitudinal distribution of clouds on Titan. Science 311, 201–205 (2006)

Samuelson, R. E., Nitya, N. R. & Borysow, A. Gaseous abundances and methane supersaturation in Titan's troposphere. Planet. Space Sci. 45, 959–980 (1997)

Samuelson, R. E., May, L. A., Knuckles, M. A. & Khanna, R. J. C4N2 ice in Titan's north polar atmosphere. Planet. Space Sci. 45, 941–948 (1997)

Lorenz, R. D., Lemmon, M. T. & Smith, P. H. Seasonal evolution of Titan's dark polar hood: midsummer disappearance observed by the Hubble Space Telescope. Mon. Not. R. Astron. Soc. 369, 1683–1687 (2006)

Fulchignoni, M. et al. In situ measurements of the physical characteristics of Titan's environment. Nature 438, 785–791 (2005)

Elachi, C., Im, E., Roth, L. E. & Werner, C. L. Cassini Titan radar mapper. Proc. IEEE 79, 867–880 (1991)

Stofan, E. R. et al. Mapping of Titan: Results from the first Titan radar passes. Icarus (in the press).

Lorenz, R. D. et al. Fluvial channels on Titan: Meteorological paradigm and Cassini RADAR observations. Planet. Space Sci. (submitted).

Lopes, R. M. C. et al. Cryovolcanic features on Titan's surface as revealed by the Cassini Titan radar mapper. Icarus (in the press).

Lorenz, R. D. & Lunine, J. I. Erosion on Titan: Past and present. Icarus 122, 79–91 (1996)

Tokano, T. & Neubauer, F. M. Wind-induced seasonal angular momentum exchange at Titan's surface and its influence on Titan's length-of-day. Geophys. Res. Lett. 32, L24203 (2005)

Lorenz, R. D., Kraal, E., Eddlemon, E., Cheney, J. & Greeley, R. Sea-surface wave growth under extraterrestrial atmospheres—preliminary wind tunnel experiments with application to Mars and Titan. Icarus 175, 556–560 (2005)

Tokano, T. et al. Methane drizzle on Titan. Nature 442, 432–435 (2006)

Hueso, R. & Sánchez-Lavega, A. Methane storms on Saturn's moon Titan. Nature 442, 428–431 (2006)

Lunine, J. I. et al. Cassini radar's third and fourth looks at Titan. Icarus (submitted).

Yung, Y. L., Allen, M. A. & Pinto, J. P. Photochemistry of the atmosphere of Titan: comparison between model and observations. Astrophys. J. Suppl. Ser. 55, 465–506 (1984)

Tobie, G., Lunine, J. I. & Sotin, C. Episodic outgassing as the origin of atmospheric methane on Titan. Nature 440, 61–64 (2006)

Sotin, C. et al. Release of volatiles from a possible cryovolcano from near-infrared imaging of Titan. Nature 435, 786–789 (2005)
Acknowledgements
We gratefully acknowledge the long years of work by the entire Cassini team that allowed these data of Titan to be obtained. The Cassini Project is a joint endeavour of NASA, ESA and ASI, managed by the Jet Propulsion Laboratory, California Institute of Technology under a contract with NASA.
Ethics declarations
Competing interests
Reprints and permissions information is available at www.nature.com/reprints. The authors declare no competing financial interests.
Supplementary information
This file contains Supplementary Figure which shows northern portion of the T16 swath. This portion of the T16 swath contains the dark patches interpreted as lakes. The image swath is shown in a polar projection; for scale, one degree of latitude is about 45 km. (PDF 1942 kb)
About this article
Cite this article
Stofan, E., Elachi, C., Lunine, J. et al. The lakes of Titan. Nature 445, 61–64 (2007). https://doi.org/10.1038/nature05438
Received:

Accepted:

Issue Date:

DOI: https://doi.org/10.1038/nature05438
Comments
By submitting a comment you agree to abide by our Terms and Community Guidelines. If you find something abusive or that does not comply with our terms or guidelines please flag it as inappropriate.