Abstract
High-transition-temperature (high-Tc) superconductivity develops near antiferromagnetic phases, and it is possible that magnetic excitations contribute to the superconducting pairing mechanism. To assess the role of antiferromagnetism, it is essential to understand the doping and temperature dependence of the two-dimensional antiferromagnetic spin correlations. The phase diagram is asymmetric with respect to electron and hole doping, and for the comparatively less-studied electron-doped materials, the antiferromagnetic phase extends much further with doping1,2 and appears to overlap with the superconducting phase. The archetypal electron-doped compound Nd2-xCexCuO4±δ (NCCO) shows bulk superconductivity above x ≈ 0.13 (refs 3, 4), while evidence for antiferromagnetic order has been found up to x ≈ 0.17 (refs 2, 5, 6). Here we report inelastic magnetic neutron-scattering measurements that point to the distinct possibility that genuine long-range antiferromagnetism and superconductivity do not coexist. The data reveal a magnetic quantum critical point where superconductivity first appears, consistent with an exotic quantum phase transition between the two phases7. We also demonstrate that the pseudogap phenomenon in the electron-doped materials, which is associated with pronounced charge anomalies8,9,10,11, arises from a build-up of spin correlations, in agreement with recent theoretical proposals12,13.
Relevant articles
Open Access articles citing this article.
R. Ramazashvili

,

P. D. Grigoriev

…

M. V. Kartsovnik

npj Quantum Materials Open Access 05 February 2021

Fabio Boschini

,

Marta Zonno

…

Andrea Damascelli

npj Quantum Materials Open Access 27 January 2020

J.-J. Wen

,

H. Huang

…

J.-S. Lee

Nature Communications Open Access 22 July 2019
Access options
Subscribe to Journal
Get full journal access for 1 year
$199.00
only $3.90 per issue
All prices are NET prices.
VAT will be added later in the checkout.
Tax calculation will be finalised during checkout.
Buy article
Get time limited or full article access on ReadCube.
$32.00
All prices are NET prices.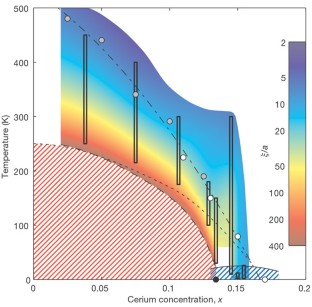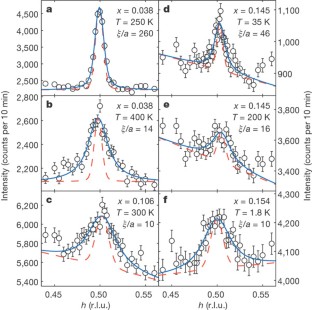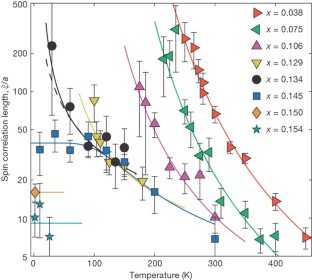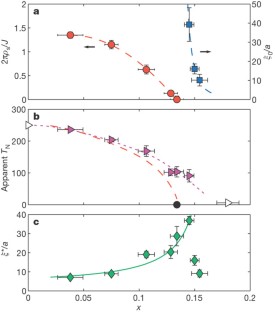 References
Keimer, B. et al. Magnetic excitations in pure, lightly doped, and weakly metallic La2CuO4 . Phys. Rev. B 46, 14034–14053 (1992)

Matsuda, M. et al. Magnetic order, spin correlations, and superconductivity in single-crystal Nd2-xCexCuO4+δ.. Phys. Rev. B 45, 12548–12554 (1992)

Takagi, H., Uchida, S. & Tokura, Y. Superconductivity produced by electron doping in CuO2-layered compounds. Phys. Rev. Lett. 62, 1197–1200 (1989)

Uefuji, T. et al. Coexistence of antiferromagnetic ordering and high-Tc superconductivity in electron-doped superconductor Nd2-xCexCuO4 . Physica C 357–360, 208–211 (2001)

Uefuji, T., Kurahashi, K., Fujita, M., Matsuda, M. & Yamada, K. Electron-doping effect on magnetic order and superconductivity in Nd2-xCexCuO4 single crystals. Physica C 378–381, 273–277 (2002)

Mang, P. K., Vajk, O. P., Arvanitaki, A., Lynn, J. W. & Greven, M. Spin correlations and magnetic order in nonsuperconducting Nd2-xCexCuO4±δ . Phys. Rev. Lett. 93, 027002 (2004)

Senthil, T., Vishwanath, A., Balents, L., Sachdev, S. & Fisher, M. P. A. Deconfined quantum critical points. Science 303, 1490–1494 (2004)

Armitage, N. P. et al. Doping dependence of an n-type cuprate superconductor investigated by angle-resolved photoemission spectroscopy. Phys. Rev. Lett. 88, 257001 (2002)

Onose, Y., Taguchi, Y., Ishizaka, K. & Tokura, Y. Charge dynamics in underdoped Nd2-xCexCuO4: Pseudogap and related phenomena. Phys. Rev. B 69, 024504 (2004)

Matsui, H. et al. Angle-resolved photoemission spectroscopy of the antiferromagnetic superconductor Nd1. 87Ce0. 13CuO4: Anisotropic spin-correlation gap, pseudogap, and the induced quasiparticle mass enhancement. Phys. Rev. Lett. 94, 047005 (2005)

Zimmers, A. et al. Infrared properties of electron-doped cuprates: Tracking normal-state gaps and quantum critical behavior in Pr2-xCexCuO4 . Europhys. Lett. 70, 225–231 (2005)

Kyung, B., Hankevych, V., Daré, A.-M. & Tremblay, A.-M. S. Pseudogap and spin fluctuations in the normal state of the electron-doped cuprates. Phys. Rev. Lett. 93, 147004 (2004)

Markiewicz, R. S. Mode-coupling model of Mott gap collapse in the cuprates: Natural phase boundary for quantum critical points. Phys. Rev. B 70, 174518 (2004)

Vajk, O. P., Mang, P. K., Greven, M., Gehring, P. M. & Lynn, J. W. Quantum impurities in the two-dimensional spin one-half Heisenberg antiferromagnet. Science 295, 1691–1695 (2002)

Yamada, K. et al. Commensurate spin dynamics in the superconducting state of an electron-doped cuprate superconductor. Phys. Rev. Lett. 90, 137004 (2003)

Motoyama, E. M. et al. Magnetic field effect on the superconducting magnetic gap of Nd1. 85Ce0. 15CuO4 . Phys. Rev. Lett. 96, 137002 (2006)

Dagan, Y. et al. Origin of the anomalous low temperature upturn in the resistivity of the electron-doped cuprate superconductors. Phys. Rev. Lett. 94, 057005 (2005)

Mang, P. K. et al. Phase decomposition and chemical inhomogeneity in Nd2-xCexCuO4±δ . Phys. Rev. B 70, 094507 (2004)

Park, T. et al. Hidden magnetism and quantum criticality in the heavy fermion superconductor CeRhIn5 . Nature 440, 65–68 (2006)

Wang, Y. et al. Dependence of upper critical field and pairing strength on doping in cuprates. Science 299, 86–89 (2003)

Blumberg, G. et al. Nonmonotonic d x 2 - y 2 superconducting order parameter in Nd2-xCexCuO4 . Phys. Rev. Lett. 88, 107002 (2002)

Matsui, H. et al. Direct observation of a nonmonotonic d x 2 - y 2 -wave superconducting gap in the electron-doped high-Tc superconductor Pr0. 89LaCe0. 11CuO4 . Phys. Rev. Lett. 95, 017003 (2005)

Aizenman, M. & Wehr, J. Rounding effects of quenched randomness on first-order phase transitions. Commun. Math. Phys. 130, 489–528 (1990)

Eisaki, H. et al. Effect of chemical inhomogeneity in bismuth-based copper oxide superconductors. Phys. Rev. B 69, 064512 (2004)
Acknowledgements
We thank N. Bontemps, S. Chakravarty, S. A. Kivelson, R. S. Markiewicz and A.-M. S. Tremblay for discussions. The work at Stanford University was supported by grants from the Department of Energy and the National Science Foundation. E.M.M. acknowledges support through the NSF Graduate Fellowship programme.
Ethics declarations
Competing interests
Reprints and permissions information is available at www.nature.com/reprints. The authors declare no competing financial interests.
About this article
Cite this article
Motoyama, E., Yu, G., Vishik, I. et al. Spin correlations in the electron-doped high-transition-temperature superconductor Nd2-xCexCuO4±δ. Nature 445, 186–189 (2007). https://doi.org/10.1038/nature05437
Received:

Accepted:

Issue Date:

DOI: https://doi.org/10.1038/nature05437
Comments
By submitting a comment you agree to abide by our Terms and Community Guidelines. If you find something abusive or that does not comply with our terms or guidelines please flag it as inappropriate.