Abstract
Rotation-powered radio pulsars are born with inferred initial rotation periods1 of order 300 ms (some as short as 20 ms) in core-collapse supernovae. In the traditional picture, this fast rotation is the result of conservation of angular momentum during the collapse of a rotating stellar core. This leads to the inevitable conclusion that pulsar spin is directly correlated with the rotation of the progenitor star2. So far, however, stellar theory has not been able to explain the distribution of pulsar spins, suggesting that the birth rotation is either too slow3 or too fast2,4. Here we report a robust instability of the stalled accretion shock in core-collapse supernovae that is able to generate a strong rotational flow in the vicinity of the accreting proto-neutron star. Sufficient angular momentum is deposited on the proto-neutron star to generate a final spin period consistent with observations, even beginning with spherically symmetrical initial conditions. This provides a new mechanism for the generation of neutron star spin and weakens, if not breaks, the assumed correlation between the rotational periods of supernova progenitor cores and pulsar spin.
Access options
Subscribe to Journal
Get full journal access for 1 year
$199.00
only $3.90 per issue
All prices are NET prices.
VAT will be added later in the checkout.
Rent or Buy article
Get time limited or full article access on ReadCube.
from$8.99
All prices are NET prices.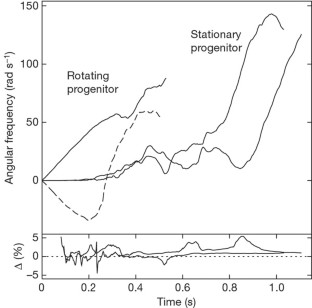 References
1

Faucher-Giguere, C.-A. & Kaspi, V. M. Birth and evolution of isolated radio pulsars. Astrophys. J. 643, 332–355 (2006)

2

Ott, C. D., Burrows, A., Thompson, T. A., Livne, E. & Walder, R. The spin periods and rotational profiles of neutron stars at birth. Astrophys. J. 164, (suppl.)130–155 (2006)

3

Spruit, H. C. & Phinney, E. S. Birth kicks as the origin of pulsar rotation. Nature 393, 139–141 (1998)

4

Heger, A., Woosley, S. E. & Spruit, H. C. Presupernova evolution of differentially rotating massive stars including magnetic fields. Astrophys. J. 626, 350–363 (2005)

5

Mezzacappa, A. Ascertaining the core collapse supernova mechanism. Annu. Rev. Nucl. Part. Sci. 55, 467–515 (2005)

6

Blondin, J. M., Mezzacappa, A. & DeMarino, C. Stability of standing accretion shocks, with an eye toward core-collapse supernovae. Astrophys. J. 584, 971–980 (2003)

7

Janka, H.-T. h. et al. Neutrino-driven supernovae: an accretion instability in a nuclear physics controlled environment. Nucl. Phys. A 758, 19–26 (2004)

8

Scheck, L., Plewa, T., Janka, H.-T. h., Kifonidis, K. & Mueller, E. Pulsar recoil by large-scale anisotropies in supernova explosions. Phys. Rev. Lett. 92, 011103 (2004)

9

Ohnishi, N., Kotake, K. & Yamada, S. Numerical analysis on standing accretion shock instability with neutrino heating in the supernova cores. Astrophys. J. 641, 1018–1028 (2006)

10

Blondin, J. M. & Mezzacappa, A. Spherical accretion shock instability in the linear regime. Astrophys. J. 642, 401–409 (2006)

11

Lattimer, J. M. & Prakash, M. Neutron star structure and the equation of state. Astrophys. J. 550, 426–442 (2001)

12

Liebendoerfer, M. et al. Probing the gravitational well: No supernova explosion in spherical symmetry with general relativistic Boltzmann neutrino transport. Phys. Rev. D 63, 103004–103017 (2001)

13

Whitham, G. B. Linear and Nonlinear Waves 289 (Wiley, New York, 1974)
Acknowledgements
This work was supported by a SciDAC grant from the US Department of Energy High Energy, Nuclear Physics, and Advanced Scientific Computing Research Programs. A.M. is supported at the Oak Ridge National Laboratory, managed by UT-Battelle, LLC, for the US Department of Energy. The simulations presented here were performed at the Leadership Computing Facility at ORNL. We thank the National Center for Computational Sciences at ORNL for their resources and support.
Ethics declarations
Competing interests
Reprints and permissions information is available at www.nature.com/reprints. The authors declare no competing financial interests.
Supplementary information
About this article
Cite this article
Blondin, J., Mezzacappa, A. Pulsar spins from an instability in the accretion shock of supernovae. Nature 445, 58–60 (2007) doi:10.1038/nature05428
Received

Accepted

Issue Date
Comments
By submitting a comment you agree to abide by our Terms and Community Guidelines. If you find something abusive or that does not comply with our terms or guidelines please flag it as inappropriate.