Abstract
Replying to: K. Jones-Smith & H. Mathur reply
Our use1 of the term 'fractal'2 is consistent with that by the research community. In dismissing Pollock's fractals1,3 because of their limited magnification range, Jones-Smith and Mathur4 would also dismiss half the published investigations of physical fractals5. On the basis of previous debates on limited-range fractals5,6, a fractal description is particularly appropriate for Pollock's patterns because it is physically reasonable and because it is useful for condensing the description of a complex geometry, as we now describe.
Access options
Subscribe to Journal
Get full journal access for 1 year
$199.00
only $3.90 per issue
All prices are NET prices.
VAT will be added later in the checkout.
Tax calculation will be finalised during checkout.
Buy article
Get time limited or full article access on ReadCube.
$32.00
All prices are NET prices.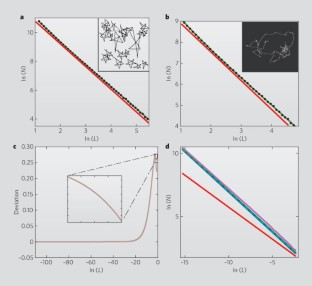 References
Taylor, R. P., Micolich, A. P. & Jonas, D. Nature 399, 422 (1999).

Mandelbrot, B. B. The Fractal Geometry of Nature (Freeman, New York, 1977).

Mureika, J. R., Dyer, C. C. & Cupchik, G. C. Phys. Rev. E 72, 046101-1-15 (2005).

Jones-Smith, K. & Mathur, H. Nature doi:10.1038/nature05398 (2006).

Avnir, D., Biham, O., Lidar, D. & Malcai, O. Science 279, 39–40 (1998).

Mandelbrot, B. B. Science 279, 783 (1998).

Bassingthwaighte, J. B., Liebovitch, L. S. & West, B. J. Fractal Physiology (Oxford Univ. Press, 1994).

Haussdorff, J. M. et al. J. Appl. Physiol. 80, 1448–1457 (1996).

Doyle, T. et al. Int. J. Med. Sci. 1, 11–20 (2004).

Shi, X. D. et al. Science 265, 219–222 (1994).

Aks, D. & Sprott, J. C. Empir. Stud. Arts 14, 1–16 (1996).

Taylor, R. P. et al. Patt. Recog. Lett. (in the press).
About this article
Cite this article
Taylor, R., Micolich, A. & Jonas, D. Revisiting Pollock's drip paintings (Reply). Nature 444, E10–E11 (2006). https://doi.org/10.1038/nature05399
Published:

Issue Date:

DOI: https://doi.org/10.1038/nature05399
Comments
By submitting a comment you agree to abide by our Terms and Community Guidelines. If you find something abusive or that does not comply with our terms or guidelines please flag it as inappropriate.