Abstract
Dendritic cells have a unique function in the immune response owing to their ability to stimulate immunologically naive T lymphocytes1. In response to microbial and inflammatory stimuli, dendritic cells enhance their capacity for antigen presentation by a process of terminal differentiation, termed maturation2,3. The conversion of immature to mature dendritic cells is accompanied by a marked cellular reorganization, including the redistribution of major histocompatibility complex class II molecules (MHC II) from late endosomal and lysosomal compartments to the plasma membrane4,5,6,7 and the downregulation of some forms of endocytosis, which has been thought to slow the clearance of MHC II from the surface8,9,10,11. The relative extent to which these or other mechanisms contribute to the regulation of surface MHC II remains unclear, however. Here we find that the MHC II β-chain cytoplasmic tail is ubiquitinated in mouse immature dendritic cells. Although only partly required for the sequestration of MHC II in multivesicular bodies, this modification is essential for endocytosis. Notably, ubiquitination of MHC II ceased upon maturation, resulting in the accumulation of MHC II at the cell surface. Dendritic cells thus exhibit a unique ability to regulate MHC II surface expression by selectively controlling MHC II ubiquitination.
Relevant articles
Open Access articles citing this article.
Haiyin Liu

,

Kayla R. Wilson

…

Justine D. Mintern

Nature Communications Open Access 11 April 2022

Nicholas B. Karabin

,

Sean Allen

…

Evan A. Scott

Nature Communications Open Access 12 February 2018

Hongbo Hu

&

Shao-Cong Sun

Cell Research Open Access 25 March 2016
Access options
Subscribe to Journal
Get full journal access for 1 year
$199.00
only $3.90 per issue
All prices are NET prices.
VAT will be added later in the checkout.
Tax calculation will be finalised during checkout.
Buy article
Get time limited or full article access on ReadCube.
$32.00
All prices are NET prices.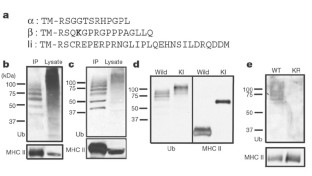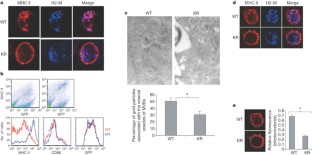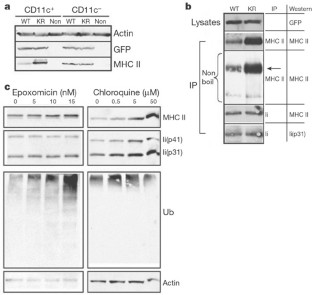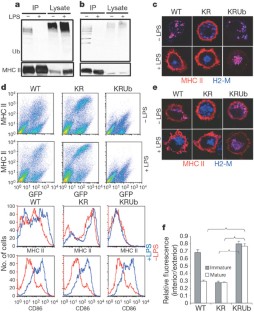 References
Banchereau, J. & Steinman, R. M. Dendritic cells and the control of immunity. Nature 392, 245–252 (1998)

Mellman, I. & Steinman, R. M. Dendritic cells: specialized and regulated antigen processing machines. Cell 106, 255–258 (2001)

Reis e Sousa, C. Dendritic cells in a mature age. Nature Rev. Immunol. 6, 476–483 (2006)

Trombetta, E. S. & Mellman, I. Cell biology of antigen processing in vitro and in vivo.. Annu. Rev. Immunol. 23, 975–1028 (2005)

Chow, A., Toomre, D., Garrett, W. & Mellman, I. Dendritic cell maturation triggers retrograde MHC class II transport from lysosomes to the plasma membrane. Nature 418, 988–994 (2002)

Turley, S. J. et al. Transport of peptide-MHC class II complexes in developing dendritic cells. Science 288, 522–527 (2000)

Boes, M. et al. T-cell engagement of dendritic cells rapidly rearranges MHC class II transport. Nature 418, 983–988 (2002)

Garrett, W. S. et al. Developmental control of endocytosis in dendritic cells by Cdc42. Cell 102, 325–334 (2000)

Wilson, N. S., El-Sukkari, D. & Villadangos, J. A. Dendritic cells constitutively present self antigens in their immature state in vivo and regulate antigen presentation by controlling the rates of MHC class II synthesis and endocytosis. Blood 103, 2187–2195 (2004)

West, M. A., Prescott, A. R., Eskelinen, E. L., Ridley, A. J. & Watts, C. Rac is required for constitutive macropinocytosis by dendritic cells but does not control its downregulation. Curr. Biol. 10, 839–848 (2000)

Sallusto, F., Cella, M., Danieli, C. & Lanzavecchia, A. Dendritic cells use macropinocytosis and the mannose receptor to concentrate macromolecules in the major histocompatibility complex class II compartment: downregulation by cytokines and bacterial products. J. Exp. Med. 182, 389–400 (1995)

Hicke, L. & Dunn, R. Regulation of membrane protein transport by ubiquitin and ubiquitin-binding proteins. Annu. Rev. Cell Dev. Biol. 19, 141–172 (2003)

Raiborg, C., Rusten, T. E. & Stenmark, H. Protein sorting into multivesicular endosomes. Curr. Opin. Cell Biol. 15, 446–455 (2003)

Marmor, M. D. & Yarden, Y. Role of protein ubiquitylation in regulating endocytosis of receptor tyrosine kinases. Oncogene 23, 2057–2070 (2004)

Katzmann, D. J., Odorizzi, G. & Emr, S. D. Receptor downregulation and multivesicular-body sorting. Nature Rev. Mol. Cell Biol. 3, 893–905 (2002)

Ohmura-Hoshino, M. et al. Inhibition of MHC class II expression and immune responses by c-MIR. J. Immunol. 177, 341–354 (2006)

Pinet, V., Vergelli, M., Martin, R., Bakke, O. & Long, E. O. Antigen presentation mediated by recycling of surface HLA-DR molecules. Nature 375, 603–606 (1995)

Cella, M., Engering, A., Pinet, V., Pieters, J. & Lanzavecchia, A. Inflammatory stimuli induce accumulation of MHC class II complexes on dendritic cells. Nature 388, 782–787 (1997)

Zhong, G., Romagnoli, P. & Germain, R. N. Related leucine-based cytoplasmic targeting signals in invariant chain and major histocompatibility complex class II molecules control endocytic presentation of distinct determinants in a single protein. J. Exp. Med. 185, 429–438 (1997)

Pathak, S. S., Lich, J. D. & Blum, J. S. Cutting edge: editing of recycling class II:peptide complexes by HLA-DM. J. Immunol. 167, 632–635 (2001)

Salamero, J., Humbert, M., Cosson, P. & Davoust, J. Mouse B lymphocyte specific endocytosis and recycling of MHC class II molecules. EMBO J. 9, 3489–3496 (1990)

Colledge, L., Bennett, C. L., Reay, P. A. & Blackburn, C. C. Rapid constitutive generation of a specific peptide-MHC class II complex from intact exogenous protein in immature murine dendritic cells. Eur. J. Immunol. 32, 3246–3255 (2002)

Mosesson, Y. et al. Endocytosis of receptor tyrosine kinases is driven by monoubiquitylation, not polyubiquitylation. J. Biol. Chem. 278, 21323–21326 (2003)

Miyake, S., Lupher, M. L., Druker, B. & Band, H. The tyrosine kinase regulator Cbl enhances the ubiquitination and degradation of the platelet-derived growth factor receptor α. Proc. Natl Acad. Sci. USA 95, 7927–7932 (1998)

Haglund, K. et al. Multiple monoubiquitination of RTKs is sufficient for their endocytosis and degradation. Nature Cell Biol. 5, 461–466 (2003)

Beck, T., Schmidt, A. & Hall, M. N. Starvation induces vacuolar targeting and degradation of the tryptophan permease in yeast. J. Cell Biol. 146, 1227–1238 (1999)

Helliwell, S. B., Losko, S. & Kaiser, C. A. Components of a ubiquitin ligase complex specify polyubiquitination and intracellular trafficking of the general amino acid permease. J. Cell Biol. 153, 649–662 (2001)

Villadangos, J. A., Riese, R. J., Peters, C., Chapman, H. A. & Ploegh, H. L. Degradation of mouse invariant chain: roles of cathepsins S and D and the influence of major histocompatibility complex polymorphism. J. Exp. Med. 186, 549–560 (1997)

Matza, D., Kerem, A. & Shachar, I. Invariant chain, a chain of command. Trends Immunol. 24, 264–268 (2003)
Acknowledgements
We thank members of the Mellarren laboratory group for advice and support. J.-S.S. is a Fellow of the Jane Coffin Childs Foundation. I.M. is an Affiliate Member of the Ludwig Institute for Cancer Research. This work was supported by the NIH and by the Ludwig Institute for Cancer Research.
Ethics declarations
Competing interests
Reprints and permissions information is available at www.nature.com/reprints. The authors declare no competing financial interests.
Supplementary information
This file contains Supplementary Figures 1-3, Supplementary Methods, and additional references (PDF 966 kb)
About this article
Cite this article
Shin, JS., Ebersold, M., Pypaert, M. et al. Surface expression of MHC class II in dendritic cells is controlled by regulated ubiquitination. Nature 444, 115–118 (2006). https://doi.org/10.1038/nature05261
Received:

Accepted:

Published:

Issue Date:

DOI: https://doi.org/10.1038/nature05261
Comments
By submitting a comment you agree to abide by our Terms and Community Guidelines. If you find something abusive or that does not comply with our terms or guidelines please flag it as inappropriate.