Abstract
Surface ocean conditions in the equatorial Pacific Ocean could hold the clue to whether millennial-scale global climate change during glacial times was initiated through tropical ocean–atmosphere feedbacks or by changes in the Atlantic thermohaline circulation1. North Atlantic cold periods during Heinrich events and millennial-scale cold events (stadials) have been linked with climatic changes in the tropical Atlantic Ocean and South America2,3,4, as well as the Indian and East Asian monsoon systems5,6, but not with tropical Pacific sea surface temperatures7. Here we present a high-resolution record of sea surface temperatures in the eastern tropical Pacific derived from alkenone unsaturation measurements. Our data show a temperature drop of ∼1 °C, synchronous (within dating uncertainties) with the shutdown of the Atlantic meridional overturning circulation during Heinrich event 1, and a smaller temperature drop of ∼0.5 °C synchronous with the smaller reduction in the overturning circulation during the Younger Dryas event. Both cold events coincide with maxima in surface ocean productivity as inferred from 230Th-normalized carbon burial fluxes, suggesting increased upwelling at the time. From the concurrence of equatorial Pacific cooling with the two North Atlantic cold periods during deglaciation, we conclude that these millennial-scale climate changes were probably driven by a reorganization of the oceans' thermohaline circulation, although possibly amplified by tropical ocean–atmosphere interaction as suggested before8.
Relevant articles
Open Access articles citing this article.
Communications Earth & Environment Open Access 27 June 2022

Ning Zhao

&

Lloyd D. Keigwin

Nature Communications Open Access 06 August 2018

Ivana Cvijanovic

,

Benjamin D. Santer

…

Susan Zimmerman

Nature Communications Open Access 05 December 2017
Access options
Subscribe to Journal
Get full journal access for 1 year
$199.00
only $3.90 per issue
All prices are NET prices.
VAT will be added later in the checkout.
Tax calculation will be finalised during checkout.
Buy article
Get time limited or full article access on ReadCube.
$32.00
All prices are NET prices.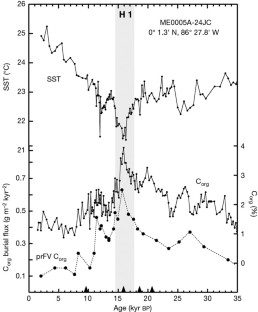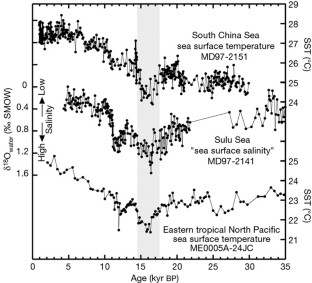 References
Broecker, W. S. Does the trigger for abrupt climate change reside in the ocean or in the atmosphere?. Science 300, 1519–1522 (2003)

Jennerjahn, T. C. et al. Asynchronous terrestrial and marine signals of climate change during Heinrich events. Science 306, 2236–2239 (2004)

Wang, X. et al. Wet periods in northeastern Brazil over the past 210 kyr linked to distant climate anomalies. Nature 432, 740–743 (2004)

Peterson, L. C., Haug, G. H., Hughen, K. A. & Röhl, U. Rapid changes in the hydrologic cycle of the tropical Atlantic during the last glacial. Science 290, 1947–1951 (2000)

Schulz, H., von Rad, U. & Erlenkeuser, H. Correlation between Arabian Sea and Greenland climate oscillations of the past 110,000 years. Nature 393, 54–57 (1998)

Wang, Y. J. et al. A high-resolution absolute-dated late Pleistocene monsoon record from Hulu Cave, China. Science 294, 2345–2348 (2001)

Kiefer, T. & Kienast, M. Patterns of deglacial warming in the Pacific Ocean: a review with emphasis on the time interval of Heinrich event 1. Quat. Sci. Rev. 24, 1063–1081 (2005)

Schmittner, A. & Clement, A. C. Sensitivity of the thermohaline circulation to tropical and high latitude freshwater forcing during the last glacial-interglacial cycle. Paleoceanography 17 doi: 10/1029/2000PA000591 (2002)

Hemming, S. R. Heinrich events: Massive late Pleistocene detritus layers of the North Atlantic and their global climate imprint. Rev. Geophys. 42 doi: 10.1029/2003RG000128 (2004)

McManus, J. F., François, R., Gherardi, J-M., Keigwin, L. D. & Brown-Leger, S. Collapse and rapid resumption of Atlantic meridional circulation linked to deglacial climate changes. Nature 428, 834–837 (2004)

Vellinga, M. & Wood, R. A. Global climatic impacts of a collapse of the Atlantic thermohaline circulation. Clim. Change 54, 251–267 (2002)

Lea, D. W., Pak, D. K., Peterson, L. C. & Hughen, K. A. Synchroneity of tropical and high-latitude Atlantic temperatures over the last glacial termination. Science 301, 1361–1364 (2003)

Ohkouchi, N., Eglinton, T. I., Keigwin, L. D. & Hayes, J. M. Spatial and temporal offsets between proxy records in a sediment drift. Science 298, 1224–1227 (2002)

Lea, D. W., Pak, D. K. & Spero, H. J. Climate impact of late Quaternary equatorial Pacific sea surface temperature variations. Science 289, 1719–1724 (2000)

Kucera, M. et al. Reconstruction of sea-surface temperatures from assemblages of planktonic foraminifera: multi-technique approach based on geographically constrained calibration data sets and its application to glacial Atlantic and Pacific Oceans. Quat. Sci. Rev. 24, 951–998 (2005)

Lyle, M. et al. Do geochemical estimates of sediment focusing pass the sediment test in the equatorial Pacific?. Paleoceanography 20 doi: 10.1029/2004PA001019 (2005)

Mix, A. C., Tiedemann, R., Blum, P. & the Shipboard Scientific Party. Southeast Pacific Paleoceanographic Transects Sites 1232–1242. Proc. ODP Init. Rep. 202, (2003); 〈http://www-odp.tamu.edu/publications/202_IR/202ir.htm〉.

Moore, T. C., Heath, G. R. & Kowsmann, R. O. Biogenic sediments of the Panama Basin. J. Geol. 81, 458–472 (1973)

Martinez, J. I., Keigwin, L. D., Barrows, T. T., Yokoyama, Y. & Southon, J. La Niña-like conditions in the eastern equatorial Pacific and a stronger Choco jet in the northern Andes during the last glaciation. Paleoceanography 18 doi: 10.1029/2002PA000877 (2003)

Koutavas, A. & Lynch-Stieglitz, J. Glacial-interglacial dynamics of the eastern equatorial Pacific cold tongue-Intertropical Convergence Zone system reconstructed from oxygen isotope records. Paleoceanography 18 doi: 10.1029/2003PA000894 (2003)

Koutavas, A., Lynch-Stieglitz, J., Marchitto, T. M. & Sachs, J. P. El Niño-like pattern in ice age tropical Pacific sea surface temperature. Science 297, 226–230 (2002)

Feldberg, M. J. & Mix, A. Planktonic foraminifera, sea surface temperatures, and mechanisms of oceanic change in the Peru and south equatorial currents, 0–150 ka BP. Paleoceanography 18 doi: 10.1029/2001PA000740 (2003)

Lyle, M., Prahl, F. G. & Sparrow, M. A. Upwelling and productivity changes inferred from a temperature record in the central equatorial Pacific. Nature 355, 812–815 (1992)

Higginson, M. J. & Altabet, M. A. Initial test of the silicic acid leakage hypothesis using sedimentary biomarkers. Geophys. Res. Lett. 31 doi: 10.1029/2004GL020511 (2004)

Clark, P. U., Pisias, N. G., Stocker, T. F. & Weaver, A. J. The role of the thermohaline circulation in abrupt climate change. Nature 415, 863–869 (2002)

McIntyre, A. & Molfino, B. Forcing of Atlantic equatorial and subpolar millennial cycles by precession. Science 274, 1867–1870 (1996)

Cane, M. A. A role for the tropical Pacific. Science 282, 59–61 (1998)

Clement, A. C., Cane, M. A. & Seager, R. An orbitally driven tropical source for abrupt climate change. J. Clim. 14, 2369–2375 (2001)

Zhang, G. Y. & Delworth, T. L. Simulated tropical response to a substantial weakening of the Atlantic thermohaline circulation. J. Clim. 18, 1853–1860 (2005)

Timmermann, A., Krebs, U., Justino, F., Goosse, H. & Ivanochko, T. S. Mechanisms for millennial-scale global synchronization during the last glacial period. Paleoceanography 20 doi: 10.1029/2004PA001090 (2005)

Rosenthal, Y., Oppo, D. W. & Linsley, B. K. The amplitude and phasing of climate change during the last deglaciation in the Sulu Sea, western equatorial Pacific. Geophys. Res. Lett. 30, 1428–1431 (2003)

Huang, C-C., Chen, M-T., Lee, M-Y., Wei, K-Y. & Huang, C-Y. Planktonic foraminifera faunal sea surface temperature records of the past two glacial terminations in the South China Sea near Wan-An shallow (IMAGES core MD97–2151). West. Pacif. Earth Sci. 2, 1–14 (2002)
Acknowledgements
The manuscript benefited from discussions with A. Clement, T. Delworth, D. Lea and A. Timmermann. Laboratory assistance by M. Soon, D. Montluçon, A. Fleer and S. Brown-Leger is acknowledged. This work was supported by the Canadian Foundation for Climate and Atmospheric Sciences (CFCAS), the Natural Sciences and Engineering Research Council (NSERC) of Canada, the National Science Foundation (NSF), the WHOI postdoctoral fellowship programme (M.K. and G.M.) and a fellowship of the Canadian Institute for Advanced Research (CIAR; M.K.).
Ethics declarations
Competing interests
Reprints and permissions information is available at www.nature.com/reprints. The authors declare no competing financial interests.
Supplementary information
This file contains Supplementary Methods, Supplementary Discussion, Supplementary Figure 1 and Supplementary Table 1. This file also contains additional references. This Supplementary Information file was updated on 30 October 2006, an incorrect version was uploaded at the time of publishing. (PDF 123 kb)
About this article
Cite this article
Kienast, M., Kienast, S., Calvert, S. et al. Eastern Pacific cooling and Atlantic overturning circulation during the last deglaciation. Nature 443, 846–849 (2006). https://doi.org/10.1038/nature05222
Received:

Accepted:

Issue Date:

DOI: https://doi.org/10.1038/nature05222
Comments
By submitting a comment you agree to abide by our Terms and Community Guidelines. If you find something abusive or that does not comply with our terms or guidelines please flag it as inappropriate.