Abstract
Lampreys are the most scientifically accessible of the remaining jawless vertebrates, but their evolutionary history is obscure. In contrast to the rich fossil record of armoured jawless fishes, all of which date from the Devonian period and earlier1,2,3, only two Palaeozoic lampreys have been recorded, both from the Carboniferous period1. In addition to these, the recent report of an exquisitely preserved Lower Cretaceous example4 demonstrates that anatomically modern lampreys were present by the late Mesozoic era. Here we report a marine/estuarine fossil lamprey from the Famennian (Late Devonian) of South Africa5,6, the identity of which is established easily because many of the key specializations of modern forms are already in place. These specializations include the first evidence of a large oral disc, the first direct evidence of circumoral teeth and a well preserved branchial basket. This small agnathan, Priscomyzon riniensis gen. et sp. nov., is not only more conventionally lamprey-like than other Palaeozoic examples7,8, but is also some 35 million years older. This finding is evidence that agnathans close to modern lampreys had evolved before the end of the Devonian period. In this light, lampreys as a whole appear all the more remarkable: ancient specialists that have persisted as such and survived a subsequent 360 million years.
Relevant articles
Open Access articles citing this article.
A. Barany

,

C. A. Shaughnessy

…

S. D. McCormick

Scientific Reports Open Access 22 November 2021

Hyun-Tae Kim

&

Jong-Young Park

Applied Microscopy Open Access 15 September 2020

Dorit Hockman

,

Vanessa Chong-Morrison

…

Tatjana Sauka-Spengler

Nature Communications Open Access 16 October 2019
Access options
Subscribe to Journal
Get full journal access for 1 year
$199.00
only $3.90 per issue
All prices are NET prices.
VAT will be added later in the checkout.
Tax calculation will be finalised during checkout.
Buy article
Get time limited or full article access on ReadCube.
$32.00
All prices are NET prices.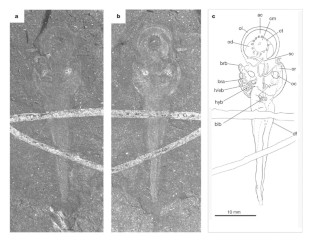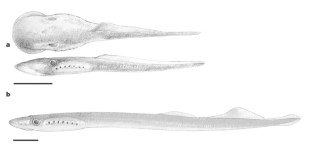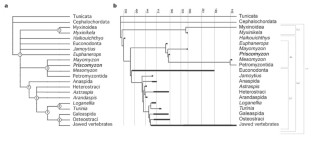 References
Janvier, P. Early Vertebrates (Clarendon, Oxford, 1996)

Donoghue, P. C. J. & Smith, M. P. The anatomy of Turinia pagei (Powrie), and the phylogenetic status of the Thelodonti. Trans. R. Soc. Edinb. Earth Sci. 92, 15–37 (2001)

Janvier, P., Desbiens, S., Willett, J. A. & Arsenault, M. Lamprey-like gills in a gnathostome-related Devonian jawless vertebrate. Nature 440, 1183–1185 (2006)

Chang, M.-m., Zhang, J. & Miao, D. A lamprey from the Cretaceous Jehol biota of China. Nature 441, 972–974 (2006)

Anderson, H. M., Hiller, N. & Gess, R. W. Archaeopteris (Progymnospermopsida) from the Devonian of southern Africa. Bot. J. Linn. Soc. 117, 305–320 (1995)

Hiller, N. & Taylor, F. F. Late Devonian shore line changes: an analysis of Witteberg Group stratigraphy in the Grahamstown area. South Afr. J. Geol. 95, 203–212 (1992)

Bardack, D. & Zangerl, R. First fossil lamprey: a record from the Pennsylvanian of Illinois. Science 162, 1265–1267 (1968)

Bardack, D. & Zangerl, R. in The Biology of Lampreys Vol. 1 (eds Hardisty, M. W. & Potter, I. C.) 67–84 (Academic, London, 1971)

Hardisty, M. W. in The Biology of Lampreys (eds Hardisty, M. W. & Potter, I. C.) 3, 333–376 (Academic, London, 1981)

Janvier, P. & Lund, R. Hardistiella montanensis n. gen. et sp. (Petromyzontidae) from the Lower Carboniferous of Montana with remarks on the affinities of the Lampreys. J. Vertebr. Paleontol. 2, 407–413 (1983)

Bardack, D. & Richardson, E. S. Jr. New agnathous fishes from the Pennsylvanian of Illinois. Fieldiana Geology 33, 489–510 (1971)

Shu, D-G. et al. Lower Cambrian vertebrates from south China. Nature 402, 42–46 (1999)

Hubbs, C. L. & Potter, I. C. in The Biology of Lampreys Vol. 1 (eds Hardisty, M. W. & Potter, I. C.) 1–66 (Academic, London, 1971)

Yalden, D. Feeding mechanisms as evidence for cyclostome monophyly. Zool. J. Linn. Soc. 84, 291–300 (1985)

Janvier, P. in Recent Advances in the Origin and Early Radiation of Vertebrates (eds Arratia, G., Wilson, V. H. & Schultze, H. P.) 29–52 (Dr Friedrich Pfeil, Munchen, 2004)

Lund, R. & Janvier, P. A second Lamprey from the Lower Carboniferous (Namurian) of Bear Gulch, Montana (U.S.A.). Geobios 19, 647–652 (1986)

Janvier, P. The dawn of the vertebrates: characters versus common ascent in the rise of current vertebrate phylogenies. Palaeontology 39, 259–287 (1996)

Donoghue, P. C. J., Forey, P. & Aldridge, R. J. Conodont affinity and chordate phylogeny. Biol. Rev. 75, 191–251 (2000)

Delarbre, C., Gallut, C., Barriel, V., Janvier, P. & Gachelin, G. Complete mitochondrial DNA of the hagfish, Eptatretus burgeri: The comparative analysis of mitochondrial DNA sequences strongly supports the cyclostome monophyly. Mol. Phylo. Evol. 22, 184–192 (2002)

Forey, P. & Janvier, P. Agnathans and the origin of jawed vertebrates. Nature 361, 129–134 (1993)

Janvier, P. & Arsenault, M. Palaeobiology: Calcification of early vertebrate cartilage. Nature 417, 609 (2002)

Swofford, D. L. PAUP*: Phylogenetic analysis using parsimony (* and other methods), version 4.0b10 (Sinauer Associates, Sunderland, Massachusetts, 2003)

Shu, D-G. et al. Head and backbone of the Early Cambrian vertebrate Haikouichthys.. Nature 421, 526–529 (2003)

Eldredge, N. in Living Fossils (eds Eldredge, N. & Stanley, S. M.) 272–277 (Springer, New York, 1984)

Cohn, M. J. Evolutionary biology: Lamprey Hox genes and the origin of jaws. Nature 416, 386–387 (2002)

Takio, Y. et al. Evolutionary biology: Lamprey Hox genes and the evolution of jaws. Nature 429 doi: 10.1038/nature02616 (2004)

Pancer, Z. et al. Somatic diversification of variable lymphocyte receptors in the agnathan lamprey. Nature 430, 174–180 (2004)

Hardisty, M. W. & Potter, I. C. in The Biology of Lampreys Vol. 1 (eds Hardisty, M. W. & Potter, I. C.) 127–206 (Academic, London, 1971)
Acknowledgements
We are grateful to B. de Klerk for his continuing support, and thank M. A. Purnel, R. J. Aldridge and M. M. Chang for advice and discussions. Work by R.W.G. and B.S.R. is supported by the Palaeontological Scientific Trust (PAST), National Research Foundation (NRF) and the Department of Science and Technology (DST) of South Africa, and that of M.I.C. by the Faculty Research Fund of the University of Chicago. Author Contributions The discovery, identification, diagnosis and morphological description of the specimen are primarily the work of R.W.G. Phylogenetic analysis was performed by M.I.C., as well as final drafting of the paper. The research was supervised by B.S.R. All authors read, commented on and contributed to all parts of the paper.
Ethics declarations
Competing interests
Reprints and permissions information is available at www.nature.com/reprints. The authors declare no competing financial interests.
Supplementary information
This file contains Supplementary Information on photographic methods used as well as information relevant to the phylogenetic analysis. This latter includes notes on taxa selected, characters, character re-weighting, enforced constraints and a reduced taxon subset, in addition to two supplementary trees, a character list and a data set. (DOC 86 kb)
About this article
Cite this article
Gess, R., Coates, M. & Rubidge, B. A lamprey from the Devonian period of South Africa. Nature 443, 981–984 (2006). https://doi.org/10.1038/nature05150
Received:

Accepted:

Issue Date:

DOI: https://doi.org/10.1038/nature05150
Comments
By submitting a comment you agree to abide by our Terms and Community Guidelines. If you find something abusive or that does not comply with our terms or guidelines please flag it as inappropriate.