Abstract
Mammalian ageing is associated with reduced regenerative capacity in tissues that contain stem cells1,2. It has been proposed that this is at least partially caused by the senescence of progenitors with age3,4; however, it has not yet been tested whether genes associated with senescence functionally contribute to physiological declines in progenitor activity. Here we show that progenitor proliferation in the subventricular zone and neurogenesis in the olfactory bulb, as well as multipotent progenitor frequency and self-renewal potential, all decline with age in the mouse forebrain. These declines in progenitor frequency and function correlate with increased expression of p16INK4a, which encodes a cyclin-dependent kinase inhibitor linked to senescence5. Ageing p16INK4a-deficient mice showed a significantly smaller decline in subventricular zone proliferation, olfactory bulb neurogenesis, and the frequency and self-renewal potential of multipotent progenitors. p16INK4a deficiency did not detectably affect progenitor function in the dentate gyrus or enteric nervous system, indicating regional differences in the response of neural progenitors to increased p16INK4a expression during ageing. Declining subventricular zone progenitor function and olfactory bulb neurogenesis during ageing are thus caused partly by increasing p16INK4a expression.
Relevant articles
Open Access articles citing this article.
Karin Welén

&

Jan-Erik Damber

Reviews in Endocrine and Metabolic Disorders Open Access 24 June 2022

Shuaixia Yu

,

Yang Wang

…

Huajun Sun

World Journal of Surgical Oncology Open Access 04 May 2022

Aliabbas Zia

,

Ali Mohammad Pourbagher-Shahri

…

Saeed Samarghandian

Behavioral and Brain Functions Open Access 12 June 2021
Access options
Subscribe to Journal
Get full journal access for 1 year
$199.00
only $3.90 per issue
All prices are NET prices.
VAT will be added later in the checkout.
Tax calculation will be finalised during checkout.
Buy article
Get time limited or full article access on ReadCube.
$32.00
All prices are NET prices.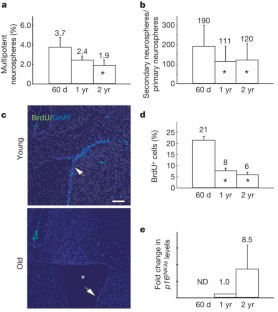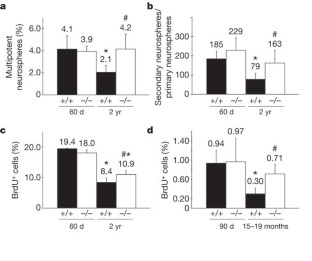 References
Chien, K. R. & Karsenty, G. Longevity and lineages: toward the integrative biology of degenerative diseases in heart, muscle, and bone. Cell 120, 533–544 (2005)

Geiger, H. & Van Zant, G. The aging of lympho-hematopoietic stem cells. Nature Immunol. 3, 329–333 (2002)

Lombard, D. B. et al. DNA repair, genome stability, and aging. Cell 120, 497–512 (2005)

Campisi, J. Senescent cells, tumor suppression, and organismal aging: good citizens, bad neighbors. Cell 120, 513–522 (2005)

Lowe, S. W. & Sherr, C. J. Tumor suppression by Ink4a–Arf: progress and puzzles. Curr. Opin. Genet. Dev. 13, 77–83 (2003)

Maslov, A. Y., Barone, T. A., Plunkett, R. J. & Pruitt, S. C. Neural stem cell detection, characterization, and age-related changes in the subventricular zone of mice. J. Neurosci. 24, 1726–1733 (2004)

Morrison, S. J., Wandycz, A. M., Akashi, K., Globerson, A. & Weissman, I. L. The aging of hematopoietic stem cells. Nature Med. 2, 1011–1016 (1996)

Chen, J., Astle, C. M. & Harrison, D. E. Genetic regulation of primitive hematopoietic stem cell senescence. Exp. Hematol. 28, 442–450 (2000)

de Haan, G., Nijhof, W. & Van Zant, G. Mouse strain-dependent changes in frequency and proliferation of hematopoietic stem cells during aging: correlation between lifespan and cycling activity. Blood 89, 1543–1550 (1997)

Conboy, I. M., Conboy, M. J., Smythe, G. M. & Rando, T. A. Notch-mediated restoration of regenerative potential to aged muscle. Science 302, 1575–1577 (2003)

Conboy, I. M. et al. Rejuvenation of aged progenitor cells by exposure to a young systemic environment. Nature 433, 760–764 (2005)

Kuhn, H. G., Dickinson-Anson, H. & Gage, F. H. Neurogenesis in the dentate gyrus of the adult rat: age-related decrease of neuronal progenitor proliferation. J. Neurosci. 16, 2027–2033 (1996)

Enwere, E. et al. Aging results in reduced epidermal growth factor receptor signaling, diminished olfactory neurogenesis, and deficits in fine olfactory discrimination. J. Neurosci. 24, 8354–8365 (2004)

Nielsen, G. P. et al. Immunohistochemical survey of p16INK4A expression in normal human adult and infant tissues. Lab. Invest. 79, 1137–1143 (1999)

Krishnamurthy, J. et al. Ink4a/Arf expression is a biomarker of aging. J. Clin. Invest. 114, 1299–1307 (2004)

Zindy, F., Quelle, D. E., Roussel, M. F. & Sherr, C. J. Expression of the p16INK4a tumor suppressor versus other INK4 family members during mouse development and aging. Oncogene 15, 203–211 (1997)

Sharpless, N. E., Ramsey, M. R., Balasubramanian, P., Castrillon, D. H. & DePinho, R. A. The differential impact of p16INK4a or p19ARF deficiency on cell growth and tumorigenesis. Oncogene 23, 379–385 (2004)

Michaloglou, C. et al. BRAFE600-associated senescence-like cell cycle arrest of human naevi. Nature 436, 720–724 (2005)

Molofsky, A. V. et al. Bmi-1 promotes neural stem cell self-renewal and neural development but not mouse growth and survival by repressing the p16Ink4a and p19Arf senescence pathways. Genes Dev. 19, 1432–1437 (2005)

Molofsky, A. V. et al. Bmi-1 dependence distinguishes neural stem cell self-renewal from progenitor proliferation. Nature 425, 962–967 (2003)

Bruggeman, S. W. M. et al. Ink4a and Arf differentially affect cell proliferation and neural stem cell self-renewal in Bmi1-deficient mice. Genes Dev. 19, 1438–1443 (2005)

Doetsch, F., Caille, I., Lim, D. A., Garcia-Verdugo, J. M. & Alvarez-Buylla, A. Subventricular zone astrocytes are neural stem cells in the adult mammalian brain. Cell 97, 703–716 (1999)

Capela, A. & Temple, S. LeX/ssea-1 is expressed by adult mouse CNS stem cells, identifying them as nonependymal. Neuron 35, 865–875 (2002)

Chiasson, B. J., Tropepe, V., Morshead, C. M. & Kooy, D. v. d. Adult mammalian forebrain ependymal and subependymal cells demonstrate proliferative potential, but only subependymal cells have neural stem cell characteristics. J. Neurosci. 19, 4462–4471 (1999)

Johansson, C. B. et al. Identification of a neural stem cell in the adult mammalian central nervous system. Cell 96, 25–34 (1999)

van Praag, H. et al. Functional neurogenesis in the adult hippocampus. Nature 415, 1030–1034 (2002)

Kruger, G. M. et al. Neural crest stem cells persist in the adult gut but undergo changes in self-renewal, neuronal subtype potential, and factor responsiveness. Neuron 35, 657–669 (2002)

Jacobs, J. J. L., Kieboom, K., Marino, S., DePinho, R. A. & Lohuizen, M. v. The oncogene and polycomb-group gene bmi-1 regulates cell proliferation and senescence through the ink4a locus. Nature 397, 164–168 (1999)

Matheu, A. et al. Increased gene dosage of Ink4a/Arf results in cancer resistance and normal aging. Genes Dev. 18, 2736–2746 (2004)

Sharpless, N. E. et al. Loss of p16Ink4a with retention of p19Arf predisposes mice to tumorigenesis. Nature 413, 86–91 (2001)
Acknowledgements
This work was supported by the National Institute on Aging (grants to S.J.M. and N.E.S.) and the National Institute of Neurological Disorders and Stroke (to S.J.M.). S.J.M. is an Investigator of the Howard Hughes Medical Institute. N.E.S. is supported by the Sidney Kimmel Foundation for Cancer Research, the Paul Beeson Physician Scholars program, and the Ellison Medical Foundation. A.V.M. and N.M.J. were supported by National Research Service Awards from the National Institutes of Health. We thank K. Yeager for tissue sectioning and C. Mountford for mouse colony management. Author Contributions A.V.M. studied the effect of age on forebrain progenitors, p16INK4a expression and function during ageing in the subventricular zone (Figs 1 and 2), and Bmi1 expression during ageing (Supplementary Fig. 3). S.G.S. contributed to studies of p16INK4a expression during ageing, and the effect of p16INK4a on proliferation and neurogenesis in the subventricular zone and hippocampus (Figs 2 and 3 and Supplementary Fig. 1). N.M.J. studied neurogenesis in the olfactory bulb and hippocampus (Fig. 3 and Supplementary Fig. 1). S.H. and R.P. examined p16INK4a expression in the ageing enteric nervous system and its effect on neural crest stem cells (Supplementary Fig. 2). J.K. and N.E.S. provided ageing p16INK4a-deficient and control mice for some of the experiments and discussed results throughout the project. S.J.M. helped to design and interpret experiments and wrote the manuscript with help from A.V.M., S.G.S. and N.M.J.
Ethics declarations
Competing interests
Reprints and permissions information is available at www.nature.com/reprints. The authors declare no competing financial interests.
Supplementary information
About this article
Cite this article
Molofsky, A., Slutsky, S., Joseph, N. et al. Increasing p16INK4a expression decreases forebrain progenitors and neurogenesis during ageing. Nature 443, 448–452 (2006). https://doi.org/10.1038/nature05091
Received:

Accepted:

Published:

Issue Date:

DOI: https://doi.org/10.1038/nature05091
Comments
By submitting a comment you agree to abide by our Terms and Community Guidelines. If you find something abusive or that does not comply with our terms or guidelines please flag it as inappropriate.