Abstract
Transactivator–promoter complexes are essential intermediates in the activation of eukaryotic gene expression. Recent studies of these complexes have shown that some are quite dynamic in living cells1 owing to rapid and reversible disruption of activator–promoter complexes by molecular chaperones2,3,4,5,6, or a slower, ubiquitin–proteasome-pathway-mediated turnover of DNA-bound activator7,8,9. These mechanisms may act to ensure continued responsiveness of activators to signalling cascades by limiting the lifetime of the active protein–DNA complex. Furthermore, the potency of some activators is compromised by proteasome inhibition, leading to the suggestion that periodic clearance of activators from a promoter is essential for high-level expression8,10,11,12. Here we describe a variant of the chromatin immunoprecipitation assay that has allowed direct observation of the kinetic stability of native Gal4–promoter complexes in yeast. Under non-inducing conditions, the complex is dynamic, but on induction the Gal4–promoter complexes 'lock in' and exhibit long half-lives. Inhibition of proteasome-mediated proteolysis had little or no effect on Gal4-mediated gene expression. These studies, combined with earlier data, show that the lifetimes of different transactivator–promoter complexes in vivo can vary widely and that proteasome-mediated turnover is not a general requirement for transactivator function.
Relevant articles
Open Access articles citing this article.
Evan J. Brettrager

,

Arthur W. Meehan

…

Robert C. A. M. van Waardenburg

Scientific Reports Open Access 31 January 2022

Yuki Kito

,

Masaki Matsumoto

…

Keiichi I. Nakayama

Scientific Reports Open Access 02 April 2020

Peter Hemmerich

,

Lars Schmiedeberg

&

Stephan Diekmann

Chromosome Research Open Access 03 November 2010
Access options
Subscribe to Journal
Get full journal access for 1 year
$199.00
only $3.90 per issue
All prices are NET prices.
VAT will be added later in the checkout.
Tax calculation will be finalised during checkout.
Buy article
Get time limited or full article access on ReadCube.
$32.00
All prices are NET prices.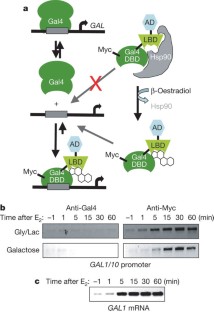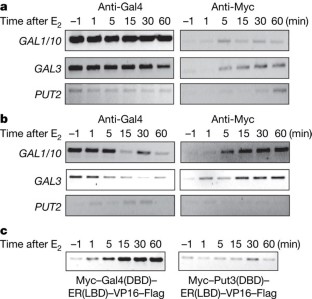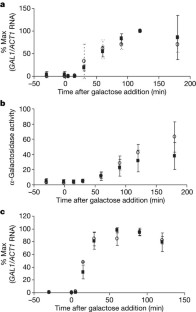 References
McNally, J. G., Müller, W. G., Walker, D., Wolford, R. & Hager, G. L. The glucocorticoid receptor: rapid exchange with regulatory sites in living cells. Science 287, 1262–1265 (2000)

Freeman, B. C. & Yamamoto, K. R. Continuous recycling: a mechanism for modulatory signal transduction. Trends Biochem. Sci. 26, 285–290 (2001)

Elbi, C. et al. Molecular chaperones function as steroid receptor nuclear mobility factors. Proc. Natl Acad. Sci. USA 101, 2876–2881 (2004)

Fletcher, T. M. et al. ATP-dependent mobilization of the glucocorticoid receptor during chromatin remodeling. Mol. Cell. Biol. 22, 3255–3263 (2002)

Freeman, B. C., Felts, S. J., Toft, D. O. & Yamamoto, K. R. The p23 molecular chaperones act at a late step in intracellular receptor action to differentially affect ligand efficacies. Genes Dev. 14, 422–434 (2000)

Freeman, B. C. & Yamamoto, K. R. Disassembly of transcriptional regulatory complexes by molecular chaperones. Science 296, 2232–2235 (2002)

Métivier, R. et al. Estrogen receptor-α directs ordered, cyclical, and combinatorial recruitment of cofactors on a natural target promoter. Cell 115, 751–763 (2003)

Reid, G. et al. Cyclic, proteasome-mediated turnover of unliganded and liganded ERα on responsive promoters is an integral feature of estrogen signaling. Mol. Cell 11, 695–707 (2003)

Shang, Y., Hu, X., DiRenzo, J., Lazar, M. A. & Brown, M. Cofactor dynamics and sufficiency in estrogen receptor-regulated transcription. Cell 103, 843–852 (2000)

Nawaz, Z. & O'Malley, B. W. Urban renewal in the nucleus: is protein turnover by proteasomes absolutely required for nuclear receptor-regulated transcription? Mol. Endocrinol. 18, 493–499 (2004)

Lipford, J. R., Smith, G. T., Chi, Y. & Deshaies, R. J. A putative stimulatory role for activator turnover in gene expression. Nature 438, 113–116 (2005)

Muratani, M., Kung, C., Shokat, K. M. & Tansey, W. P. The F box protein Dsg1/Mdm30 is a transcriptional coactivator that stimulates Gal4 turnover and cotranscriptional mRNA processing. Cell 120, 887–899 (2005)

Fankhauser, C. P., Briand, P. A. & Picard, D. The hormone binding domain of the mineralocorticoid receptor can regulate heterologous activities in cis. Biochem. Biophys. Res. Commun. 200, 195–201 (1994)

Picard, D. Posttranslational regulation of proteins by fusions to steroid-binding domains. Methods Enzymol. 327, 385–401 (2000)

Louvion, J. F., Havaux-Copf, B. & Picard, D. Fusion of GAL4–VP16 to a steroid-binding domain provides a tool for gratuitous induction of galactose-responsive genes in yeast. Gene 131, 129–134 (1993)

Wehrman, T. S., Casipit, C. L., Gewertz, N. M. & Blau, H. M. Enzymatic detection of protein translocation. Nature Methods 2, 521–527 (2005)

Siddiqui, A. H. & Brandriss, M. C. The Saccharomyces cerevisiae PUT3 activator protein associates with proline-specific upstream activation sequences. Mol. Cell. Biol. 9, 4706–4712 (1989)

Lohr, D., Venkov, P. & Zlatanova, J. Transcriptional regulation in the yeast GAL gene family: a complex genetic network. FASEB J. 9, 777–787 (1995)

Lee, D. H. & Goldberg, A. L. Selective inhibitors of the proteasome-dependent and vacuolar pathways of protein degradation in Saccharomyces cerevisiae. J. Biol. Chem. 271, 27280–27284 (1996)

Arndt, K. & Winston, F. An unexpected role for ubiquitylation of a transcriptional activator. Cell 120, 733–734 (2005)

Sprague, B. L. & McNally, J. G. FRAP analysis of binding: proper and fitting. Trends Cell Biol. 15, 84–91 (2005)

Yao, J., Munson, K. M., Webb, W. W. & Lis, J. T. Dynamics of heat shock factor association with native gene loci in living cells. Nature doi:10.1038/nature05025 (this issue)

Valley, C. C. et al. Differential regulation of estrogen-inducible proteolysis and transcription by the estrogen receptor-α N terminus. Mol. Cell. Biol. 25, 5417–5428 (2005)

Gonzalez, F., Delahodde, A., Kodadek, T. & Johnston, S. A. Recruitment of a 19S proteasome subcomplex to an activated promoter. Science 296, 548–550 (2002)
Acknowledgements
This research was supported by the National Institutes of Health and the NHLBI Proteomics Initiative of the National Heart, Lung and Blood Institute, NIH. K.N. was supported by an NIH Cardiology Training Grant Fellowship. ER(LBD)-encoding plasmids were a gift from D. Picard.
Ethics declarations
Competing interests
Reprints and permissions information is available at www.nature.com/reprints. The authors declare no competing financial interests.
Supplementary information
This file contains Supplementary Methods, Supplementary Figure Legends and additional references. (DOC 39 kb)
This file contains Supplementary Figures 1–6. (PPT 1039 kb)
About this article
Cite this article
Nalley, K., Johnston, S. & Kodadek, T. Proteolytic turnover of the Gal4 transcription factor is not required for function in vivo. Nature 442, 1054–1057 (2006). https://doi.org/10.1038/nature05067
Received:

Accepted:

Published:

Issue Date:

DOI: https://doi.org/10.1038/nature05067
Comments
By submitting a comment you agree to abide by our Terms and Community Guidelines. If you find something abusive or that does not comply with our terms or guidelines please flag it as inappropriate.