Abstract
Many sub-stellar companions (usually planets but also some brown dwarfs) orbit solar-type stars. These stars can engulf their sub-stellar companions when they become red giants. This interaction may explain several outstanding problems in astrophysics1,2,3,4,5 but it is unclear under what conditions a low mass companion will evaporate, survive the interaction unchanged or gain mass1,4,5. Observational tests of models for this interaction have been hampered by a lack of positively identified remnants—that is, white dwarf stars with close, sub-stellar companions. The companion to the pre-white dwarf AA Doradus may be a brown dwarf, but the uncertain history of this star and the extreme luminosity difference between the components make it difficult to interpret the observations or to put strong constraints on the models6,7. The magnetic white dwarf SDSS J121209.31 + 013627.7 may have a close brown dwarf companion8 but little is known about this binary at present. Here we report the discovery of a brown dwarf in a short period orbit around a white dwarf. The properties of both stars in this binary can be directly observed and show that the brown dwarf was engulfed by a red giant but that this had little effect on it.
Relevant articles
Open Access articles citing this article.
Pau Amaro-Seoane

,

Jeff Andrews

…

Alejandro Vigna-Gómez

Living Reviews in Relativity Open Access 14 March 2023

Christiane Helling

,

R. Giles Harrison

…

Stuart Littlefair

Surveys in Geophysics Open Access 26 April 2016

N. Ivanova

,

S. Justham

…

R. F. Webbink

The Astronomy and Astrophysics Review Open Access 27 February 2013
Access options
Subscribe to this journal
Receive 51 print issues and online access
$199.00 per year
only $3.90 per issue
Rent or buy this article
Get just this article for as long as you need it
$39.95
Prices may be subject to local taxes which are calculated during checkout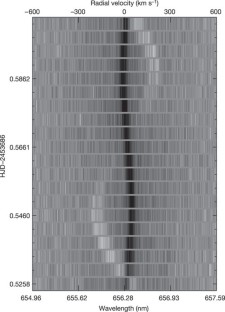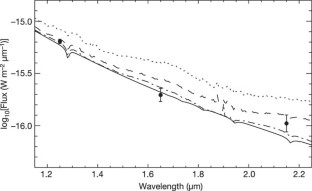 References
Nelemans, G. & Tauris, T. M. Formation of undermassive single white dwarfs and the influence of planets on late stellar evolution. Astron. Astrophys. 335, L85–L88 (1998)

Soker, N. & Harpaz, A. Rotation, planets, and the 'second parameter' of the horizontal branch. Mon. Not. R. Astron. Soc. 317, 861–866 (2000)

Harpaz, A. & Soker, N. Evaporation of brown dwarfs in AGB envelopes. Mon. Not. R. Astron. Soc. 270, 734–742 (1994)

Livio, M. & Soker, N. Star-planet systems as progenitors of cataclysmic binaries: tidal effects. Astron. Astrophys. 125, L12–L15 (1983)

Siess, L. & Livio, M. The accretion of brown dwarfs and planets by giant stars–II. Solar-mass stars on the red giant branch. Mon. Not. R. Astron. Soc. 308, 1133–1149 (1999)

Rauch, T. AA Dor—an eclipsing subdwarf - brown dwarf binary. Rev. Mex. Astron. Astrophys. Ser. Conf. 20, 246 (2004)

Hilditch, R. W., Kilkenny, D., Lynas-Gray, A. E. & Hill, G. New VIC photometry of the sdOB binary AA Dor and an improved photometric model. Mon. Not. R. Astron. Soc. 344, 644–650 (2003)

Schmidt, G. D. et al. Discovery of a magnetic white dwarf/probable brown dwarf short-period binary. Astrophys. J. 630, L173–L176 (2005)

Preston, G. W., Shectman, S. A. & Beers, T. C. Photoelectric UBV photometry of stars selected in the HK objective-prism survey. Astrophys. J. Suppl. 76, 1001–1031 (1991)

Beers, T. C., Doinidis, S. P., Griffin, K. E., Preston, G. W. & Shectman, S. A. Spectroscopy of hot stars in the Galactic halo. Astron. J. 103, 267–296 (1992)

Napiwotzki, et al. Search for progenitors of supernovae type Ia with SPY. Astron. Nachr. 322, 411–418 (2001)

Liebert, J. W. Extrasolar planetary companions and brown dwarfs. In Encyclopedia of Astronomy and Astrophysics (ed. Murdin, P.) http://eaa.iop.org (2002); (Institute of Physics Publishing, Bristol, 2002)

Farihi, J., Becklin, E. E. & Zuckerman, B. Low-luminosity companions to white dwarfs. Astrophys. J. Suppl. 161, 394–428 (2005)

Littlefair, S. P., Dhillon, V. S. & Martín, E. L. On the evidence for brown dwarf secondary stars in cataclysmic variables. Mon. Not. R. Astron. Soc. 340, 264–268 (2003)

Littlefair, S. P., Dhillon, V. S. & Martín, E. L. The K-band spectrum of the cataclysmic variable RXJ 0502.8 + 1624 (Tau 4). Astron. Astrophys. 437, 637–639 (2005)

Schreiber, M. R. & Gänsicke, B. T. The age, life expectancy, and space density of Post Common Envelope Binaries. Astron. Astrophys. 406, 305–321 (2003)

Politano, M. The formation of cataclysmic variable stars with brown dwarf secondaries. Astrophys. J. 604, 817–826 (2004)

Endl, M. et al. HD 137510: An oasis in the brown dwarf desert. Astrophys. J. 611, 1121–1124 (2004)

Grether, D. & Lineweaver, C. H. How dry is the brown dwarf desert? Quantifying the relative number of planets, brown dwarfs, and stellar companions around nearby Sun-like stars. Astrophys. J. 640, 1051–1062 (2006)

Nelemans, G. & Tout, C. A. Reconstructing the evolution of white dwarf binaries: further evidence for an alternative algorithm for the outcome of the common-envelope phase in close binaries. Mon. Not. R. Astron. Soc. 356, 753–764 (2005)

Marsh, T. R., Dhillon, V. S. & Duck, S. R. Low-mass white dwarfs need friends–Five new double-degenerate close binary stars. Mon. Not. R. Astron. Soc. 275, 828–840 (1995)

Maxted, P. F. L., Marsh, T. R., Moran, C., Dhillon, V. S. & Hilditch, R. W. The mass and radius of the M dwarf companion to GD448. Mon. Not. R. Astron. Soc. 300, 1225–1232 (1998)

Koester, D. et al. High-resolution UVES/VLT spectra of white dwarfs observed for the ESO SN Ia progenitor survey (SPY). Astron. Astrophys. 378, 556–568 (2001)

Benvenuto, O. G. & Althaus, L. G. Grids of white dwarf evolutionary models with masses from M = 0.1 to 1.2 M⊙ . Mon. Not. R. Astron. Soc. 303, 30–38 (1999)

Driebe, T., Schönberner, D., Blöcker, T. & Herwig, F. The evolution of helium white dwarfs. I. The companion of the millisecond pulsar PSR J1012 + 5307. Astron. Astrophys. 339, 123–133 (1998)

Bergeron, P., Wesemael, F. & Beauchamp, A. Photometric calibration of hydrogen- and helium-rich white dwarf models. Publ. Astron. Soc. Pacif. 107, 1047–1054 (1995)

Vauclair, G., Schmidt, H., Koester, D. & Allard, N. White dwarfs observed by the HIPPARCOS satellite. Astron. Astrophys. 325, 1055–1062 (1997)

Dobbie, P. D. et al. A near-infrared spectroscopic search for very-low-mass cool companions to notable DA white dwarfs. Mon. Not. R. Astron. Soc. 357, 1049–1058 (2005)
Acknowledgements
This Letter is based on observations collected at the European Southern Observatory, Chile, and makes use of data products from the Two Micron All Sky Survey (2MASS). P.D.D. is supported by PPARC. R.N. and M.R.B. acknowledge the support of PPARC Advanced Fellowships. Author Contributions P.F.L.M. analysed and interpreted the data from which the orbital period and other properties of the system were measured. R.N. identified WD 0137–349 as a strong candidate for a brown dwarf companion to a white dwarf from observations obtained as part of the SPY programme, of which he is the principal investigator. M.R.B. and P.D.D. analysed the 2MASS data for this object. All authors discussed and interpreted the results and commented on the manuscript.
About this article
Cite this article
Maxted, P., Napiwotzki, R., Dobbie, P. et al. Survival of a brown dwarf after engulfment by a red giant star. Nature 442, 543–545 (2006). https://doi.org/10.1038/nature04987
Received:

Accepted:

Issue Date:

DOI: https://doi.org/10.1038/nature04987
Comments
By submitting a comment you agree to abide by our Terms and Community Guidelines. If you find something abusive or that does not comply with our terms or guidelines please flag it as inappropriate.