Abstract
Non-volcanic seismic tremor was discovered in the Nankai trough subduction zone in southwest Japan1 and subsequently identified in the Cascadia subduction zone2. In both locations, tremor is observed to coincide temporally with large, slow slip events on the plate interface downdip of the seismogenic zone2,3,4,5,6,7. The relationship between tremor and aseismic slip remains uncertain, however, largely owing to difficulty in constraining the source depth of tremor. In southwest Japan, a high quality borehole seismic network allows identification of coherent S-wave (and sometimes P-wave) arrivals within the tremor, whose sources are classified as low-frequency earthquakes. As low-frequency earthquakes comprise at least a portion of tremor, understanding their mechanism is critical to understanding tremor as a whole. Here, we provide strong evidence that these earthquakes occur on the plate interface, coincident with the inferred zone of slow slip. The locations and characteristics of these events suggest that they are generated by shear slip during otherwise aseismic transients, rather than by fluid flow. High pore-fluid pressure in the immediate vicinity, as implied by our estimates of seismic P- and S-wave speeds, may act to promote this transient mode of failure. Low-frequency earthquakes could potentially contribute to seismic hazard forecasting by providing a new means to monitor slow slip at depth.
Relevant articles
Open Access articles citing this article.
Francesco Giuntoli

&

Giulio Viola

Scientific Reports Open Access 16 March 2022

Yutaro Okada

,

Takuya Nishimura

…

Hitoshi Hirose

Earth, Planets and Space Open Access 24 January 2022

Yojiro Yamamoto

,

Keisuke Ariyoshi

…

Takane Hori

Earth, Planets and Space Open Access 12 January 2022
Access options
Subscribe to Journal
Get full journal access for 1 year
$199.00
only $3.90 per issue
All prices are NET prices.
VAT will be added later in the checkout.
Tax calculation will be finalised during checkout.
Buy article
Get time limited or full article access on ReadCube.
$32.00
All prices are NET prices.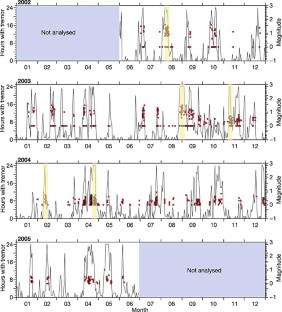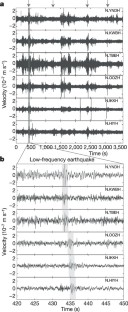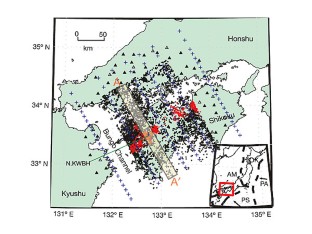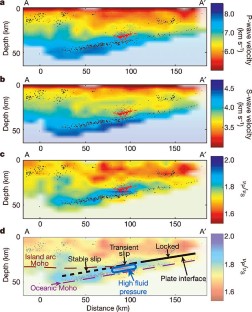 References
Obara, K. Nonvolcanic deep tremor associated with subduction in southwest Japan. Science 296, 1679–1681 (2002)

Rogers, G. & Dragert, H. Episodic tremor and slip on the Cascadia subduction zone: The chatter of silent slip. Science 300, 1942–1943 (2003)

Dragert, H., Wang, K. & James, T. S. A silent slip event on the deeper Cascadia subduction interface. Science 292, 1525–1528 (2001)

Miller, M. M., Melbourne, T., Johnson, D. J. & Sumner, W. Q. Periodic slow earthquakes from the Cascadia subduction zone. Science 295, 2423 (2002)

Obara, K., Hirose, H., Yamamizu, F. & Kasahara, K. Episodic slow slip events accompanied by non-volcanic tremors in southwest Japan subduction zone. Geophys. Res. Lett. 31, doi:10.1029/2004GL020848 (2004)

Hirose, H. & Obara, K. Repeating short- and long-term slow slip events with deep tremor activity around the Bungo channel region, southwest Japan. Earth Planets Space 57, 961–972 (2005)

Obara, K. & Hirose, H. Non-volcanic deep low-frequency tremors accompanying slow slips in the southwest Japan subduction zone. Tectonophysics 417, 33–51 (2006)

Seno, T. & Yamasaki, T. Low-frequency tremors, intraslab and interplate earthquakes in Southwest Japan–from a viewpoint of slab dehydration. Geophys. Res. Lett. 30, doi:10.1029/2003GL018349 (2003)

Katsumata, A. & Kamaya, N. Low-frequency continuous tremor around the Moho discontinuity away from volcanoes in the southwest Japan. Geophys. Res. Lett. 30, doi:10.1029/2002GL015981 (2003)

Chouet, B. Resonance of a fluid-driven crack: Radiation properties and implications for the source of long-period events and harmonic tremor. J. Geophys. Res. 93, 4375–4400 (1988)

Julian, B. R. Volcanic tremor: Nonlinear excitation by fluid flow. J. Geophys. Res. 99, 11859–11878 (1994)

Kao, H. et al. A wide depth distribution of seismic tremors along the northern Cascadia margin. Nature 436, 841–844 (2005)

Zhang, H. & Thurber, C. H. Double-difference tomography: The method and its application to the Hayward fault, California. Bull. Seismol. Soc. Am. 93, 1875–1889 (2003)

Zhang, H. et al. High-resolution subducting-slab structure beneath northern Honshu, Japan, revealed by double-difference tomography. Geology 32, 361–364 (2004)

Obara, K., Kasahara, K., Hori, S & Okada, Y. A densely distributed high-sensitivity seismograph network in Japan: Hi-net by National Research Institute for Earth Science and Disaster Prevention. Rev. Sci. Instrum. 76, doi:10.1063/1.1854197 (2005)

Baba, T., Tanioka, Y., Cummins, P. & Uhira, K. The slip distribution of the 1946 Nankai earthquake estimated from tsunami inversion using a new plate model. Phys. Earth Planet. Inter. 132, 59–73 (2002)

Shiomi, K., Sato, H., Obara, K. & Ohtake, M. Configuration of subducting Philippine Sea plate beneath southwest Japan revealed from receiver function analysis based on the multivariate autoregressive model. J. Geophys. Res. 109, doi:10.1029/2003JB002774 (2004)

Peacock, S. M. & Wang, K. Seismic consequences of warm versus cool subduction metamorphism: Examples from southwest and northeast Japan. Science 286, 937–939 (1999)

Hacker, B. R., Peacock, S. M., Abers, G. A. & Holloway, S. D. Subduction Factory 2. Are intermediate-depth earthquakes in subducting slabs linked to metamorphic dehydration reactions? J. Geophys. Res. 108, doi:10.1029/2001JB001129 (2003)

Christensen, N. I. Pore pressure and oceanic crustal seismic structure. Geophys J. R. Astron. Soc. 79, 411–423 (1984)

Raleigh, C. B. & Paterson, M. S. Experimental deformation of serpentinite and its tectonic implications. J. Geophys. Res. 70, 3965–3985 (1965)

Kirby, S. H. Intraslab earthquakes and phase changes in subducting lithosphere. Rev. Geophys. 33, 287–297 (1995)

Kodaira, S. et al. High pore fluid pressure may cause silent slip in the Nankai Trough. Science 304, 1295–1298 (2004)

Ozawa, S. et al. Detection and monitoring of ongoing aseismic slip in the Tokai region, central Japan. Science 298, 1009–1012 (2002); published online 3 October 2002 (doi:10.1126/science.1076780)

Nadeau, R. M. & Dolenc, D. Nonvolcanic tremors deep beneath the San Andreas fault. Science 307, 389 (2005); published online 9 December 2004 (doi:10.1126/science.1107142)

Tanioka, Y. & Satake, K. Coseismic slip distribution of the 1946 Nankai earthquake and aseismic slips caused by the earthquake. Earth Planets Space 53, 235–241 (2001)

Hirose, H., Hirahara, K., Kimata, F., Fujii, N. & Miyazaki, S. A slow thrust slip event following the two 1996 Hyuganada earthquakes beneath the Bungo Channel, southwest Japan. Geophys. Res. Lett. 26, 3237–3240 (1999)

Miyazaki, S., McGuire, J. J. & Segall, P. A transient subduction zone slip episode in southwest Japan observed by the nationwide GPS array. J. Geophys. Res. 108, doi:10.129/2001JB000456 (2003)

Miyazawa, M. & Mori, J. Detection of triggered deep low-frequency events from the 2003 Tokachi-oki earthquake. Geophys. Res. Lett. 32. doi:10.1029/2005GL022539 (2005)

Bird, P. An updated digital model of plate boundaries. Geochem. Geophys. Geosyst. 4, doi:10.1029/2001GC000252 (2003)
Acknowledgements
This material is based upon work supported by the National Science Foundation. We thank K. Obara for allowing us to use his determinations of daily tremor activity. Much of this work was conducted while D.R.S. was a participant in the Summer Institute in Japan programme, cosponsored by the Japan Society for Promotion of Science and the National Science Foundation. All data were obtained from the NIED Hi-net data server.
Supplementary information
This file contains Supplementary Methods and Supplementary Figures 1–4. (PDF 1484 kb)
About this article
Cite this article
Shelly, D., Beroza, G., Ide, S. et al. Low-frequency earthquakes in Shikoku, Japan, and their relationship to episodic tremor and slip. Nature 442, 188–191 (2006). https://doi.org/10.1038/nature04931
Received:

Accepted:

Issue Date:

DOI: https://doi.org/10.1038/nature04931
Comments
By submitting a comment you agree to abide by our Terms and Community Guidelines. If you find something abusive or that does not comply with our terms or guidelines please flag it as inappropriate.