Abstract
Wound healing is essential for maintaining the integrity of multicellular organisms. In every species studied, disruption of an epithelial layer instantaneously generates endogenous electric fields, which have been proposed to be important in wound healing1,2,3. The identity of signalling pathways that guide both cell migration to electric cues and electric-field-induced wound healing have not been elucidated at a genetic level. Here we show that electric fields, of a strength equal to those detected endogenously, direct cell migration during wound healing as a prime directional cue. Manipulation of endogenous wound electric fields affects wound healing in vivo. Electric stimulation triggers activation of Src and inositol–phospholipid signalling, which polarizes in the direction of cell migration. Notably, genetic disruption of phosphatidylinositol-3-OH kinase-γ (PI(3)Kγ) decreases electric-field-induced signalling and abolishes directed movements of healing epithelium in response to electric signals. Deletion of the tumour suppressor phosphatase and tensin homolog (PTEN) enhances signalling and electrotactic responses. These data identify genes essential for electrical-signal-induced wound healing and show that PI(3)Kγ and PTEN control electrotaxis.
Your institute does not have access to this article
Relevant articles
Open Access articles citing this article.
Brett Sargent

,

Mohammad Jafari

…

Marcella Gomez

Scientific Reports Open Access 15 June 2022

Rui Yu

,

Hualei Zhang

&

Baolin Guo

Nano-Micro Letters Open Access 02 December 2021

Aiping Liu

,

Yin Long

…

Angela L. F. Gibson

Journal of Nanobiotechnology Open Access 20 September 2021
Access options
Subscribe to Journal
Get full journal access for 1 year
$199.00
only $3.90 per issue
All prices are NET prices.
VAT will be added later in the checkout.
Tax calculation will be finalised during checkout.
Buy article
Get time limited or full article access on ReadCube.
$32.00
All prices are NET prices.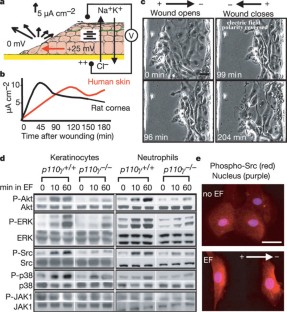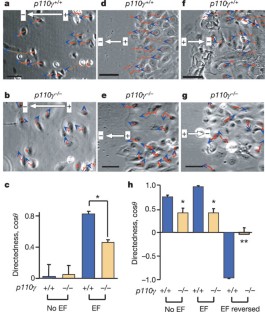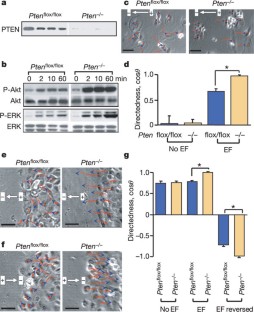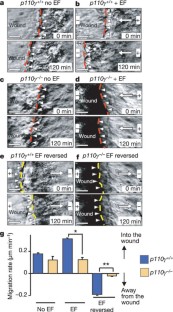 References
Barker, A. T., Jaffe, L. F. & Vanable, J. W. Jr The glabrous epidermis of cavies contains a powerful battery. Am. J. Physiol. 242, R358–R366 (1982)

Foulds, I. S. & Barker, A. T. Human skin battery potentials and their possible role in wound healing. Br. J. Dermatol. 109, 515–522 (1983)

McCaig, C. D., Rajnicek, A. M., Song, B. & Zhao, M. Controlling cell behaviour electrically: current views and future potential. Physiol. Rev. 85, 943–978 (2005)

DuBois-Reymond, E. Vorläufiger Abriss einer Untersuchung uber den sogenannten Froschstrom und die electomotorischen Fische. Ann. Phy. U. Chem. 58, 1–30 (1843)

Jaffe, L. F. & Nuccitelli, R. An ultrasensitive vibrating probe for measuring steady extracellular currents. J. Cell Biol. 63, 614–628 (1974)

Borgens, R. B., Vanable, J. W. Jr & Jaffe, L. F. Bioelectricity and regeneration: large currents leave the stumps of regenerating newt limbs. Proc. Natl Acad. Sci. USA 74, 4528–4532 (1977)

Reid, B., Song, B., McCaig, C. D. & Zhao, M. Wound healing in rat cornea: the role of electric currents. FASEB J. 19, 379–386 (2005)

Keese, C. R., Wegener, J., Walker, S. R. & Giaever, I. Electrical wound-healing assay for cells in vitro. Proc. Natl Acad. Sci. USA 101, 1554–1559 (2004)

Robinson, K. R. & Messerli, M. A. Left/right, up/down: the role of endogenous electrical fields as directional signals in development, repair and invasion. BioEssays 25, 759–766 (2003)

Singer, A. J. & Clark, R. A. Cutaneous wound healing. N. Engl. J. Med. 341, 738–746 (1999)

Chiang, M., Robinson, K. R. & Vanable, J. W. Jr Electrical fields in the vicinity of epithelial wounds in the isolated bovine eye. Exp. Eye Res. 54, 999–1003 (1992)

Zhao, M., Song, B., Pu, J., Forrester, J. V. & McCaig, C. D. Direct visualization of a stratified epithelium reveals that wounds heal by unified sliding of cell sheets. FASEB J. 17, 397–406 (2003)

Song, B., Zhao, M., Forrester, J. & McCaig, C. Nerve regeneration and wound healing are stimulated and directed by an endogenous electrical field in vivo. J Cell Sci. 117, 4681–4690 (2004)

Song, B., Zhao, M., Forrester, J. V. & McCaig, C. D. Electrical cues regulate the orientation and frequency of cell division and the rate of wound healing in vivo. Proc. Natl Acad. Sci. USA 99, 13577–13582 (2002)

Devreotes, P. & Janetopoulos, C. Eukaryotic chemotaxis: distinctions between directional sensing and polarization. J. Biol. Chem. 278, 20445–20448 (2003)

Rickert, P., Weiner, O. D., Wang, F., Bourne, H. R. & Servant, G. Leukocytes navigate by compass: roles of PI3Kγ and its lipid products. Trends Cell Biol. 10, 466–473 (2000)

Kimmel, A. R. & Parent, C. A. The signal to move: D. discoideum go orienteering. Science 300, 1525–1527 (2003)

Firtel, R. A. & Chung, C. Y. The molecular genetics of chemotaxis: sensing and responding to chemoattractant gradients. BioEssays 22, 603–615 (2000)

Servant, G. et al. Polarization of chemoattractant receptor signaling during neutrophil chemotaxis. Science 287, 1037–1040 (2000)

Xu, J. et al. Divergent signals and cytoskeletal assemblies regulate self-organizing polarity in neutrophils. Cell 114, 201–214 (2003)

Iijima, M. & Devreotes, P. Tumor suppressor PTEN mediates sensing of chemoattractant gradients. Cell 109, 599–610 (2002)

Funamoto, S., Meili, R., Lee, S., Parry, L. & Firtel, R. A. Spatial and temporal regulation of 3-phosphoinositides by PI 3-kinase and PTEN mediates chemotaxis. Cell 109, 611–623 (2002)

Erickson, C. A. & Nuccitelli, R. Embryonic fibroblast motility and orientation can be influenced by physiological electric fields. J. Cell Biol. 98, 296–307 (1984)

Wu, L., Valkema, R., Van Haastert, P. J. & Devreotes, P. N. The G protein β subunit is essential for multiple responses to chemoattractants in Dictyostelium. J. Cell Biol. 129, 1667–1675 (1995)

Sasaki, T. et al. Function of PI3Kγ in thymocyte development, T cell activation, and neutrophil migration. Science 287, 1040–1046 (2000)

Suzuki, A. et al. T cell-specific loss of Pten leads to defects in central and peripheral tolerance. Immunity 14, 523–534 (2001)

Suzuki, A., Sasaki, T., Mak, T. W. & Nakano, T. Functional analysis of the tumour suppressor gene PTEN in murine B cells and keratinocytes. Biochem. Soc. Trans. 32, 362–365 (2004)

Denker, S. P. & Barber, D. L. Cell migration requires both ion translocation and cytoskeletal anchoring by the Na-H exchanger NHE1. J. Cell. Biol. 159, 1087–1096 (2002)

Masereel, B., Pochet, L. & Laeckmann, D. An overview of inhibitors of Na+/H+ exchanger. Eur. J. Med. Chem. 38, 547–554 (2003)

Zhao, M., Agius-Fernandez, A., Forrester, J. V. & McCaig, C. D. Orientation and directed migration of cultured corneal epithelial cells in small electric fields are serum dependent. J. Cell Sci. 109, 1405–1414 (1996)
Acknowledgements
This work was supported by grants from the Wellcome Trust and Royal Society (to M.Z.), the Institute of Molecular Biotechnology of Austria of the Austrian Academy of Sciences, the Austria Ministry of Sciences, the Austrian National Bank, and a European Union Framework 6 excellence grant (all to J.M.P.). We thank all members of the Zhao, Bourne and Penninger laboratories for discussions and technical assistance. Author Contributions M.Z. designed the experiments, took part in the cell migration and western blotting experiments, analysed the results and wrote the paper. J.M.P. designed the genetic analysis of the electric-field-induced signalling pathway, analysed the data and wrote the paper. B.S. did the in vivo experiments, most experiments with cells and tissues from transgenic mice. B.S. and J.P. did most of the cell migration and wound healing assays. T.W. performed the first signalling experiment and genotyping. B.R. performed the vibrating probe measurements. G.T., F.W. and P.W. did the experiments with HL60 cells. B.S., A.G. and Y.G. did the experiments on fibroblasts. P.N.D., A.S. and T.S. provided mouse and D. discoideum lines essential for the experiments. J.V.F., H.B. and C.D.M. helped with some of the experimental design, writing and analysis of the data. All authors discussed the results and commented on the manuscript.
Supplementary information
About this article
Cite this article
Zhao, M., Song, B., Pu, J. et al. Electrical signals control wound healing through phosphatidylinositol-3-OH kinase-γ and PTEN. Nature 442, 457–460 (2006). https://doi.org/10.1038/nature04925
Received:

Accepted:

Issue Date:

DOI: https://doi.org/10.1038/nature04925
Comments
By submitting a comment you agree to abide by our Terms and Community Guidelines. If you find something abusive or that does not comply with our terms or guidelines please flag it as inappropriate.