Abstract
Fossilized embryos from the late Neoproterozoic and earliest Phanerozoic have caused much excitement because they preserve the earliest stages of embryology of animals that represent the initial diversification of metazoans1,2,3,4. However, the potential of this material has not been fully realized because of reliance on traditional, non-destructive methods that allow analysis of exposed surfaces only1,2,3,4, and destructive methods that preserve only a single two-dimensional view of the interior of the specimen5,6. Here, we have applied synchrotron-radiation X-ray tomographic microscopy (SRXTM)7, obtaining complete three-dimensional recordings at submicrometre resolution. The embryos are preserved by early diagenetic impregnation and encrustation with calcium phosphate, and differences in X-ray attenuation provide information about the distribution of these two diagenetic phases. Three-dimensional visualization of blastomere arrangement and diagenetic cement in cleavage embryos resolves outstanding questions about their nature, including the identity of the columnar blastomeres. The anterior and posterior anatomy of embryos of the bilaterian worm-like Markuelia confirms its position as a scalidophoran, providing new insights into body-plan assembly among constituent phyla. The structure of the developing germ band in another bilaterian, Pseudooides, indicates a unique mode of germ-band development. SRXTM provides a method of non-invasive analysis that rivals the resolution achieved even by destructive methods, probing the very limits of fossilization and providing insight into embryology during the emergence of metazoan phyla.
Relevant articles
Open Access articles citing this article.
Michael Steiner

,

Ben Yang

…

Philip Donoghue

Nature Communications Open Access 15 February 2021

Yunbing Zong

,

Shengkun Yao

…

Huaidong Jiang

Scientific Reports Open Access 27 February 2017
Access options
Subscribe to this journal
Receive 51 print issues and online access
$199.00 per year
only $3.90 per issue
Rent or buy this article
Prices vary by article type
from$1.95
to$39.95
Prices may be subject to local taxes which are calculated during checkout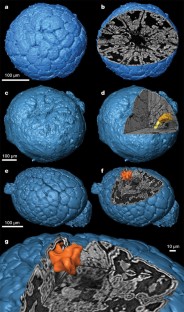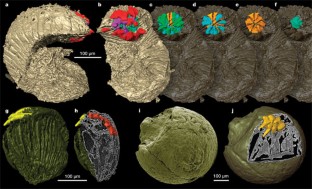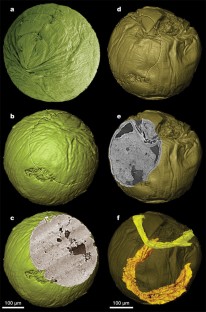 References
Bengtson, S. & Yue, Z. Fossilized metazoan embryos from the earliest Cambrian. Science 277, 1645–1648 (1997)

Xiao, S., Zhang, Y. & Knoll, A. H. Three-dimensional preservation of algae and animal embryos in a Neoproterozoic phosphate. Nature 391, 553–558 (1998)

Steiner, M., Zhu, M., Li, G., Qian, Y. & Erdtmann, B.-D. New early Cambrian bilaterian embryos and larvae from China. Geology 32, 833–836 (2004)

Dong, X., Donoghue, P. C. J., Cheng, H. & Liu, J. Fossil embryos from the Middle and Late Cambrian period of Hunan, south China. Nature 427, 237–240 (2004)

Chen, J. et al. Precambrian animal diversity: putative phosphatised embryos from the Doushantuo Formation of China. Proc. Natl Acad. Sci. USA 97, 4457–4462 (2000)

Chen, J. et al. Precambrian animal life: Probable developmental and adult cnidarian forms from Southwest China. Dev. Biol. 248, 182–196 (2002)

Stampanoni, M. et al. High resolution X-ray detector for synchrotron-based microtomography. Nucl. Instrum. Methods Phys. Res. A 491, 291–301 (2002)

Yue, Z. & Bengtson, S. Embryonic and post-embryonic development of the Early Cambrian cnidarian Olivooides. Lethaia 32, 181–195 (1999)

Chen, J., Braun, A., Waloszek, D., Peng, Q.-Q. & Maas, A. Lower Cambrian yolk-pyramid embryos from southern Shaanxi, China. Prog. Nat. Sci. 14, 167–172 (2004)

Chipman, A. D., Arthur, W. & Akam, M. Early development and segment formation in the centipede, Strigamia maritima (Geophilomorpha). Evol. Dev. 6, 78–89 (2004)

Chen, J. Y. & Chi, H. M. Precambrian phosphatized embryos and larvae from the Doushantuo Formation and their affinities, Guizhou (SW China). Chin. Sci. Bull. 50, 2193–2200 (2005)

Chen, J. Y. The Dawn Of Animal World 1–366 (Jiangsu Science and Technology Publishing House, Nanjing, 2004)

Chen, J. et al. Small bilaterian fossils from 40 to 55 million years before the Cambrian. Science 305, 218–222 (2004)

Chen, J.-Y., Oliveri, P., Davidson, E. & Bottjer, D. J. Response to 'Comment on "Small bilaterian fossils from 40 to 55 million years before the Cambrian"'. Science 306, 1291b (2004)

Bengtson, S. & Budd, G. Comment on "Small bilaterian fossils from 40 to 55 million years before the Cambrian". Science 306, 1291a (2004)

Bengtson, S. in The New Panorama Of Animal Evolution (eds Legakis, A., Sfenthourakis, S., Polymeni, R. & Thessalou-Legaki, M.) 289–300 (Pensoft, Moscow, 2003)

Xiao, S., Yuan, X. & Knoll, A. H. Eumetazoan fossils in terminal Proterozoic phosphorites? Proc. Natl Acad. Sci. USA 97, 13684–13689 (2000)

Raff, E. C., Vilinski, J. T., Turner, F. R., Donoghue, P. C. J. & Raff, R. A. Experimental taphonomy shows the feasibility of fossil embryos. Proc. Natl Acad. Sci. USA 103, 5846–5851 (2006)

Dong, X., Donoghue, P. C. J., Cunningham, J., Liu, J. & Cheng, H. The anatomy, affinity and phylogenetic significance of Markuelia. Evol. Dev. 7, 468–482 (2005)

Schmidt-Rhaesa, A. Phylogenetic relationships of the Nematomorpha—a discussion of current hypotheses. Zool. Anz. 236, 203–216 (1998)

Lemburg, C. Ultrastrukurelle Untersuchungen an den Larven von Halicryptus spinulosus und Priapulus caudatus: Hypothesen zur Phylogenie der Priapulida und deren Bedeutung für die Evolution der Nemathelminthes 1–393 (Cuvillier, Göttingen, 1999)

Adrianov, A. V. & Malakhov, V. V. Kinorhyncha: Structure, Development, Phylogeny and Taxonomy 1–260 (Nauka Publishing, Moscow, 1994)

Hammond, R. A. The burrowing of Priapulus caudatus. J. Zool. 162, 469–480 (1970)

Donoghue, P. C. J. et al. Fossilized embryos are widespread but the record is temporally and taxonomically biased. Evol. Dev. 8, 232–238 (2006)

Dzik, J. & Krumbiegel, G. The oldest 'onychophoran' Xenusion: a link connecting phyla? Lethaia 22, 169–182 (1989)

Steiner, M., Li, G. & Zhu, M. Lower Cambrian small shelly fossils of northern Sichuan and southern Shaanxi (China), and their biostratigraphic significance. Geobios 37, 259–275 (2004)

Briggs, D. E. G. The role of decay and mineralization in the preservation of soft-bodied fossils. Annu. Rev. Earth Planet. Sci. 31, 275–301 (2003)

Waloszek, D. The 'Orsten' window—a three-dimensionally preserved Upper Cambrian meiofauna and its contribution to our understanding of the evolution of Arthropoda. Paleontol. Res. 7, 71–88 (2003)
Acknowledgements
We thank W. Guo for field assistance, and A. Groso for her support at the beamline, and K. Robson-Brown for her assistance in running the experiments. This work was funded by the Swiss Light Source (P.C.J.D. and S.B.), European Union FP6, as well as grants from the Natural Environment Research Council (P.C.J.D.), the Swedish Research Council (S.B.), Bristol University and the National Natural Science Foundation of China (X.-p.D.).
Supplementary information
About this article
Cite this article
Donoghue, P., Bengtson, S., Dong, Xp. et al. Synchrotron X-ray tomographic microscopy of fossil embryos. Nature 442, 680–683 (2006). https://doi.org/10.1038/nature04890
Received:

Accepted:

Issue Date:

DOI: https://doi.org/10.1038/nature04890
Comments
By submitting a comment you agree to abide by our Terms and Community Guidelines. If you find something abusive or that does not comply with our terms or guidelines please flag it as inappropriate.