Abstract
The thymus provides an essential environment for the development of T cells from haemopoietic progenitors. This environment is separated into cortical and medullary regions, each containing functionally distinct epithelial populations that are important at successive stages of T-cell development and selection1,2. However, the developmental origin and lineage relationships between cortical and medullary epithelial cell types remain controversial3. Here we describe a clonal assay to investigate the developmental potential of single, individually selected, thymic epithelial progenitors (marked with enhanced yellow fluorescent protein) developing within the normal architecture of the thymus. Using this approach, we show that cortical and medullary epithelial cells share a common origin in bipotent precursors, providing definitive evidence that they have a single rather than dual germ layer origin during embryogenesis. Our findings resolve a long-standing issue in thymus development, and are important in relation to the development of cell-based strategies for thymus disorders and the possibility of restoring function of the atrophied adult thymus.
Relevant articles
Open Access articles citing this article.
Thomas Barthlott

,

Adam E. Handel

…

Georg A. Holländer

Nature Communications Open Access 24 June 2021

Jhoanne L. Bautista

,

Nathan T. Cramer

…

Audrey V. Parent

Nature Communications Open Access 17 February 2021

Alexandra Y. Kreins

,

Stefano Maio

&

Fatima Dhalla

Seminars in Immunopathology Open Access 30 November 2020
Access options
Subscribe to this journal
Receive 51 print issues and online access
$199.00 per year
only $3.90 per issue
Rent or buy this article
Prices vary by article type
from$1.95
to$39.95
Prices may be subject to local taxes which are calculated during checkout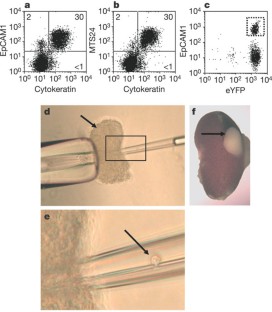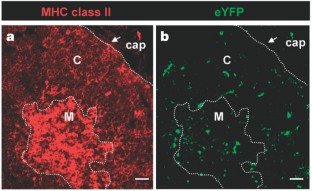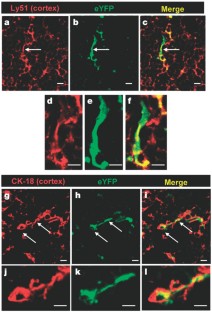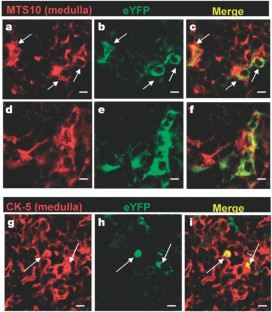 References
Petrie, H. T. Cell migration and the control of post-natal T-cell lymphopoiesis in the thymus. Nature Rev. Immunol. 3, 859–866 (2003)

Anderson, G. & Jenkinson, E. J. Lymphostromal interactions in thymic development and function. Nature Rev. Immunol. 1, 31–40 (2001)

Manley, N. R. & Blackburn, C. C. A developmental look at thymus organogenesis: where do the non-hematopoietic cells in the thymus come from? Curr. Opin. Immunol. 15, 225–232 (2003)

Harman, B. C. et al. T/B lineage choice occurs prior to intrathymic Notch signaling. Blood 106, 886–892 (2005)

Bennett, A. R. et al. Identification and characterization of thymic epithelial progenitor cells. Immunity 16, 803–814 (2002)

Rodewald, H. R., Paul, S., Haller, C., Bluethmann, H. & Blum, C. Thymus medulla consisting of epithelial islets each derived from a single progenitor. Nature 414, 763–768 (2001)

Farr, A. G., Nelson, A., Truex, J. & Hosier, S. Epithelial heterogeneity in the murine thymus: a cell surface glycoprotein expressed by subcapsular and medullary epithelium. J. Histochem. Cytochem. 39, 645–653 (1991)

Gill, J., Malin, M. A., Hollander, G. A. & Boyd, R. L. Generation of a complete thymic microenvironment by MTS24(+ ) thymic epithelial cells. Nature Immunol. 3, 635–642 (2002)

Klug, D. B. et al. Interdependence of cortical thymic epithelial cell differentiation and T-lineage commitment. Proc. Natl Acad. Sci. USA 95, 11822–11827 (1998)

Klug, D. B., Carter, C., Gimenez-Conti, I. B. & Richie, E. R. Thymocyte-independent and thymocyte-dependent phases of epithelial patterning in the fetal thymus. J. Immunol. 169, 2842–2845 (2002)

Anderson, G., Hare, K. J., Platt, N. & Jenkinson, E. J. Discrimination between maintenance- and differentiation-inducing signals during initial and intermediate stages of positive selection. Eur. J. Immunol. 27, 1838–1842 (1997)

Srinivas, S. et al. Cre reporter strains produced by targeted insertion of EYFP and ECFP into the ROSA26 locus. BMC Dev. Biol. 1, 4–12 (2001)

Gray, D. H., Chidgey, A. P. & Boyd, R. L. Analysis of thymic stromal cell populations using flow cytometry. J. Immunol. Meth. 260, 15–28 (2002)

Cordier, A. C. & Haumont, S. M. Development of thymus, parathyroids and ultimo-branchial bodies in NMRI and nude mice. Am. J. Anat. 157, 227–263 (1980)

Gordon, J. et al. Functional evidence for a single endodermal origin for the thymic epithelium. Nature Immunol. 5, 546–553 (2004)

Jenkinson, W. E., Jenkinson, E. J. & Anderson, G. Differential requirement for mesenchyme in the proliferation and maturation of thymic epithelial progenitors. J. Exp. Med. 198, 325–332 (2003)

Jenkinson, W. E., Rossi, S. W., Jenkinson, E. J. & Anderson, G. Development of functional thymic epithelial cells occurs independently of lymphostromal interactions. Mech. Dev. 122, 1294–1299 (2005)

Yamamoto, N., Tanigaki, K., Han, H., Hiah, H. & Honjo, T. Notch/RBP-J signaling regulates epidermis/hair fate determination of hair follicular stem cells. Curr. Biol. 13, 333–338 (2003)

Jones, P. H., Harper, S. & Watt, F. M. Stem cell patterning and fate in human epidermis. Cell 80, 83–93 (1995)

Wils, E. J. & Cornelissen, J. J. Thymopoiesis following allogeneic stem cell transplantation: new possibilities for improvement. Blood Rev. 19, 89–98 (2005)

Pignata, C. et al. Human equivalent of the mouse nude/SCID phenotype: long-term evaluation of immunologic reconstitution after bone marrow transplantation. Blood 97, 880–885 (2001)

Derbinski, J., Schulte, A., Kyewski, B. & Klein, L. Promiscuous gene expression in medullary thymic epithelial cells mirrors the peripheral self. Nature Immunol. 2, 1032–1039 (2001)

Smalley, M., Titley, I. & Ashworth, A. An improved definition of mouse mammary epithelial side population cells. Cytotherapy 7, 495–508 (2005)
Acknowledgements
We thank R. Bird for cell sorting, and S. Parnell and T. Jones for technical assistance. This work was supported by the European Union (FP6 Eurothymaide Constortium) and the Medical Research Council, UK. Author Contributions S.W.R. performed the experiments shown in Figs 23,4, S.W.R. and W.E.J. performed those shown in Fig. 1. G.A. and E.J.J. designed the experiments and wrote the paper. All authors discussed the results and commented on the manuscript.
About this article
Cite this article
Rossi, S., Jenkinson, W., Anderson, G. et al. Clonal analysis reveals a common progenitor for thymic cortical and medullary epithelium. Nature 441, 988–991 (2006). https://doi.org/10.1038/nature04813
Received:

Accepted:

Issue Date:

DOI: https://doi.org/10.1038/nature04813
Comments
By submitting a comment you agree to abide by our Terms and Community Guidelines. If you find something abusive or that does not comply with our terms or guidelines please flag it as inappropriate.