Abstract
Bacterial infection remains a serious threat to human lives because of emerging resistance to existing antibiotics. Although the scientific community has avidly pursued the discovery of new antibiotics that interact with new targets, these efforts have met with limited success since the early 1960s1,2. Here we report the discovery of platensimycin, a previously unknown class of antibiotics produced by Streptomyces platensis. Platensimycin demonstrates strong, broad-spectrum Gram-positive antibacterial activity by selectively inhibiting cellular lipid biosynthesis. We show that this anti-bacterial effect is exerted through the selective targeting of β-ketoacyl-(acyl-carrier-protein (ACP)) synthase I/II (FabF/B) in the synthetic pathway of fatty acids. Direct binding assays show that platensimycin interacts specifically with the acyl-enzyme intermediate of the target protein, and X-ray crystallographic studies reveal that a specific conformational change that occurs on acylation must take place before the inhibitor can bind. Treatment with platensimycin eradicates Staphylococcus aureus infection in mice. Because of its unique mode of action, platensimycin shows no cross-resistance to other key antibiotic-resistant strains tested, including methicillin-resistant S. aureus, vancomycin-intermediate S. aureus and vancomycin-resistant enterococci. Platensimycin is the most potent inhibitor reported for the FabF/B condensing enzymes, and is the only inhibitor of these targets that shows broad-spectrum activity, in vivo efficacy and no observed toxicity.
Relevant articles
Open Access articles citing this article.
Sitao Zhang

,

Yongchang Xu

…

Youjun Feng

Nature Communications Open Access 06 April 2021

Thomas G. Bartholow

,

Terra Sztain

…

Michael D. Burkart

Communications Biology Open Access 16 March 2021

Madeline F. Currie

,

Dylan M. Persaud

…

Kara L. Jaremko

Scientific Reports Open Access 20 October 2020
Access options
Subscribe to this journal
Receive 51 print issues and online access
$199.00 per year
only $3.90 per issue
Rent or buy this article
Prices vary by article type
from$1.95
to$39.95
Prices may be subject to local taxes which are calculated during checkout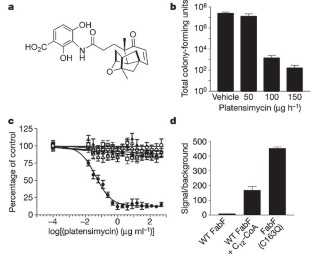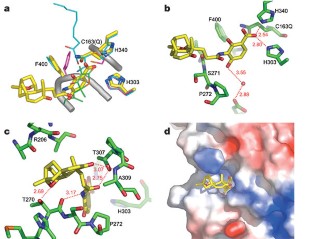 References
Singh, S. B. & Barrett, J. F. Empirical antibacterial drug discovery—foundation in natural products. Biochem. Pharmacol. 71, 1006–1015 (2006)

Butler, M. S. & Buss, A. D. Natural products—the future scaffolds for novel antibiotics? Biochem. Pharmacol. 71, 919–929 (2006)

Campbell, J. W. & Cronan, J. E. Bacterial fatty acid biosynthesis: Targets for antibacterial drug discovery. Annu. Rev. Microbiol. 55, 305–332 (2001)

Zhang, Y.-M., Marrakchi, H., White, S. W. & Rock, C. O. The application of computational methods to explore the diversity and structure of bacterial fatty acid synthase. J. Lipid Res. 44, 1–10 (2003)

Heath, R. J. & Rock, C. O. Fatty acid biosynthesis as a target for novel antibacterials. Curr. Opin. Investig. Drugs 5, 146–153 (2004)

Smith, S., Witkowski, A. & Joshi, A. K. Structural and functional organization of the animal fatty acid synthase. Prog. Lipid Res. 42, 289–317 (2003)

White, S. W., Zheng, J., Zhang, Y. M. & Rock, C. O. The structural biology of type II fatty acid biosynthesis. Annu. Rev. Biochem. 74, 791–831 (2005)

Revill, W. P., Bibb, M. J., Scheu, A. K., Kieser, H. J. & Hopwood, D. A. Beta-ketoacyl acyl carrier protein synthase III (FabH) is essential for fatty acid biosynthesis in Streptomyces coelicolor A3(2). J. Bacteriol. 183, 3526–3530 (2001)

Lai, C.-Y. & Cronan, J. E. β-Ketoacyl-acyl carrier protein synthase III (FabH) is essential for bacterial fatty acid synthesis. J. Biol. Chem. 278, 51494–51503 (2003)

Tsay, J., Rock, C. & Jackowski, S. Overproduction of beta-ketoacyl-acyl carrier protein synthase I imparts thiolactomycin resistance to Escherichia coli K-12. J. Bacteriol. 174, 508–513 (1992)

Schujman, G. E., Choi, K. H., Altabe, S., Rock, C. O. & de Mendoza, D. Response of Bacillus subtilis to cerulenin and acquisition of resistance. J. Bacteriol. 183, 3032–3040 (2001)

Matsumae, A., Nomura, S. & Hata, T. Studies on cerulenin. IV. Biological characteristics of cerulenin. J. Antibiot. (Tokyo) 17, 1–7 (1964)

Noto, T., Miyakawa, S., Oishi, H., Endo, H. & Okazaki, H. Thiolactomycin, a new antibiotic. III. In vitro antibacterial activity. J. Antibiot. (Tokyo) 35, 401–410 (1982)

Wang, J. et al. Discovery of a small molecule that inhibits cell division by blocking Ftsz, a novel therapeutic target of antibiotics. J. Biol. Chem. 278, 44424–44428 (2003)

Young, K. et al. Discovery of FabH/FabF inhibitors from natural products. Antimicrob. Agents Chemother. 50, 519–526 (2006)

Kodali, S. et al. Determination of selectivity and efficacy of fatty acid synthesis inhibitors. J. Biol. Chem. 280, 1669–1677 (2005)

Heath, R. J. & Rock, C. O. The Claisen condensation in biology. Nat. Prod. Rep. 19, 581–596 (2002)

Olsen, J. G., Kadziola, A., von Wettstein-Knowles, P., Siggaard-Andersen, M. & Larsen, S. Structures of beta-ketoacyl-acyl carrier protein synthase I complexed with fatty acids elucidate its catalytic machinery. Structure (Camb) 9, 233–243 (2001)

McGuire, K. A., Siggaard-Andersen, M., Bangera, M. G., Olsen, J. G. & von Wettstein-Knowles, P. β-Ketoacyl-[acyl carrier protein] synthase I of Escherichia coli: aspects of the condensation mechanism revealed by analyses of mutations in the active site pocket. Biochemistry 40, 9836–9845 (2001)

Witkowski, A., Joshi, A. K., Lindqvist, Y. & Smith, S. Conversion of a beta-ketoacyl synthase to a malonyl decarboxylase by replacement of the active-site cysteine with glutamine. Biochemistry 38, 11643–11650 (1999)

Price, A. C. et al. Inhibition of beta-ketoacyl-acyl carrier protein synthases by thiolactomycin and cerulenin. Structure and mechanism. J. Biol. Chem. 276, 6551–6559 (2001)

Huang, W. et al. Crystal structure of beta-ketoacyl-acyl carrier protein synthase II from E. coli reveals the molecular architecture of condensing enzymes. EMBO J. 17, 1183–1191 (1998)

Hunter, C. A., Singh, J. & Thornton, J. M. Pi–pi interactions: the geometry and energetics of phenylalanine–phenylalanine interactions in proteins. J. Mol. Biol. 218, 837–846 (1991)

Lee, B. & Richards, F. M. The interpretation of protein structures: estimation of static accessibility. J. Mol. Biol. 55, 379–400 (1971)

Collaborative Computational Project No. 4, The CCP4 Suite: Programs for protein crystallography. Acta Crystallogr. D Biol. Crystallogr. 50, 760–763 (1994)
Acknowledgements
Use of the IMCA-CAT beamline 17-ID (or 17-BM) at the Advanced Photon Source was supported by the companies of the Industrial Macromolecular Crystallography Association through a contract with the Center for Advanced Radiation Sources at the University of Chicago. We thank the staff of IMCA-CAT for their able assistance in data collection. This paper is dedicated to the late John Barrett for his strong contributions to antibiotic research. Author Contributions J.W. and S.B.S. led the discovery, microbiological, biochemical characterization and natural products chemistry. S.M.S. coordinated X-ray crystallographic analysis and direct binding assay development.
Ethics declarations
Competing interests
Reprints and permissions information is available at npg.nature.com/reprintsandpermissions. Coordinates and structure factors for all structures presented in this paper have been deposited with the PDB under accession numbers 2GFV, 2GFW, 2GFX, and 2GFY. The authors declare no competing financial interests.
Supplementary information
This file contains Supplementary Methods, Supplementary Table 1, Supplementary Figures and additional references. (PDF 3866 kb)
About this article
Cite this article
Wang, J., Soisson, S., Young, K. et al. Platensimycin is a selective FabF inhibitor with potent antibiotic properties. Nature 441, 358–361 (2006). https://doi.org/10.1038/nature04784
Received:

Accepted:

Issue Date:

DOI: https://doi.org/10.1038/nature04784
Comments
By submitting a comment you agree to abide by our Terms and Community Guidelines. If you find something abusive or that does not comply with our terms or guidelines please flag it as inappropriate.