Abstract
The diffuse extragalactic background light consists of the sum of the starlight emitted by galaxies through the history of the Universe, and it could also have an important contribution from the 'first stars', which may have formed before galaxy formation began. Direct measurements are difficult and not yet conclusive, owing to the large uncertainties caused by the bright foreground emission associated with zodiacal light1. An alternative approach2,3,4,5 is to study the absorption features imprinted on the γ-ray spectra of distant extragalactic objects by interactions of those photons with the background light photons6. Here we report the discovery of γ-ray emission from the blazars7 H 2356 - 309 and 1ES 1101 - 232, at redshifts z = 0.165 and z = 0.186, respectively. Their unexpectedly hard spectra provide an upper limit on the background light at optical/near-infrared wavelengths that appears to be very close to the lower limit given by the integrated light of resolved galaxies8. The background flux at these wavelengths accordingly seems to be strongly dominated by the direct starlight from galaxies, thus excluding a large contribution from other sources—in particular from the first stars formed9. This result also indicates that intergalactic space is more transparent to γ-rays than previously thought.
Access options
Subscribe to this journal
Receive 51 print issues and online access
$199.00 per year
only $3.90 per issue
Rent or buy this article
Get just this article for as long as you need it
$39.95
Prices may be subject to local taxes which are calculated during checkout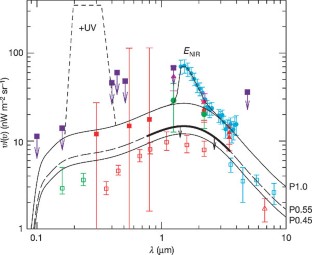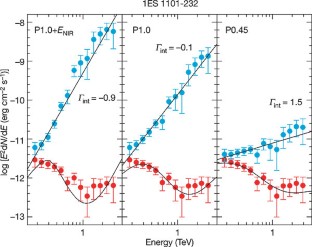 References
Hauser, M. G. & Dwek, E. The Cosmic Infrared Background: measurements and implications. Annu. Rev. Astron. Astrophys. 39, 249–307 (2001)

Nikishov, A. I. Absorption of high-energy photons in the universe. Sov. Phys. JETP 14, 393–394 (1962)

Gould, R. J. & Schreder, G. P. Opacity of the Universe to high-energy photons. Phys. Rev. Lett. 16, 252–254 (1966)

Jelley, J. V. High-energy gamma-ray absorption in space by a 3.5°K microwave field. Phys. Rev. Lett. 16, 479–481 (1966)

Stecker, F. W., De Jager, O. C. & Salamon, M. H. TeV gamma rays from 3C 279—A possible probe of origin and intergalactic infrared radiation fields. Astrophys. J. Lett. 390, 49–52 (1992)

Aharonian, F. A. TeV blazars and the cosmic infrared background radiation. Invited, Rapporteur, and Highlight Papers of the Proc. 27th ICRC (Hamburg) (ed. Schlickeiser, R.) 250–262 (Copernicus Gesellschaft, Katlenburg-Lindau, 2001); preprint at http://arXiV.org/astro-ph/0112314 (2001)

Costamante, L. & Ghisellini, G. TeV candidate BL Lac objects. Astron. Astrophys. 384, 56–71 (2002)

Madau, P. & Pozzetti, L. Deep galaxy counts, extragalactic background light and the stellar baryon budget. Mon. Not. R. Astron. Soc. 312L, 9–15 (2000)

Santos, M. R., Bromm, V. & Kamionkowski, M. The contribution of the first stars to the cosmic infrared background. Mon. Not. R. Astron. Soc. 336, 1082–1092 (2002)

Aharonian, F. A. et al. H.E.S.S. observations of PKS 2155-304. Astron. Astrophys. 430, 865–875 (2005)

Aharonian, F. A. et al. Observations of H1426 + 428 with HEGRA. Observations in 2002 and reanalysis of 1999 and 2000 data. Astron. Astrophys. 403, 523–528 (2003)

Primack, J. R., Somerville, R. S., Bullock, J. S. & Devriendt, J. E. G. Probing Galaxy formation with high-energy gamma rays. AIP Conf. Proc. 558, 463–478 (2001)

Dwek, E. & Krennrich, F. Simultaneous constraints on the spectrum of the extragalactic background light and the intrinsic TeV spectra of Mkn 421, Mkn 501, and H1426 + 428. Astrophys. J. 618, 657–674 (2005)

Dwek, E. & Arendt, R. G. A tentative detection of the cosmic infrared background at 3.5 µm from COBE/DIRBE observations. Astrophys. J. Lett. 508, 9–12 (1998)

Wright, E. L. DIRBE minus 2MASS: confirming the cosmic infrared background at 2.2 microns. Astrophys. J. 553, 538–544 (2001)

Matsumoto, T. et al. Infrared telescope in space observations of the near-infrared extragalactic background light. Astrophys. J. 626, 31–43 (2005)

Cambresy, L., Reach, W. T., Beichman, C. A. & Jarrett, T. H. The cosmic infrared background at 1.25 and 2.2 microns using DIRBE and 2MASS: A contribution not due to galaxies? Astrophys. J. 555, 563–571 (2001)

Kashlinsky, A. Cosmic infrared background and early galaxy evolution. Phys. Rep. 409, 361–438 (2005)

Aharonian, F. et al. The time averaged TeV energy spectrum of MKN 501 of the extraordinary 1997 outburst as measured with the stereoscopic Cherenkov telescope system of HEGRA. Astron. Astrophys. 349, 11–28 (1999)

Krennrich, F. et al. Discovery of spectral variability of Markarian 421 at TeV energies. Astrophys. J. Lett. 575, 9–13 (2002)

Djannati-Atai, A. et al. Very high energy gamma-ray spectral properties of MKN 501 from CAT Cherenkov telescope observations in 1997. Astron. Astrophys. 350, 17–24 (1999)

Malkov, M. A. & Drury, L. O'C. Nonlinear theory of diffusive acceleration of particles by shock waves. Rep. Prog. Phys. 64, 429–481 (2001)

Primack, J. R., Bullock, J. S. & Somerville, R. S. Observational gamma-ray cosmology. AIP Conf. Proc. 745, 23–33 (2005)

Madau, P. & Silk, J. Population III and the near-infrared background excess. Mon. Not. R. Astron. Soc. 359L, 37–41 (2005)

Dwek, E., Arendt, R. G. & Krennrich, F. The near infrared background: interplanetary dust or primordial stars? Astrophys. J. 635, 784–794 (2005)

Bernstein, R. A., Freedman, W. L. & Madore, B. F. The first detections of the extragalactic background light at 3000, 5500, and 8000 Å. I. Results. Astrophys. J. 571, 56–84 (2002)

Protheroe, R. J. & Meyer, H. An infrared background-TeV gamma-ray crisis? Phys. Lett. B 493, 1–6 (2000)

Fazio, G. G. et al. Number counts at 3 µm < λ < 10 µm from the Spitzer Space Telescope. Astrophys. J. Suppl. 154, 39–43 (2004)

Totani, T. et al. Diffuse extragalactic background light versus deep galaxy counts in the Subaru deep field: Missing light in the Universe? Astrophys. J. 550L, 137–141 (2001)

Mattila, K. Has the optical extragalactic background light been detected? Astrophys. J. 591, 119–124 (2003)
Acknowledgements
The support of the Namibian authorities and of the University of Namibia in facilitating the construction and operation of HESS is gratefully acknowledged, as is the support by the German Ministry for Education and Research (BMBF), the Max Planck Society, the French Ministry for Research, the CNRS-IN2P3 and the Astroparticle Interdisciplinary Programme of the CNRS, the UK Particle Physics and Astronomy Research Council (PPARC), the IPNP of the Charles University, the South African Department of Science and Technology and National Research Foundation, and by the University of Namibia. We appreciate the excellent work of the technical support staff in Berlin, Durham, Hamburg, Heidelberg, Palaiseau, Paris, Saclay, and in Namibia in the construction and operation of the equipment. The European Associated Laboratory for Gamma-Ray Astronomy is jointly supported by CNRS and MPG.
Supplementary information
This file contains Supplementary Notes with Supplementary Figures and Legends 1–5 and Supplementary Table 1. The Supplementary Notes describe how EBL absorption modifies the source spectrum, and the impact on the EBL limit of the uncertainties in the gamma-ray measurements and of galaxy evolution effects. We also explain why previous TeV blazar detections did not provide a comparably strong limit. (PDF 188 kb)
About this article
Cite this article
Aharonian, F., Akhperjanian, A., Bazer-Bachi, A. et al. A low level of extragalactic background light as revealed by γ-rays from blazars. Nature 440, 1018–1021 (2006). https://doi.org/10.1038/nature04680
Received:

Accepted:

Published:

Issue Date:

DOI: https://doi.org/10.1038/nature04680
Comments
By submitting a comment you agree to abide by our Terms and Community Guidelines. If you find something abusive or that does not comply with our terms or guidelines please flag it as inappropriate.