Abstract
The presenilin proteins (PS1 and PS2)1,2 and their interacting partners nicastrin3, aph-1 (refs 4, 5) and pen-2 (ref. 5) form a series of high-molecular-mass, membrane-bound protein complexes6,7,8 that are necessary for γ-secretase and ɛ-secretase cleavage of selected type 1 transmembrane proteins, including the amyloid precursor protein9, Notch10 and cadherins11. Modest cleavage activity can be generated by reconstituting these four proteins in yeast and Spodoptera frugiperda (sf9) cells12,13,14. However, a critical but unanswered question about the biology of the presenilin complexes is how their activity is modulated in terms of substrate specificity and/or relative activities at the γ and ɛ sites. A corollary to this question is whether additional proteins in the presenilin complexes might subsume these putative regulatory functions. The hypothesis that additional proteins might exist in the presenilin complexes is supported by the fact that enzymatically active complexes have a mass that is much greater than predicted for a 1:1:1:1 stoichiometric complex (at least 650 kDa observed, compared with about 220 kDa predicted)6,7,8. To address these questions we undertook a search for presenilin-interacting proteins that differentially affected γ- and ɛ-site cleavage events. Here we report that TMP21, a member of the p24 cargo protein family, is a component of presenilin complexes and differentially regulates γ-secretase cleavage without affecting ɛ-secretase activity.
Access options
Subscribe to Journal
Get full journal access for 1 year
$199.00
only $3.90 per issue
All prices are NET prices.
VAT will be added later in the checkout.
Rent or Buy article
Get time limited or full article access on ReadCube.
from$8.99
All prices are NET prices.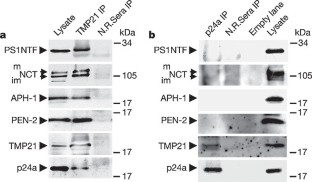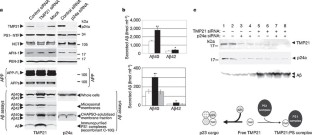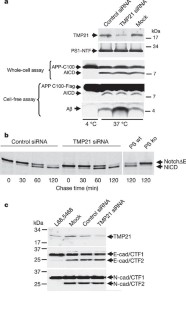 References
1

Sherrington, R. et al. Cloning of a gene bearing missense mutations in early-onset familial Alzheimer's disease. Nature 375, 754–760 (1995)

2

Rogaev, E. I. et al. Familial Alzheimer's disease in kindreds with missense mutations in a gene on chromosome 1 related to the Alzheimer's disease type 3 gene. Nature 376, 775–778 (1995)

3

Yu, G. et al. Nicastrin modulates presenilin-mediated notch/glp1 signal transduction and βAPP processing. Nature 407, 48–54 (2000)

4

Goutte, C., Tsunozaki, M., Hale, V. A. & Priess, J. R. APH-1 is a multipass membrane protein essential for the Notch signaling pathway in Caenorhabditis elegans embryos. Proc. Natl Acad. Sci. USA 99, 775–779 (2002)

5

Francis, R. et al. aph-1 and pen-2 are required for Notch pathway signaling, γ- secretase cleavage of βAPP, and presenilin protein accumulation. Dev. Cell 3, 85–97 (2002)

6

Gu, Y. et al. The presenilin proteins are components of multiple membrane-bound complexes which have different biological activities. J. Biol. Chem. 279, 31329–31336 (2004)

7

Li, Y.-M. et al. Presenilin 1 is linked with gamma-secretase activity in the detergent solubilized state. Proc. Natl Acad. Sci. USA 97, 6138–6143 (2000)

8

Evin, G. et al. Transition-state analogue γ-secretase inhibitors stabilize a 900 kDa presenilin/nicastrin complex. Biochemistry 44, 4332–4341 (2005)

9

De Strooper, B. et al. Deficiency of presenilin 1 inhibits the normal cleavage of amyloid precursor protein. Nature 391, 387–390 (1998)

10

De Strooper, B. et al. A presenilin-1-dependent γ-secretase-like protease mediates release of Notch intracellular domain. Nature 398, 518–522 (1999)

11

Marambaud, P. et al. A presenilin-1/γ-secretase cleavage releases the E-cadherin intracellular domain and regulates disassembly of adherens junctions. EMBO J. 21, 1948–1956 (2002)

12

Edbauer, D. et al. Reconstitution of γ-secretase activity. Nature Cell Biol. 5, 486–488 (2003)

13

Kimberly, W. T. et al. Gamma-secretase is a membrane protein complex comprised of presenilin, nicastrin, Aph-1, and Pen-2. Proc. Natl Acad. Sci. USA 100, 6382–6387 (2003)

14

Takasugi, N. et al. The role of presenilin cofactors in the γ-secretase complex. Nature 422, 438–441 (2003)

15

Blum, R. et al. Tmp21 and p24A, two type I proteins enriched in pancreatic microsomal membranes, are members of a protein family involved in vesicular trafficking. J. Biol. Chem. 271, 17183–17189 (1996)

16

Jenne, N., Frey, K., Brugger, B. & Wieland, F. T. Oligomeric state and stoichiometry of p24 proteins in the early secretory pathway. J. Biol. Chem. 277, 46504–46511 (2002)

17

Trower, M. K. et al. Conservation of synteny between the genome of the pufferfish (Fugu rubripes) and the region on human chromosome 14 (14q24.3) associated with familial Alzheimer disease (AD3 locus). Proc. Natl Acad. Sci. USA 93, 1366–1369 (1996)

18

Li, K. C., Liu, C. T., Sun, W., Yuan, S. & Yu, T. A system for enhancing genome-wide coexpression dynamics study. Proc. Natl Acad. Sci. USA 101, 15561–15566 (2004)

19

Wen, C. & Greenwald, I. p24 proteins and quality control of LIN-12 and GLP-1 trafficking in Caenorhabditis elegans. J. Cell Biol. 145, 1165–1175 (1999)

20

Luo, J. L., Kamata, H. & Karin, M. IKK/NF-κB signaling: balancing life and death—a new approach to cancer therapy. J. Clin. Invest. 115, 2625–2632 (2005)

21

Herranz, H., Stamataki, E., Feiguin, F. & Milan, M. Self-refinement of Notch activity through the transmembrane protein Crumbs: modulation of γ-secretase activity. EMBO Rep. (in the press)

22

Yu, C. et al. Characterization of a presenilin-mediated amyloid precursor protein carboxyl-terminal fragment γ. Evidence for distinct mechanisms involved in γ-secretase processing of the APP and Notch1 transmembrane domains. J. Biol. Chem. 276, 43756–43760 (2001)

23

Kopan, R. & Ilagan, M. X. Gamma-secretase: proteasome of the membrane? Nature Rev. Mol. Cell Biol. 5, 499–504 (2004)

24

Chen, F. et al. Presenilin 1 mutations activate γ 42-secretase but reciprocally inhibit ɛ-secretase cleavage of amyloid precursor protein (APP) and S3-cleavage of notch. J. Biol. Chem. 277, 36521–36526 (2002)

25

Petit, A. et al. New protease inhibitors prevent γ-secretase-mediated production of Aβ40/42 without affecting Notch cleavage. Nature Cell Biol. 3, 507–511 (2001)

26

Schmitt-Ulms, G. et al. Time-controlled transcardiac perfusion cross-linking for the study of protein interactions in complex tissues. Nature Biotechnol. 22, 724–731 (2004)

27

Chen, F. et al. Nicastrin binds to membrane-tethered Notch. Nature Cell Biol. 3, 751–754 (2001)

28

Donoviel, D. et al. Mice lacking both presenilin genes exhibit early embryonic patterning defects. Genes Dev. 13, 2801–2810 (1999)

29

Marambaud, P. et al. A CBP binding transcriptional repressor produced by the PS1/ɛ-cleavage of N-cadherin is inhibited by PS1 FAD mutations. Cell 114, 635–645 (2003)

30

Hasegawa, H. et al. Both the sequence and length of the C terminus of PEN-2 are critical for intermolecular interactions and function of presenilin complexes. J. Biol. Chem. 279, 46455–46463 (2004)
Acknowledgements
We thank I. Schulz for the anti-TMP21 antibody, and F. T. Wieland for the anti-p24a antibody. This study was supported by grants from the Canadian Institutes of Health Research, the Howard Hughes Medical Institute, Canadian Institutes of Health Research–Japan Science and Technology Trust, the Alzheimer Society of Ontario, the Ontario Research and Development Challenge Fund and the Canada Foundation for Innovation. Author Contributions All authors contributed fully to the design, analysis and interpretation of the experiments described in this report.
Supplementary information
This file contains Supplementary Methods, Supplementary Figure Legends and additional references. (DOC 98 kb)
This file contains Supplementary Figures 1–7 (PPT 5843 kb)
About this article
Cite this article
Chen, F., Hasegawa, H., Schmitt-Ulms, G. et al. TMP21 is a presenilin complex component that modulates γ-secretase but not ɛ-secretase activity. Nature 440, 1208–1212 (2006). https://doi.org/10.1038/nature04667
Received:

Accepted:

Issue Date:
Comments
By submitting a comment you agree to abide by our Terms and Community Guidelines. If you find something abusive or that does not comply with our terms or guidelines please flag it as inappropriate.