Abstract
To cause diseases in plants, pathogenic microorganisms have evolved mechanisms to deliver proteins directly into plant cells, where they suppress plant defences and facilitate tissue invasion1,2,3. How plant pathogenic fungi, which cause many of the world's most serious plant diseases, deliver proteins during plant infection is currently unknown. Here we report the characterization of a P-type ATPase-encoding gene, MgAPT2, in the economically important rice blast pathogen Magnaporthe grisea, which is required for exocytosis during plant infection. Targeted gene replacement showed that MgAPT2 is required for both foliar and root infection by the fungus, and for the rapid induction of host defence responses in an incompatible reaction. ΔMgapt2 mutants are impaired in the secretion of a range of extracellular enzymes and accumulate abnormal Golgi-like cisternae. However, the loss of MgAPT2 does not significantly affect hyphal growth or sporulation, indicating that the establishment of rice blast disease involves the use of MgApt2-dependent exocytotic processes that operate during plant infection.
Relevant articles
Open Access articles citing this article.
Yu Wang

,

Nan Yang

…

Qian Chen

Phytopathology Research Open Access 12 January 2022

Hong-Le Wang

,

Chun-Ling Xu

…

Hui Xie

Scientific Reports Open Access 16 September 2021

Qiang Xu

,

Xuewen Xu

…

Xuehao Chen

BMC Genomics Open Access 05 January 2017
Access options
Subscribe to Journal
Get full journal access for 1 year
$199.00
only $3.90 per issue
All prices are NET prices.
VAT will be added later in the checkout.
Tax calculation will be finalised during checkout.
Buy article
Get time limited or full article access on ReadCube.
$32.00
All prices are NET prices.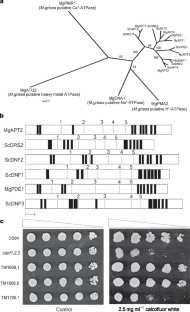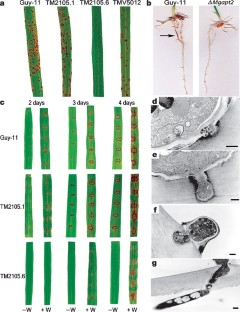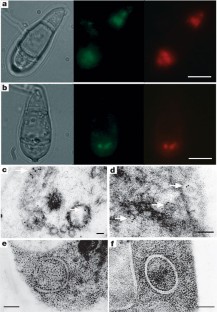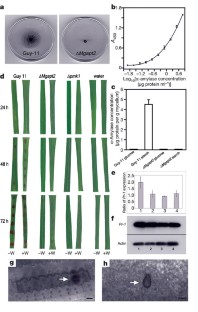 References
Alfano, J. R. & Collmer, A. Type III secretion system effector proteins: Double agents in bacterial disease and plant defense. Annu. Rev. Phytopathol. 42, 385–414 (2004)

Nimchuk, Z., Eulgem, T., Holt, B. E. & Dangl, J. L. Recognition and response in the plant immune system. Annu. Rev. Genet. 37, 579–609 (2003)

Ghosh, P. Process of protein transport by the type III secretion system. Microbiol. Molec. Biol. Rev. 68, 771–795 (2004)

Mendgen, K., Hahn, M. & Deising, H. Morphogenesis and mechanisms of penetration by plant pathogenic fungi. Annu. Rev. Phytopathol. 34, 367–386 (1996)

Talbot, N. J. On the trail of a cereal killer: investigating the biology of Magnaporthe grisea. Annu. Rev. Microbiol. 57, 177–202 (2003)

Howard, R. J., Ferrari, M. A., Roach, D. H. & Money, N. P. Penetration of hard substrates by a fungus employing enormous turgor pressures. Proc. Natl Acad. Sci. USA 88, 11281–11284 (1991)

Sesma, A. & Osbourn, A. E. The rice leaf blast pathogen undergoes developmental processes typical of root-infecting fungi. Nature 431, 582–586 (2004)

Dean, R. A. et al. The genome sequence of the rice blast fungus Magnaporthe grisea. Nature 434, 980–986 (2005)

Chen, C.-Y., Ingram, M. F., Rosal, P. H. & Graham, T. R. Role for Drs2p, a P-type ATPase and potential aminophospholipid translocase in yeast late Golgi function. J. Cell Biol. 147, 1223–1236 (1999)

Gall, W. E. et al. Drs2p-dependent formation of exocytotic clathrin-coated vesicles in vivo. Curr. Biol. 12, 1623–1627 (2002)

Hua, Z., Fatheddin, P. & Graham, T. R. An essential subfamily of Drs2-related P-type ATPases is required for protein trafficking between Golgi complex and endosomal/vacuolar system. Mol. Biol. Cell 13, 3162–3177 (2002)

Lutsenko, S. & Kaplan, J. H. Organization of P-type ATPases: Significance of structural diversity. Biochemistry 34, 15607–15613 (1995)

Carroll, A. M., Sweigard, J. A. & Valent, B. Improved vectors for selecting resistance to hygromycin. Fungal Genet. Newsl. 42, 22 (1994)

Pomorski, T. et al. Drs2-related P-type ATPases Dnf1p and Dnf2p are required for phospholipids translocation across the yeast plasma membrane and serve a role in endocytosis. Mol. Biol. Cell 14, 1240–1254 (2003)

Lussier, M., Sdicu, A. M., Camirand, A. & Bussey, H. Functional Characterization of the YUR1, KTR1, and KTR2 genes as members of the yeast KRE2/MNT1 mannosyltransferase gene family. J. Biol. Chem. 271, 11001–11008 (1996)

Southern, J. A., Young, D. F., Heaney, F., Baumgartner, W. & Randall, R. E. Identification of an epitope on the P and V proteins of simian virus 5 that distinguishes between two isolates with different biological characteristics. J. Gen. Virol. 72, 1551–1557 (1991)

Jia, Y., McAdams, S. A., Bryan, G. T., Hershey, H. P. & Valent, B. Direct interaction of resistance gene and avirulence gene products confers rice blast resistance. EMBO J. 19, 4004–4014 (2000)

Xu, J. R. & Hamer, J. E. MAP kinase and cAMP signalling regulate infection structure formation and pathogenic growth in the rice blast fungus Magnaporthe grisea. Genes Dev. 10, 2696–2706 (1996)

Kim, S. et al. Molecular characterization of the cDNA encoding an acific isoform of PR-1 protein in rice. Mol. Cells 11, 115–121 (2001)

Balhadère, P. V. & Talbot, N. J. Pde1 encodes a P-type ATPase involved in appressorium-mediate plant infection by the rice blast fungus Magnaporthe grisea. Plant Cell 13, 1987–2004 (2001)

Rose, M. D., Winston, F. & Hieter, P. Methods in Yeast Genetics: A Laboratory Course Manual (Cold Spring Harbor Laboratory Press, Cold Spring Harbor, 1990)

Frohman, M. A., Dush, M. K. & Martin, G. R. Rapid production of full-length cDNA from rare transcripts: Amplification using a single gene-specific oligonucleotide primer. Proc. Natl Acad. Sci. USA 85, 8998–9002 (1988)

Talbot, N. J., Ebbole, D. J. & Hamer, J. E. Identification and characterization of MPG1, a gene involved in pathogenicity from the rice blast fungus Magnaporthe grisea. Plant Cell 5, 1575–1590 (1993)

Valent, B., Farrall, L. & Chumley, F. G. Magnaporthe grisea genes for pathogenicity and virulence identified through a series of backcrosses. Genetics 127, 87–101 (1991)

Zeng, L. R. et al. Spotted leaf11, a negative regulator of plant cell death and defense, encodes a U-box/armadillo repeat protein endowed with E3 ubiquitin ligase activity. Plant Cell 17, 2795–2808 (2004)

Chida, T. & Sisler, H. D. Restoration of appressorial penetration ability by melanin precursosrs in Pyricularia oryzae treated with antipenetrants and in melanin-deficient mutants. J. Pestic. Sci. 12, 49–55 (1987)

Sweigard, J. A., Chumley, F. G., Carroll, A., Farrall, L. & Valent, B. A series of vectors for fungal transformation. Fungal Genet. Newsl. 44, 52–53 (1997)

Tucker, S. L. et al. A fungal metallothionein is required for pathogenicity of Magnaporthe grisea. Plant Cell 16, 1575–1588 (2004)
Acknowledgements
We thank C. Hawes and B. Martin for cryofixation and freeze substitution work, G.-L. Wang for supply of IR-68 seeds and T. Graham for supplying the BY4739, PFY3273A and DS94 yeast APT mutants. This study was supported by a grant to N.J.T. from the Biological Sciences and Biotechnology Research Council (BBSRC). Author Contributions Experimental work and data analysis were performed by M.J.G. and N.J.T. C.R.T. performed all immunological work and associated data analysis. G.E.W. performed electron microscopy.
Supplementary information
About this article
Cite this article
Gilbert, M., Thornton, C., Wakley, G. et al. A P-type ATPase required for rice blast disease and induction of host resistance. Nature 440, 535–539 (2006). https://doi.org/10.1038/nature04567
Received:

Accepted:

Issue Date:

DOI: https://doi.org/10.1038/nature04567
Comments
By submitting a comment you agree to abide by our Terms and Community Guidelines. If you find something abusive or that does not comply with our terms or guidelines please flag it as inappropriate.