Abstract
Inference of the spatial distribution of water content in the mantle is critical to our understanding of the dynamics of Earth's interior. A model1 has been described that indicates there may be a jump in water content at the 410-km discontinuity in the Earth's mantle. From the electrical conductivity, we have inferred2 the water content in the transition zone and concluded that it is significantly larger than that of the upper mantle. Hirschmann3 questions our conclusion on the grounds of the trade-off between water content and oxygen fugacity.
This is a preview of subscription content
Access options
Subscribe to Journal
Get full journal access for 1 year
$199.00
only $3.90 per issue
All prices are NET prices.
VAT will be added later in the checkout.
Tax calculation will be finalised during checkout.
Rent or Buy article
Get time limited or full article access on ReadCube.
from$8.99
All prices are NET prices.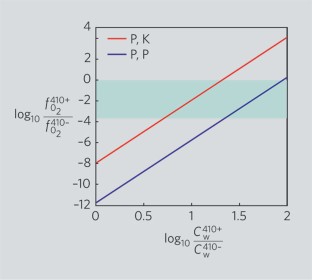 References
1

Bercovici, D. & Karato, S. Nature 425, 39–44 (2003).

2

Huang, X., Xu, Y. & Karato, S. Nature 434, 746–749 (2005).

3

Hirschmann, M. Nature 439, 10.1038/nature04528 (2005).

4

Xu, Y., Poe, B. T., Shankland, T. J. & Rubie, D. C. Science 280, 1415–1418 (1998).

5

Utada, H., Koyama, T., Shimizu, H. & Chave, A. D. Geophys. Res. Lett. 30, 10.1029/2002GL016092 (2003).

6

Paterson, M. S. Bull. Mineral. 105, 20–29 (1982).

7

Koga, K., Hauri, E. H., Hirschmann, M. M. & Bell, D. R. Geochem. Geophys. Geosyst. 4, 10.1029/2002GC000378 (2003).
About this article
Cite this article
Huang, X., Xu, Y. & Karato, Si. A wet mantle conductor? (Reply). Nature 439, E3–E4 (2006). https://doi.org/10.1038/nature04529
Further reading
Progress in Earth and Planetary Science (2019)

Takashi Yoshino
Geeth Manthilake
Tomoo Katsura

Nature (2008)
Comments
By submitting a comment you agree to abide by our Terms and Community Guidelines. If you find something abusive or that does not comply with our terms or guidelines please flag it as inappropriate.