Abstract
The control of epidemic malaria is a priority for the international health community and specific targets for the early detection and effective control of epidemics have been agreed1. Interannual climate variability is an important determinant of epidemics in parts of Africa2 where climate drives both mosquito vector dynamics and parasite development rates3. Hence, skilful seasonal climate forecasts may provide early warning of changes of risk in epidemic-prone regions. Here we discuss the development of a system to forecast probabilities of anomalously high and low malaria incidence with dynamically based, seasonal-timescale, multi-model ensemble predictions of climate, using leading global coupled ocean–atmosphere climate models developed in Europe. This forecast system is successfully applied to the prediction of malaria risk in Botswana, where links between malaria and climate variability are well established4, adding up to four months lead time over malaria warnings issued with observed precipitation and having a comparably high level of probabilistic prediction skill. In years in which the forecast probability distribution is different from that of climatology, malaria decision-makers can use this information for improved resource allocation.
Access options
Subscribe to Journal
Get full journal access for 1 year
$199.00
only $3.90 per issue
All prices are NET prices.
VAT will be added later in the checkout.
Rent or Buy article
Get time limited or full article access on ReadCube.
from$8.99
All prices are NET prices.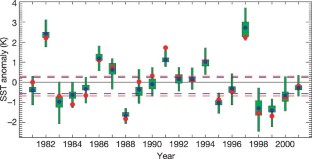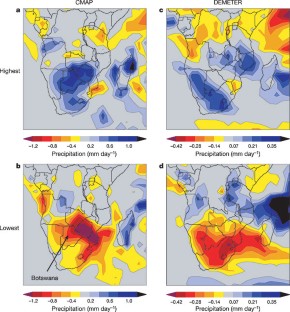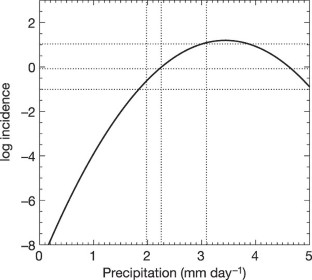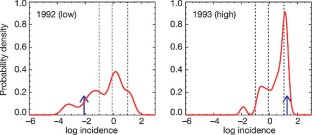 References
1

WHO/UNICEF. The World Malaria Report. 1–120, Report no. WHO/HTM/MAL/2005.1102 (WHO/UNICEF, Geneva, 2005); http://rbm.who.int/wmr2005/index.html

2

Najera, J. A., Kouznetzsov, R. L. & Delacollette, C. Malaria Epidemics: Detection And Control, Forecasting And Prevention. 1–81, Report no. WHO/MAL/98.1084 (WHO, Geneva, 1998); http://www.who.int/malaria/docs/najera_epidemics/naj_toc.htm

3

Thomson, M. C., Connor, S. J., Milligan, P. J. M. & Flasse, S. P. The ecology of malaria—as seen from Earth-observation satellites. Ann. Trop. Med. Parasitol. 90, 243–264 (1996)

4

Thomson, M. C., Connor, S. J., Phindela, T. & Mason, S. J. Rainfall and sea-surface temperature monitoring for malaria early warning in Botswana. Am. J. Trop. Med. Hyg. 73, 214–221 (2005)

5

Greenwood, B. M., Bojang, K., Whitty, C. & Targett, G. A. T. Malaria. Lancet 365, 1487–1498 (2005)

6

Worrall, E., Rietveld, A. & Delacollette, C. The burden of malaria epidemics and cost-effectiveness of interventions in epidemic situations in Africa. Am. J. Trop. Med. Hyg. 71 (Suppl. 2), 136–140 (2004)

7

WHO. Malaria Early Warning Systems, Concepts, Indicators and Partners. A framework for Field Research in Africa. 1–84, Report no. WHO/CDS/RBM/2001.32 (WHO/Roll Back Malaria/Technical Support Network for Prevention and Control of Malaria, Geneva, 2001); http://mosquito.who.int/cmc_upload/0/000/014/807/mews2.pdf

8

Palmer, T. N. et al. Development of a European ensemble system for seasonal to inter-annual prediction. Bull. Am. Meteorol. Soc. 85, 853–872 (2004)

9

Palmer, T. N. et al. Representing model uncertainty in weather and climate prediction. Annu. Rev. Earth Planet. Sci. 33, 163–193 (2005)

10

Goddard, L. et al. Current approaches to seasonal-to-interannual climate predictions. Int. J. Climatol. 21, 1111–1152 (2001)

11

Stockdale, T. N., Anderson, D. L. T., Alves, J. O. S. & Balmaseda, M. A. Global seasonal rainfall forecasts using a coupled ocean-atmosphere model. Nature 392, 370–373 (1998)

12

Cane, M., Eshel, G. & Buckland, R. Forecasting Zimbabwean maize yield using eastern equatorial Pacific sea surface temperature. Nature 370, 204–205 (1994)

13

Coelho, C. A. S., Pezzulli, S., Balmaseda, M., Doblas-Reyes, F. J. & Stephenson, D. B. Forecast calibration and combination: A simple Bayesian approach for ENSO. J. Clim. 17, 1504–1516 (2004)

14

Jolliffe, I. T. & Stephenson, D. B. in A Practitioner's Guide in Atmospheric Science (eds Jolliffe, I. T. & Stephenson, D. B.) 1–12 (I.T. Wiley, Chichester, 2003)

15

Richardson, D. S. Skill and relative economic value of the ECMWF ensemble prediction system. Q. J.R. Meteorol. Soc. 126, 649–667 (2000)

16

DaSilva, J. et al. Improving epidemic malaria planning, preparedness and response in southern Africa. Malaria J. 3, doi:10.1186/1475-2875-3-37 (2004)

17

Brinkmann, U. & Brinkmann, A. Malaria and health in Africa—the present situation and epidemiologic trends. Trop. Med. Parasitol. 42, 204–213 (1991)

18

Mason, S. J. & Tyson, P. D. in Droughts Vol. 1 A Global Assessment (ed. Wilhite, D. A.) 113–134 (Routledge, New York, 2000)

19

Xie, P. & Arkin, P. A. Global monthly precipitation from satellite-observed outgoing longwave radiation. J. Clim. 11, 137–164 (1998)

20

Hagedorn, R., Doblas-Reyes, F. J. & Palmer, T. N. The rationale behind the success of multi-model ensembles in seasonal forecasting. Part I: Basic concepts. Tellus A 57, 219–233 (2005)

21

Uppala, S. et al. ERA-40: ECMWF 45-year reanalysis of the global atmosphere and surface conditions 1957–2002. ECMWF Newsl. 101, 2–21 (2004)

22

New, M., Hulme, M. & Jones, P. D. Representing twentieth century space-time climate variability. Part I: Development of a 1961–90 mean monthly terrestrial climatology. J. Clim. 12, 829–856 (1999)

23

New, M., Hulme, M. & Jones, P. Representing twentieth-century space-time climate variability. Part II: Development of 1901–96 monthly grids of terrestrial surface climate. J. Clim. 13, 2217–2238 (2000)

24

Mason, S. J. & Graham, N. E. Areas beneath the relative operating characteristics (ROC) and levels (ROL) curves: statistical significance and interpretation. Q. J.R. Meteorol. Soc. 128, 2145–2166 (2002)
Acknowledgements
We thank the WHO-AFRO Southern Africa Inter-Country Malaria Team (SAMC) in Zimbabwe and the National Malaria Control Unit in Botswana for enabling this study. The work reported here is part of the EU-funded DEMETER and ENSEMBLES projects. It was additionally supported financially by the UK Department for International Development through the Malaria Knowledge Programme, Liverpool School of Tropical Medicine, UK, and by a cooperative agreement from the US National Oceanic and Atmospheric Administration. The authors acknowledge considerable technical support from ECMWF staff and consultants, in particular from the Seasonal Forecast Section. The views herein contained are those of the authors and do not necessarily reflect the views of WHO, DfID, EU, NOAA or any of their sub-agencies.
About this article
Cite this article
Thomson, M., Doblas-Reyes, F., Mason, S. et al. Malaria early warnings based on seasonal climate forecasts from multi-model ensembles. Nature 439, 576–579 (2006). https://doi.org/10.1038/nature04503
Received:

Accepted:

Issue Date:
Comments
By submitting a comment you agree to abide by our Terms and Community Guidelines. If you find something abusive or that does not comply with our terms or guidelines please flag it as inappropriate.