Abstract
In general, conventional superconductivity should not occur in a ferromagnet, though it has been seen in iron under pressure1. Moreover, theory predicts that the current is always carried by pairs of electrons in a spin singlet state2, so conventional superconductivity decays very rapidly when in contact with a ferromagnet, which normally prohibits the existence of singlet pairs. It has been predicted that this rapid spatial decay would not occur if spin triplet superconductivity could be induced in the ferromagnet3,4. Here we report a Josephson supercurrent through the strong ferromagnet CrO2, from which we infer that it is a spin triplet supercurrent. Our experimental set-up is different from those envisaged in the earlier predictions, but we conclude that the underlying physical explanation for our result is a conversion from spin singlet pairs to spin triplets at the interface. The supercurrent can be switched with the direction of the magnetization, analogous to spin valve transistors, and therefore could enable magnetization-controlled Josephson junctions.
Relevant articles
Open Access articles citing this article.
Jian Wang

,

Ziqiao Wang

&

Pinyuan Wang

Quantum Frontiers Open Access 05 December 2022

D. Bromley

,

A. J. Wright

…

L. O'Brien

Scientific Reports Open Access 11 May 2022

César González-Ruano

,

Diego Caso

…

Farkhad G. Aliev

Scientific Reports Open Access 24 September 2021
Access options
Subscribe to Journal
Get full journal access for 1 year
$199.00
only $3.90 per issue
All prices are NET prices.
VAT will be added later in the checkout.
Tax calculation will be finalised during checkout.
Buy article
Get time limited or full article access on ReadCube.
$32.00
All prices are NET prices.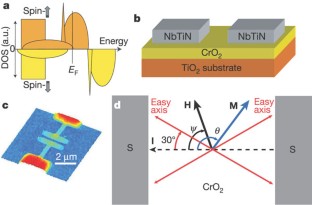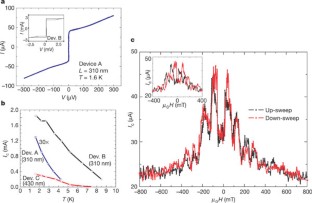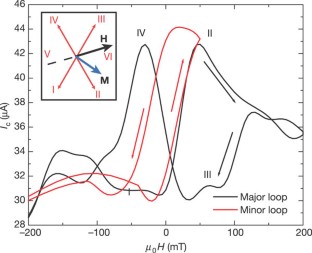 References
Shimizu, K. et al. Superconductivity in the non-magnetic state of iron under pressure. Nature 412, 316–318 (2001)

Tinkham, M. Introduction to Superconductivity 2nd edn (McGraw-Hill, New York, 1996)

Bergeret, F. S., Volkov, A. F. & Efetov, K. B. Long-range proximity effects in superconductor-ferromagnet structures. Phys. Rev. Lett. 86, 4096–4099 (2001)

Bergeret, F. S., Volkov, A. F. & Efetov, K. B. Odd triplet superconductivity and related phenomena in superconductor-ferromagnet structures. Rev. Mod. Phys. 77, 1321–1373 (2005)

Iosad, N. N. et al. Properties of (Nb0.35, Ti0.15)xN1-x thin films deposited on silicon wafers at ambient substrate temperature. J. Appl. Phys. 88, 5756–5759 (2000)

Coey, J. M. D. & Venkatesan, M. Half-metallic ferromagnetism: example of CrO2 . J. Appl. Phys. 91, 8345–8350 (2002)

Ryazanov, V. V. Josephson superconductor-ferromagnet-superconductor π-contact as an element of a quantum bit (experiment). Phys. Usp. 42, 825–827 (1999)

Kontos, T., Aprili, M., Lesueur, J. & Grison, X. Inhomogeneous superconductivity induced in a ferromagnet by proximity effect. Phys. Rev. Lett. 86, 304–307 (2001)

Korotin, M. A., Anisimov, V. I., Khomskii, D. I. & Sawatzky, G. A. CrO2: a self-doped double exchange ferromagnet. Phys. Rev. Lett. 80, 4305–4308 (1998)

Gupta, A., Li, X. W. & Xiao, G. Magnetic and transport properties of epitaxial and polycrystalline chromium dioxide thin films (invited). J. Appl. Phys. 87, 6073–6078 (2001)

Soulen, R. J. Jr et al. Measuring the spin polarization of a metal with a superconducting point contact. Science 282, 85–88 (1998)

Parker, J. S., Watts, S. M., Ivanov, P. G. & Xiong, P. Spin polarization of CrO2 at and across an artificial barrier. Phys. Rev. Lett. 88, 196601 (2002)

Spinu, L., Srikanth, H., Gupta, A., Li, X. W. & Xiao, G. Probing magnetic anisotropy effects in epitaxial CrO2 thin films. Phys. Rev. B 62, 8931–8934 (2000)

Kadigrobov, A., Shekhter, R. I. & Jonson, M. Quantum spin fluctuations as a source of long-range proximity effects in diffusive ferromagnet-superconductor structures. Europhys. Lett. 54, 394–400 (2001)

Leggett, A. J. A theoretical description of the new phases of liquid 3He. Rev. Mod. Phys. 47, 331–414 (1975)

MacKenzie, A. P. & Maeno, Y. The superconductivity of Sr2RuO4 and the physics of spin-triplet pairing. Rev. Mod. Phys. 75, 657–712 (2003)

Saxena, S. S. et al. Superconductivity on the border of itinerant-electron ferromagnetism in UGe2 . Nature 406, 587–592 (2000)

Giroud, M., Courtois, H., Hasselbach, K., Mailly, D. & Pannetier, B. Superconducting proximity effect in a mesoscopic ferromagnetic wire. Phys. Rev. B 58, R11872–R11875 (1998)

Petrashov, V. T., Sosnin, I. A., Cox, I., Parsons, A. & Troadec, C. Giant mutual proximity effects in ferromagnetic/superconducting nanostructures. Phys. Rev. Lett. 83, 3281–3284 (1999)

Peña, V. et al. Coupling of superconductors through a half-metallic ferromagnet: Evidence for a long-range proximity effect. Phys. Rev. B 69, 224502 (2004)

Wilhelm, F. K., Zaikin, A. D. & Schön, G. Supercurrent in a mesoscopic proximity wire. J. Low-Temp. Phys. 106, 305–310 (1997)

Eschrig, M., Kopu, J., Cuevas, J. C. & Schön, G. Theory of half-metal/superconductor heterostructures. Phys. Rev. Lett. 90, 137003 (2003)

Li, X. W., Gupta, A. & Xiao, G. Influence of strain on the magnetic properties of epitaxial (100) chromium dioxide (CrO2) films. Appl. Phys. Lett. 75, 713–715 (1999)
Acknowledgements
We thank I. van Dijk, M. G. Flokstra, H. T. Man and S. Russo for stimulating interactions. This work is part of the research programme of the Stichting voor Fundamenteel Onderzoek der Materie (FOM), which is financially supported by the Nederlandse Organisatie voor Wetenschappelijk Onderzoek (NWO). The work at the University of Alabama was supported by the National Science Foundation as part of an MRSEC grant.
About this article
Cite this article
Keizer, R., Goennenwein, S., Klapwijk, T. et al. A spin triplet supercurrent through the half-metallic ferromagnet CrO2. Nature 439, 825–827 (2006). https://doi.org/10.1038/nature04499
Received:

Accepted:

Issue Date:

DOI: https://doi.org/10.1038/nature04499
Comments
By submitting a comment you agree to abide by our Terms and Community Guidelines. If you find something abusive or that does not comply with our terms or guidelines please flag it as inappropriate.