Abstract
Arising from: R. Dalton Nature doi: 10.1038/news050704-4 (2005)10.1038/news050704-4
A report of human footprints preserved in 40,000-year-old volcanic ash near Puebla, Mexico (http://www.royalsoc.ac.uk/exhibit.asp?id=3616&tip=1), was the subject of a press conference that stirred international media attention1. If the claims (http://www.mexicanfootprints.co.uk) of Gonzalez et al. are valid, prevailing theories about the timing of human migration into the Americas would need significant revision. Here we show by 40Ar/39Ar dating and corroborating palaeomagnetic data that the basaltic tuff on which the purported footprints are found is 1.30±0.03 million years old. We conclude that either hominid migration into the Americas occurred very much earlier than previously believed, or that the features in question were not made by humans on recently erupted ash.
Access options
Subscribe to Journal
Get full journal access for 1 year
$199.00
only $3.90 per issue
All prices are NET prices.
VAT will be added later in the checkout.
Tax calculation will be finalised during checkout.
Buy article
Get time limited or full article access on ReadCube.
$32.00
All prices are NET prices.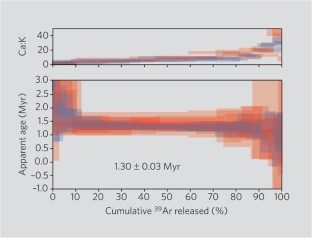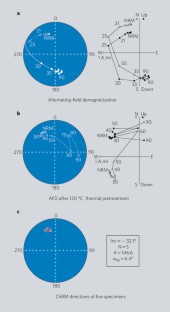 References
Dalton, R. Nature doi:10.1038/news050704-4 (2005).

Coe, R. S., Singer, B. S., Pringle, M. S. & Zhao, X. Earth Planet. Sci. Lett. 222, 667–684 (2004).

Cande, S. C. & Kent, D. V. J. Geophys. Res. 100, 6093–6095 (1995).

Clark, J. D. et al. Nature 423, 747–752 (2003).

McDougall, I., Brown, F. H. & Fleagle, J. G. Nature 433, 733–736 (2005).

Nomade, S. et al. Chem. Geol. 318, 315–338 (2005).

Dunlop, D. J. & Özdemir, Ö. Rock Magnetism: Fundamentals and Frontiers (Cambridge University Press, 1997).

Kirschvink, J. L. Geophys. J. R. Astron. Soc. 62, 699–718 (1980).
About this article
Cite this article
Renne, P., Feinberg, J., Waters, M. et al. Age of Mexican ash with alleged 'footprints'. Nature 438, E7–E8 (2005). https://doi.org/10.1038/nature04425
Published:

Issue Date:

DOI: https://doi.org/10.1038/nature04425
Comments
By submitting a comment you agree to abide by our Terms and Community Guidelines. If you find something abusive or that does not comply with our terms or guidelines please flag it as inappropriate.