Abstract
Exposed bedrocks at Meridiani Planum on Mars display chemical and mineralogical evidence suggesting interaction with liquid water1,2,3,4,5,6. On the basis of morphological observations as well as high abundances of haematite and sulphate minerals, the rocks have been interpreted as sediments that were deposited in a shallow body of briny water with subsequent evaporation leaving behind the sulphate minerals1,2. The iron-sulphur mineralization at Meridiani has also been inferred to be analogous to that produced during oxidative weathering of metal sulphide minerals, such as occurs at acid mine drainage sites7. Neither of these interpretations, however, is consistent with the chemical composition of the rocks. Here we propose an alternative model for diagenesis of Meridiani bedrock that involves deposition of volcanic ash followed by reaction with condensed sulphur dioxide- and water-bearing vapours emitted from fumaroles. This scenario does not require prolonged interaction with a standing body of surface water and may have occurred at high temperatures. Consequently, the model invokes an environment considerably less favourable for biological activity on Mars than previously proposed interpretations.
Relevant articles
Open Access articles citing this article.
Giovanni Baccolo

,

Barbara Delmonte

…

Massimo Frezzotti

Nature Communications Open Access 19 January 2021
Access options
Subscribe to Journal
Get full journal access for 1 year
$199.00
only $3.90 per issue
All prices are NET prices.
VAT will be added later in the checkout.
Tax calculation will be finalised during checkout.
Buy article
Get time limited or full article access on ReadCube.
$32.00
All prices are NET prices.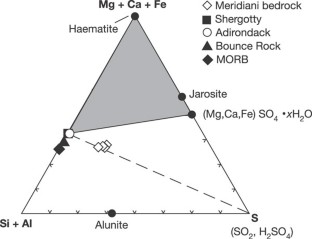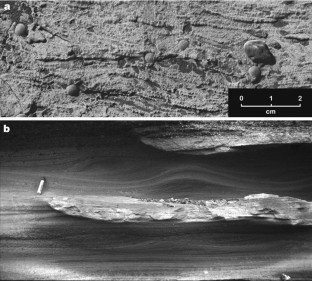 References
Squyres, S. W. et al. The Opportunity rover's Athena science investigation at Meridiani Planum, Mars. Science 306, 1698–1703 (2004)

Squyres, S. W. et al. In situ evidence for an ancient aqueous environment at Meridiani Planum, Mars. Science 306, 1709–1714 (2004)

Herkenhoff, K. E. et al. Evidence from Opportunity's microscopic imager for water on Meridiani Planum. Science 306, 1727–1730 (2004)

Rieder, R. et al. Chemistry of rocks and soils at Meridiani Planum from the alpha-particle X-ray spectrometer. Science 306, 1746–1749 (2004)

Christensen, P. R. et al. Mineralogy at Meridiani Planum from the Mini-TES experiment on the Opportunity rover. Science 306, 1733–1739 (2004)

Klingelhöfer, G. et al. Jarosite and hematite at Meridiani Planum from Opportunity's Mössbauer spectrometer. Science 306, 1740–1745 (2004)

Fernández-Remolar, D. et al. The Tinto River, an extreme acidic environment under control of iron, as an analog of the Terra Meridiani hematite site of Mars. Planet. Space Sci. 52, 239–248 (2004)

Lodders, K. A survey of shergottite, nakhlite and chassigny meteorites whole-rock compositions. Meteorit. Planet. Sci. 33, A183–A190 (1998)

Laul, J. C. et al. Chemical systematics of the Shergotty meteorite and the composition of its parent body (Mars). Geochim. Cosmochim. Acta 50, 909–926 (1986)

Gellert, R. et al. Chemistry of rocks and soils in Gusev Crater from the alpha particle X-Ray spectrometer. Science 305, 829–832 (2004)

Catling, D. C. & Moore, J. M. The nature of coarse-grained crystalline hematite and its implications for the early environment of Mars. Icarus 165, 277–300 (2003)

Hynek, B. M. Implications for hydrologic processes on Mars from extensive bedrock outcrops throughout Terra Meridiani. Nature 431, 156–159 (2004)

Arvidson, R. E. et al. Spectral reflectance and morphologic correlations in eastern Terra Meridiani, Mars. Science 307, 1591–1594 (2005)

Hynek, B. M., Arvidson, R. E. & Phillips, R. J. Geologic setting and origin of Terra Meridiani hematite deposit on Mars. J. Geophys. Res. 107, doi:10.1029/2002JE001891 (2002)

Arvidson, R. E. et al. Mantled and exhumed terrains in Terra Meridiani, Mars. J. Geophys. Res. 108, doi:10.1029/2002JE001982 (2003)

Hynek, B. M., Phillips, R. J. & Arvidson, R. E. Explosive volcanism in the Tharsis region: Global evidence in the martian geologic record. J. Geophys. Res. 108, doi:10.1029/2003JE002062 (2003)

Owen, T. in Mars (eds Kieffer, H. H., Jakosky, B. M., Snyder, C. W. & Matthews, M. S.) 818–834 (Univ. Arizona Press, Tucson, 1992)

Villemant, B. & Boudon, G. H2O and halogen (F, Cl, Br) behaviour during shallow magma degassing processes. Earth Planet. Sci. Lett. 168, 271–286 (1999)

Wahrenberger, C. M. Some Aspects of the Chemistry of Volcanic Gases PhD thesis no. 12252, Swiss Federal Inst. Tech. Zurich (1997)

Coradossi, N., Garavelli, A., Salamida, M. & Vurro, F. Evolution of Br/Cl ratios in fumarolic salammoniac from Vulcano (Aeolian islands, Italy). Bull. Volcanol. 58, 310–316 (1996)

Wohletz, K. H. & Sheridan, M. F. A model of pyroclastic surge. Geol. Soc. Am. Spec. Pap. 180, 177–194 (1979)

Crown, D. A. & Greeley, R. Volcanic geology of Hadriaca Patera and Eastern Hellas region of Mars. J. Geophys. Res. 98, 3431–3451 (1993)

Scott, D. H. & Tanaka, K. L. Ignimbrites of Amazonis Planitia region of Mars. J. Geophys. Res. 87, 1179–1190 (1982)

Wilson, L. & Head, J. W. Mars: Review and analysis of volcanic eruption theory and relationships to observed landforms. Rev. Geophys. 32, 221–263 (1994)

Ross, C. S., Smith, R. L. Ash-flow tuffs: Their origin, geologic relations, and identification. US Geol. Surv. Prof. Pap. 366, 1–79 (1961); reprinted as Spec. Publ. 9 (New Mexico Geol. Soc., Washington DC, 1980).

Elwood Madden, M. E., Bodnar, R. J. & Rimstidt, J. D. Jarosite as an indicator of water-limited chemical weathering on Mars. Nature 431, 821–823 (2004)

Huber, R., Huber, H. & Stetter, K. O. Towards the ecology of hyperthermophiles: biotopes, new isolation techniques, and novel metabolic properties. FEMS Micrbiol. Rev. 24, 615–623 (2000)

Glamoclija, M., Garrel, L., Berthon, J. & López-García, P. Biosignatures and bacterial diversity in hydrothermal deposits of Solfatara Crater, Italy. Geomicrobiol. J. 21, 529–541 (2004)
Acknowledgements
This research was supported in part by the NASA Astrobiology Institute.
Supplementary information
This file contains the Supplementary Methods, Supplementary Tables 1–5 and Supplementary Figure 1. (DOC 70 kb)
About this article
Cite this article
McCollom, T., Hynek, B. A volcanic environment for bedrock diagenesis at Meridiani Planum on Mars. Nature 438, 1129–1131 (2005). https://doi.org/10.1038/nature04390
Received:

Accepted:

Issue Date:

DOI: https://doi.org/10.1038/nature04390
Comments
By submitting a comment you agree to abide by our Terms and Community Guidelines. If you find something abusive or that does not comply with our terms or guidelines please flag it as inappropriate.