Abstract
An RNA virus population does not consist of a single genotype; rather, it is an ensemble of related sequences, termed quasispecies1,2,3,4. Quasispecies arise from rapid genomic evolution powered by the high mutation rate of RNA viral replication5,6,7,8. Although a high mutation rate is dangerous for a virus because it results in nonviable individuals, it has been hypothesized that high mutation rates create a 'cloud' of potentially beneficial mutations at the population level, which afford the viral quasispecies a greater probability to evolve and adapt to new environments and challenges during infection4,9,10,11. Mathematical models predict that viral quasispecies are not simply a collection of diverse mutants but a group of interactive variants, which together contribute to the characteristics of the population4,12. According to this view, viral populations, rather than individual variants, are the target of evolutionary selection4,12. Here we test this hypothesis by examining the consequences of limiting genomic diversity on viral populations. We find that poliovirus carrying a high-fidelity polymerase replicates at wild-type levels but generates less genomic diversity and is unable to adapt to adverse growth conditions. In infected animals, the reduced viral diversity leads to loss of neurotropism and an attenuated pathogenic phenotype. Notably, using chemical mutagenesis to expand quasispecies diversity of the high-fidelity virus before infection restores neurotropism and pathogenesis. Analysis of viruses isolated from brain provides direct evidence for complementation between members in the quasispecies, indicating that selection indeed occurs at the population level rather than on individual variants. Our study provides direct evidence for a fundamental prediction of the quasispecies theory and establishes a link between mutation rate, population dynamics and pathogenesis.
Relevant articles
Open Access articles citing this article.
John Dupré

&

Sabina Leonelli

European Journal for Philosophy of Science Open Access 07 March 2022

Azahara Fuentes-Trillo

,

Carolina Monzó

…

Felipe Javier Chaves

BMC Genomics Open Access 24 November 2021

Jingsong Zhang

,

Yang Zhang

…

Luonan Chen

Cell Discovery Open Access 15 June 2021
Access options
Subscribe to Journal
Get full journal access for 1 year
$199.00
only $3.90 per issue
All prices are NET prices.
VAT will be added later in the checkout.
Tax calculation will be finalised during checkout.
Buy article
Get time limited or full article access on ReadCube.
$32.00
All prices are NET prices.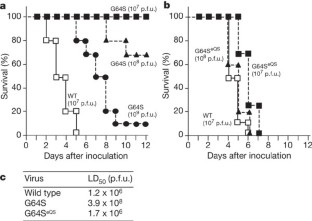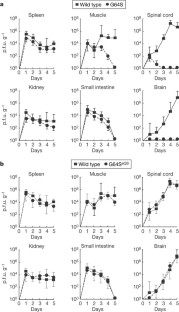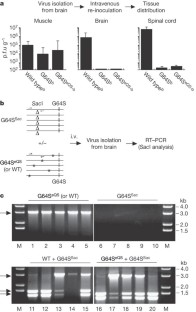 References
Holland, J. et al. Rapid evolution of RNA genomes. Science 215, 1577–1585 (1982)

Holland, J. J., De La Torre, J. C. & Steinhauer, D. A. RNA virus populations as quasispecies. Curr. Top. Microbiol. Immunol. 176, 1–20 (1992)

Domingo, E. & Holland, J. J. RNA virus mutations and fitness for survival. Annu. Rev. Microbiol. 51, 151–178 (1997)

Eigen, M. Viral quasispecies. Sci. Am. 269, 42–49 (1993)

Domingo, E., Holland, J. & Ahlquist, P. RNA Genetics (CRC Press, Boca Raton, 1988)

Domingo, E. & Holland, J. in Mutations and Rapid Evolution of RNA Viruses (ed. Morse, S. S.) 161–184 (Raven Press, New York, 1994)

Domingo, E. Viruses at the edge of adaptation. Virology 270, 251–253 (2000)

Domingo, E., Sabo, D., Taniguchi, T. & Weissmann, C. Nucleotide sequence heterogeneity of an RNA phage population. Cell 13, 735–744 (1978)

Coffin, J. M. HIV population dynamics in vivo: implications for genetic variation, pathogenesis, and therapy. Science 267, 483–489 (1995)

Domingo, E. et al. Basic concepts in RNA virus evolution. FASEB J. 10, 859–864 (1996)

Eigen, M. & Biebricher, C. in RNA Genetics: Variability of RNA Genomes Vol. 3 (eds Domingo, E., Holland, J. J. & Ahlquist, P.) 211–245 (CRC Press, Boca Raton, 1988)

Biebricher, C. K. & Eigen, M. The error threshold. Virus Res. 107, 117–127 (2005)

Crotty, S. et al. The broad-spectrum antiviral ribonucleoside ribavirin is an RNA virus mutagen. Nature Med. 6, 1375–1379 (2000)

Crotty, S., Cameron, C. E. & Andino, R. RNA virus error catastrophe: direct molecular test by using ribavirin. Proc. Natl Acad. Sci. USA 98, 6895–6900 (2001)

Thompson, A. A. & Peersen, O. B. Structural basis for proteolysis-dependent activation of the poliovirus RNA-dependent RNA polymerase. EMBO J. 23, 3462–3471 (2004)

Pfeiffer, J. K. & Kirkegaard, K. A single mutation in poliovirus RNA-dependent RNA polymerase confers resistance to mutagenic nucleotide analogs via increased fidelity. Proc. Natl Acad. Sci. USA 100, 7289–7294 (2003)

Baltera, R. F. Jr. & Tershak, D. R. Guanidine-resistant mutants of poliovirus have distinct mutations in peptide 2C. J. Virol. 63, 4441–4444 (1989)

Pincus, S. E., Diamond, D. C., Emini, E. A. & Wimmer, E. Guanidine-selected mutants of poliovirus: mapping of point mutations to polypeptide 2C. J. Virol. 57, 638–646 (1986)

Arnold, J. J., Vignuzzi, M., Stone, J. K., Andino, R. & Cameron, C. E. Remote-site control of an active-site fidelity checkpoint in a viral RNA-dependent RNA polymerase. J. Biol. Chem. 280, 25706–25716 (2005)

Gohara, D. W., Arnold, J. J. & Cameron, C. E. Poliovirus RNA-dependent RNA polymerase (3Dpol): kinetic, thermodynamic, and structural analysis of ribonucleotide selection. Biochemistry 43, 5149–5158 (2004)

Ren, R. & Racaniello, V. R. Poliovirus spreads from muscle to the central nervous system by neural pathways. J. Infect. Dis. 166, 747–752 (1992)

Anderson, J. P., Daifuku, R. & Loeb, L. A. Viral error catastrophe by mutagenic nucleosides. Annu. Rev. Microbiol. 58, 183–205 (2004)

Pariente, N., Sierra, S., Lowenstein, P. R. & Domingo, E. Efficient virus extinction by combinations of a mutagen and antiviral inhibitors. J. Virol. 75, 9723–9730 (2001)

Pariente, N., Airaksinen, A. & Domingo, E. Mutagenesis versus inhibition in the efficiency of extinction of foot-and-mouth disease virus. J. Virol. 77, 7131–7138 (2003)
Acknowledgements
We are grateful to J. Frydman, D. Ganem, A. Frankel and members of the Andino laboratory for critical reading of the manuscript. This work was supported by NIH-NIAID grants to R.A and C.E.C and a predoctoral NIH fellowship to J.K.S.
Supplementary information
About this article
Cite this article
Vignuzzi, M., Stone, J., Arnold, J. et al. Quasispecies diversity determines pathogenesis through cooperative interactions in a viral population. Nature 439, 344–348 (2006). https://doi.org/10.1038/nature04388
Received:

Accepted:

Published:

Issue Date:

DOI: https://doi.org/10.1038/nature04388
Comments
By submitting a comment you agree to abide by our Terms and Community Guidelines. If you find something abusive or that does not comply with our terms or guidelines please flag it as inappropriate.