Abstract
Yeast genetics and in vitro biochemical analysis have identified numerous genes involved in protein secretion1,2. As compared with yeast, however, the metazoan secretory pathway is more complex and many mechanisms that regulate organization of the Golgi apparatus remain poorly characterized. We performed a genome-wide RNA-mediated interference screen in a Drosophila cell line to identify genes required for constitutive protein secretion. We then classified the genes on the basis of the effect of their depletion on organization of the Golgi membranes. Here we show that depletion of class A genes redistributes Golgi membranes into the endoplasmic reticulum, depletion of class B genes leads to Golgi fragmentation, depletion of class C genes leads to aggregation of Golgi membranes, and depletion of class D genes causes no obvious change. Of the 20 new gene products characterized so far, several localize to the Golgi membranes and the endoplasmic reticulum.
Access options
Subscribe to Journal
Get full journal access for 1 year
$199.00
only $3.90 per issue
All prices are NET prices.
VAT will be added later in the checkout.
Rent or Buy article
Get time limited or full article access on ReadCube.
from$8.99
All prices are NET prices.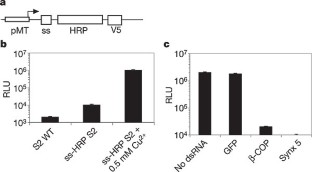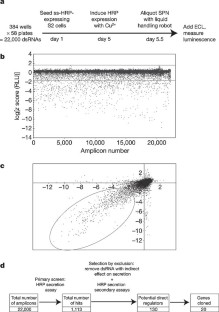 References
1

Novick, P. & Schekman, R. Secretion and cell-surface growth are blocked in a temperature-sensitive mutant of Saccharomyces cerevisiae. Proc. Natl Acad. Sci. USA 76, 1858–1862 (1979)

2

Rothman, J. E. Mechanisms of intracellular protein transport. Nature 372, 55–63 (1994)

3

Nichols, B. J. & Pelham, H. R. SNAREs and membrane fusion in the Golgi apparatus. Biochim. Biophys. Acta 1404, 9–31 (1998)

4

Duden, R., Allan, V. & Kreis, T. Involvement of β-COP in membrane traffic through the Golgi complex. Trends Cell Biol. 1, 14–19 (1991)

5

Serafini, T. et al. A coat subunit of Golgi-derived non-clathrin-coated vesicles with homology to the clathrin-coated vesicle coat protein β-adaptin. Nature 349, 215–220 (1991)

6

Boutros, M. et al. Genome-wide RNAi analysis of growth and viability in Drosophila cells. Science 303, 832–835 (2004)

7

DasGupta, R., Kaykas, A., Moon, R. T. & Perrimon, N. Functional genomic analysis of the Wnt-wingless signalling pathway. Science 308, 826–833 (2005)

8

Eggert, U. S. et al. Parallel chemical genetic and genome-wide RNAi screens identify cytokinesis inhibitors and targets. PLoS Biol. 2, e379 (2004)

9

Kiger, A. A. et al. A functional genomic analysis of cell morphology using RNA interference. J. Biol. 2, 27 (2003)

10

Stanley, H., Botas, J. & Malhotra, V. The mechanism of Golgi segregation during mitosis is cell type-specific. Proc. Natl Acad. Sci. USA 94, 14467–14470 (1997)

11

Shorter, J. & Warren, G. Golgi architecture and inheritance. Annu. Rev. Cell. Dev. Biol. 18, 379–420 (2002)

12

Uhlmann, F. Separase regulation during mitosis. Biochem. Soc. Symp. 70, 243–251 (2003)

13

Sharp, D. J. Cell division: MAST sails through mitosis. Curr. Biol. 12, R585–R587 (2002)

14

Snaith, H. A., Armstrong, C. G., Guo, Y., Kaiser, K. & Cohen, P. T. Deficiency of protein phosphatase 2A uncouples the nuclear and centrosome cycles and prevents attachment of microtubules to the kinetochore in Drosophila microtubule star (mts) embryos. J. Cell Sci. 109, 3001–3012 (1996)

15

Dilcher, M. et al. Use1p is a yeast SNARE protein required for retrograde traffic to the ER. EMBO J. 22, 3664–3674 (2003)

16

Chua, J. J., Ng, M. M. & Chow, V. T. The non-structural 3 (NS3) protein of dengue virus type 2 interacts with human nuclear receptor binding protein and is associated with alterations in membrane structure. Virus Res. 102, 151–163 (2004)

17

De Langhe, S., Haataja, L., Senadheera, D., Groffen, J. & Heisterkamp, N. Interaction of the small GTPase Rac3 with NRBP, a protein with a kinase-homology domain. Int. J. Mol. Med. 9, 451–459 (2002)

18

Connolly, C. N., Futter, C. E., Gibson, A., Hopkins, C. R. & Cutler, D. F. Transport into and out of the Golgi complex studied by transfecting cells with cDNAs encoding horseradish peroxidase. J. Cell Biol. 127, 641–652 (1994)
Acknowledgements
We thank members of the Malhotra laboratory for discussions; members of the DRSC for advice; the Institute for Chemistry and Cell Biology for use of their Cybio robot; and J. Feramisco and members of the UCSD Cancer Center imaging facility for help with microscopy. Work in the Malhotra laboratory is supported by NIH grants and a senior investigator award from Sandler's Program for Asthma Research. N.P. is a Howard Hughes investigator.
Supplementary information
About this article
Cite this article
Bard, F., Casano, L., Mallabiabarrena, A. et al. Functional genomics reveals genes involved in protein secretion and Golgi organization. Nature 439, 604–607 (2006). https://doi.org/10.1038/nature04377
Received:

Accepted:

Issue Date:
Comments
By submitting a comment you agree to abide by our Terms and Community Guidelines. If you find something abusive or that does not comply with our terms or guidelines please flag it as inappropriate.