Abstract
Environmental and genetic aberrations lead to neural tube closure defects (NTDs) in 1 out of every 1,000 births1. Mouse and frog models for these birth defects have indicated that Van Gogh-like 2 (Vangl2, also known as Strabismus) and other components of planar cell polarity (PCP) signalling might control neurulation by promoting the convergence of neural progenitors to the midline2,3,4,5,6,7,8. Here we show a novel role for PCP signalling during neurulation in zebrafish. We demonstrate that non-canonical Wnt/PCP signalling polarizes neural progenitors along the anteroposterior axis. This polarity is transiently lost during cell division in the neural keel but is re-established as daughter cells reintegrate into the neuroepithelium. Loss of zebrafish Vangl2 (in trilobite mutants) abolishes the polarization of neural keel cells, disrupts re-intercalation of daughter cells into the neuroepithelium, and results in ectopic neural progenitor accumulations and NTDs. Remarkably, blocking cell division leads to rescue of trilobite neural tube morphogenesis despite persistent defects in convergence and extension. These results reveal a function for PCP signalling in coupling cell division and morphogenesis at neurulation and indicate a previously unrecognized mechanism that might underlie NTDs.
Access options
Subscribe to Journal
Get full journal access for 1 year
$199.00
only $3.90 per issue
All prices are NET prices.
VAT will be added later in the checkout.
Tax calculation will be finalised during checkout.
Rent or Buy article
Get time limited or full article access on ReadCube.
from$8.99
All prices are NET prices.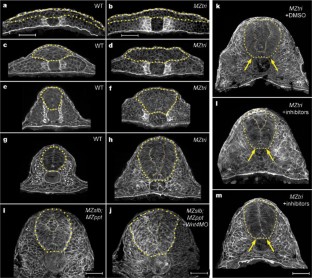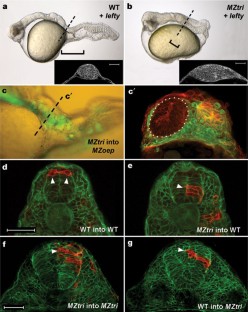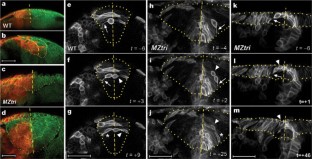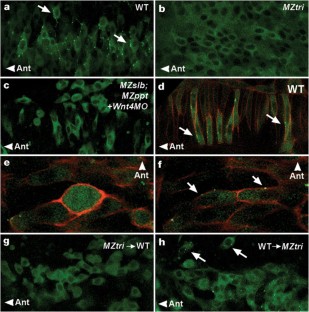 References
1

Copp, A. J., Greene, N. D. & Murdoch, J. N. The genetic basis of mammalian neurulation. Nature Rev. Genet. 4, 784–793 (2003)

2

Greene, N. D., Gerrelli, D., Van Straaten, H. W. & Copp, A. J. Abnormalities of floor plate, notochord and somite differentiation in the loop-tail (Lp) mouse: a model of severe neural tube defects. Mech. Dev. 73, 59–72 (1998)

3

Kibar, Z. et al. Ltap, a mammalian homolog of Drosophila Strabismus/Van Gogh, is altered in the mouse neural tube mutant Loop-tail. Nature Genet. 28, 251–255 (2001)

4

Murdoch, J. N., Doudney, K., Paternotte, C., Copp, A. J. & Stanier, P. Severe neural tube defects in the loop-tail mouse result from mutation of Lpp1, a novel gene involved in floor plate specification. Hum. Mol. Genet. 10, 2593–2601 (2001)

5

Keller, R. Shaping the vertebrate body plan by polarized embryonic cell movements. Science 298, 1950–1954 (2002)

6

Wallingford, J. B., Fraser, S. E. & Harland, R. M. Convergent extension: the molecular control of polarized cell movement during embryonic development. Dev. Cell 2, 695–706 (2002)

7

Goto, T. & Keller, R. The planar cell polarity gene strabismus regulates convergence and extension and neural fold closure in Xenopus. Dev. Biol. 247, 165–181 (2002)

8

Wallingford, J. B. & Harland, R. M. Neural tube closure requires Dishevelled- dependent convergent extension of the midline. Development 129, 5815–5825 (2002)

9

Kimmel, C. B., Warga, R. M. & Kane, D. A. Cell cycles and clonal strings during formation of the zebrafish central nervous system. Development 120, 265–276 (1994)

10

Concha, M. L. & Adams, R. J. Oriented cell divisions and cellular morphogenesis in the zebrafish gastrula and neurula: a time-lapse analysis. Development 125, 983–994 (1998)

11

Geldmacher-Voss, B., Reugels, A. M., Pauls, S. & Campos-Ortega, J. A. A 90-degree rotation of the mitotic spindle changes the orientation of mitoses of zebrafish neuroepithelial cells. Development 130, 3767–3780 (2003)

12

Park, M. & Moon, R. T. The planar cell-polarity gene stbm regulates cell behaviour and cell fate in vertebrate embryos. Nature Cell Biol. 4, 20–25 (2002)

13

Jessen, J. R. et al. Zebrafish trilobite identifies new roles for Strabismus in gastrulation and neuronal movements. Nature Cell Biol. 4, 610–615 (2002)

14

Ciruna, B. et al. Production of maternal-zygotic mutant zebrafish by germ-line replacement. Proc. Natl Acad. Sci. USA 99, 14919–14924 (2002)

15

Heisenberg, C. P. et al. Silberblick/Wnt11 mediates convergent extension movements during zebrafish gastrulation. Nature 405, 76–81 (2000)

16

Rauch, G. J. et al. Wnt5 is required for tail formation in the zebrafish embryo. Cold Spring Harb. Symp. Quant. Biol. 62, 227–234 (1997)

17

Matsui, T. et al. Noncanonical Wnt signaling regulates midline convergence of organ primordia during zebrafish development. Genes Dev. 19, 164–175 (2005)

18

Wallingford, J. B. & Harland, R. M. Xenopus Dishevelled signaling regulates both neural and mesodermal convergent extension: parallel forces elongating the body axis. Development 128, 2581–2592 (2001)

19

Thisse, C. & Thisse, B. Antivin, a novel and divergent member of the TGFβ superfamily, negatively regulates mesoderm induction. Development 126, 229–240 (1999)

20

Meno, C. et al. Mouse Lefty2 and zebrafish antivin are feedback inhibitors of nodal signaling during vertebrate gastrulation. Mol. Cell 4, 287–298 (1999)

21

Ando, R., Hama, H., Yamamoto-Hino, M., Mizuno, H. & Miyawaki, A. An optical marker based on the UV-induced green-to-red photoconversion of a fluorescent protein. Proc. Natl Acad. Sci. USA 99, 12651–12656 (2002)

22

Strutt, D. I. The asymmetric subcellular localisation of components of the planar polarity pathway. Semin. Cell Dev. Biol. 13, 225–231 (2002)

23

Jiang, D., Munro, E. M. & Smith, W. C. Ascidian prickle regulates both mediolateral and anterior–posterior cell polarity of notochord cells. Curr. Biol. 15, 79–85 (2005)

24

Jenny, A., Darken, R. S., Wilson, P. A. & Mlodzik, M. Prickle and Strabismus form a functional complex to generate a correct axis during planar cell polarity signaling. EMBO J. 22, 4409–4420 (2003)

25

Lyons, D. A. et al. erbb3 and erbb2 are essential for Schwann cell migration and myelination in zebrafish. Curr. Biol. 15, 513–524 (2005)

26

Gong, Y., Mo, C. & Fraser, S. E. Planar cell polarity signalling controls cell division orientation during zebrafish gastrulation. Nature 430, 689–693 (2004)

27

Djiane, A., Yogev, S. & Mlodzik, M. The apical determinants aPKC and dPatj regulate Frizzled-dependent planar cell polarity in the Drosophila eye. Cell 121, 621–631 (2005)

28

van Straaten, H. W. & Copp, A. J. Curly tail: a 50-year history of the mouse spina bifida model. Anat. Embryol. (Berl.) 203, 225–237 (2001)

29

Gritsman, K. et al. The EGF-CFC protein one-eyed pinhead is essential for nodal signaling. Cell 97, 121–132 (1999)

30

Carreira-Barbosa, F. et al. Prickle 1 regulates cell movements during gastrulation and neuronal migration in zebrafish. Development 130, 4037–4046 (2003)
Acknowledgements
We thank W. Talbot and D. Lyons for sharing their protocol for pharmacological inhibition of cell division, A. Chitnis for useful discussion, and L. Solnica-Krezel, W. Talbot, J. Wallingford, A. Giraldez, D. Prober and J. Rihel for comments on the manuscript. This work was supported by grants from the NIH to A.F.S. and M.M. A.F.S. was a Scholar of the McKnight Foundation for Neuroscience, an Irma T. Hirschl Trust Career Scientist and an Established Investigator of the American Heart Association. B.C. was supported by a long-term fellowship from the Human Frontier Science Program.
Supplementary information
About this article
Cite this article
Ciruna, B., Jenny, A., Lee, D. et al. Planar cell polarity signalling couples cell division and morphogenesis during neurulation. Nature 439, 220–224 (2006). https://doi.org/10.1038/nature04375
Received:

Accepted:

Issue Date:
Comments
By submitting a comment you agree to abide by our Terms and Community Guidelines. If you find something abusive or that does not comply with our terms or guidelines please flag it as inappropriate.