Abstract
Aerosols in Titan's atmosphere play an important role in determining its thermal structure1,2,3. They also serve as sinks for organic vapours4 and can act as condensation nuclei for the formation of clouds5,6, where the condensation efficiency will depend on the chemical composition of the aerosols5,7. So far, however, no direct information has been available on the chemical composition of these particles. Here we report an in situ chemical analysis of Titan's aerosols by pyrolysis at 600 °C. Ammonia (NH3) and hydrogen cyanide (HCN) have been identified as the main pyrolysis products. This clearly shows that the aerosol particles include a solid organic refractory core. NH3 and HCN are gaseous chemical fingerprints of the complex organics that constitute this core, and their presence demonstrates that carbon and nitrogen are in the aerosols.
Relevant articles
Open Access articles citing this article.
Giuseppe Mitri

,

Jason Barnes

…

Peter Wurz

Experimental Astronomy Open Access 22 July 2021

Jérémy Bourgalais

,

Nathalie Carrasco

…

Jérôme Gaudin

Scientific Reports Open Access 19 June 2020

E. Camprubí

,

J. W. de Leeuw

…

F. Westall

Space Science Reviews Open Access 12 December 2019
Access options
Subscribe to Journal
Get full journal access for 1 year
$199.00
only $3.90 per issue
All prices are NET prices.
VAT will be added later in the checkout.
Tax calculation will be finalised during checkout.
Buy article
Get time limited or full article access on ReadCube.
$32.00
All prices are NET prices.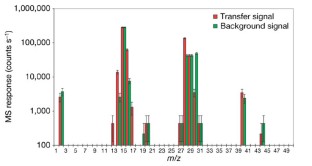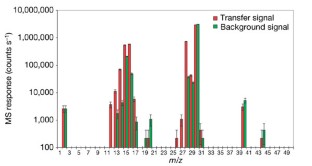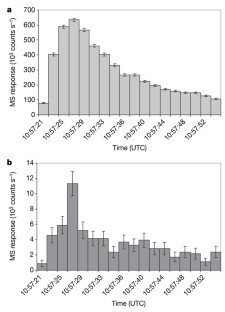 References
McKay, C. P., Pollack, J. B. & Courtin, R. The greenhouse and antigreenhouse effects on Titan. Science 253, 1118–1121 (1991)

Rannou, P., Hourdin, F., McKay, C. P. & Luz, D. A coupled dynamics-microphysics model of Titan's atmosphere. Icarus 170, 443–462 (2004)

DelGenio, A. D., Zhou, W. & Eichler, T. P. Equatorial superrotation in a slowly rotating GCM — Implications for Titan and Venus. Icarus 101, 1–17 (1993)

Lebonnois, S., Bakes, E. L. O. & McKay, C. P. Transition from gaseous compounds to aerosols in Titan's atmosphere. Icarus 159, 505–517 (2002)

Barth, E. L. & Toon, O. W. Properties of methane clouds on Titan: results from microphysical modelling. Geophys. Res. Lett. 31, L17S07 (2004)

Mayo, L. A. & Samuelson, R. E. Condensate clouds in Titan's north polar stratosphere. Icarus 176, 316–330 (2005)

McKay, C. P. et al. Physical properties of the organic aerosols and clouds of Titan. Planet. Space Sci. 49, 79–99 (2001)

Niemann, H. et al. The abundances of constituents of Titan's atmosphere from the GCMS instrument on the Huygens probe. Nature doi:10.1038/nature04122 (this issue)

Israel, G., Cabane, M., Raulin, F., Chassefière, E. & Boon, J. J. Aerosols in Titan's atmosphere: models, sampling techniques and chemical analysis. Ann. Geophys. 9, 1–13 (1991)

Israel, G. et al. Huygens Probe Aerosol Collector Pyrolyser Experiment. Space Sci. Rev. 104, 435–466 (2002)

Niemann, H. et al. The Gas Chromatograph Mass Spectrometer for the Huygens Probe. Space Sci. Rev. 104, 551–590 (2002)

Wilson, E. H. & Atreya, S. K. Chemical sources of haze formation in Titan's atmosphere. Planet. Space Sci. 51, 1017–1033 (2003)

Chang, S., DesMarais, D., Mack, R., Miller, S. L. & Strathearn, G. E. in Earth's Earliest Biosphere: Its Origin and Evolution (ed. Schopf, J. W.) 53–92 (Princeton Univ. Press, Princeton, 1982)

Bar-Nun, A., Kleinfeld, I. & Ganor, E. Shape and optical properties of aerosols formed by photolysis of acetylene, ethylene and hydrogen cyanide. J. Geophys. Res. 93, 8383–8387 (1988)

Clarke, D. W. & Ferris, J. P. Titan haze: structure and properties of cyanoacetylene and cyanoacetylene-acetylene photopolymers. Icarus 127, 158–172 (1997)

Khare, B. N. et al. Optical constants of organic tholins produced in a simulated titanian atmosphere: from X-ray to microwave frequencies. Icarus 60, 127–137 (1984)

Coll, P. et al. Experimental laboratory simulation of Titan's atmosphere: aerosols and gas phase. Planet. Space Sci. 47, 1331–1340 (1999)

Imanaka, H. et al. Laboratory experiments of Titan tholins formed in cold plasma at various pressures: implications for nitrogen containing polycyclic aromatic compounds in Titan haze. Icarus 168, 344–366 (2004)

Khare, B. N. et al. The organic aerosols of Titan. Adv. Space Res. 4, 59–68 (1984)

Coll, P., Coscia, D., Gazeau, M.-C., Guez, L. & Raulin, F. Review and latest results of laboratory investigations of Titan's aerosols. Orig. Life Evol. Biosph. 28, 195–213 (1997)

Ehrenfreund, P. et al. Analytical pyrolysis experiments of Titan aerosol analogues in preparation for the Cassini Huygens mission. Adv. Space Res. 15, 335–342 (1995)

Somogyi, A., Oh, C.-H., Smith, M. A. & Lunine, J. I. Organic environments on Saturn's moon, Titan: simulating chemical reactions and analysing products by FT-ICR and ion trap mass spectrometry. J. Am. Soc. Mass Spectrom. 16, 850–859 (2005)

Thompson, W. R., Henry, T. J., Schwartz, J. M., Khare, B. N. & Sagan, C. Plasma discharge in N2 + CH4 at low pressures: experimental results and applications to Titan. Icarus 90, 57–73 (1991)

Minard, R. D., Hatcher, P. G., Gourley, R. C. & Matthews, C. N. Structural investigations of hydrogen cyanide polymers: new insights using TMAH thermochemolysis/GC-MS. Orig. Life Evol. Biosph. 28, 461–473 (1998)

McKay, C. P. Elemental composition, solubility, and optical properties of Titan's organic haze. Planet. Space Sci. 44, 741–747 (1996)

Tomasko, M. G. et al. Rain, winds and haze during the Huygens probe's descent to Titan's surface. Nature doi:10.1038/nature04126 (this issue)
Acknowledgements
We acknowledge financial support from CNES, CNRS, the Austrian Ministry of Research and NASA. For the fabrication and qualification of ACP's mechanical and pneumatic components, the prime industrial contractor was SNECMA, and we acknowledge CNES Toulouse who strongly supported the CNRS ACP team. In particular, we thank C. Gelas, R. Salomé and E. Condé. We also thank the other main contractors, The Joanneum Research Institute and Austrian Aerospace, for the quality of their work. We acknowledge the support of the following people during the development of the instrument: M.-C. Gazeau and the LISA team at Créteil, R. Sablé and the ONERA/CERT in Toulouse, C. Cordelle and F. Marchandise at SNECMA, and G. Zeynard at Austrian Aerospace. We are also much indebted to the ESA Huygens Project Team for its constant support.
Supplementary information
This file contains Supplementary Methods and Supplementary Figures 1–6. (DOC 673 kb)
About this article
Cite this article
Israël, G., Szopa, C., Raulin, F. et al. Complex organic matter in Titan's atmospheric aerosols from in situ pyrolysis and analysis. Nature 438, 796–799 (2005). https://doi.org/10.1038/nature04349
Received:

Accepted:

Published:

Issue Date:

DOI: https://doi.org/10.1038/nature04349
Comments
By submitting a comment you agree to abide by our Terms and Community Guidelines. If you find something abusive or that does not comply with our terms or guidelines please flag it as inappropriate.