Abstract
The neural processes underlying empathy are a subject of intense interest within the social neurosciences1,2,3. However, very little is known about how brain empathic responses are modulated by the affective link between individuals. We show here that empathic responses are modulated by learned preferences, a result consistent with economic models of social preferences4,5,6,7. We engaged male and female volunteers in an economic game, in which two confederates played fairly or unfairly, and then measured brain activity with functional magnetic resonance imaging while these same volunteers observed the confederates receiving pain. Both sexes exhibited empathy-related activation in pain-related brain areas (fronto-insular and anterior cingulate cortices) towards fair players. However, these empathy-related responses were significantly reduced in males when observing an unfair person receiving pain. This effect was accompanied by increased activation in reward-related areas, correlated with an expressed desire for revenge. We conclude that in men (at least) empathic responses are shaped by valuation of other people's social behaviour, such that they empathize with fair opponents while favouring the physical punishment of unfair opponents, a finding that echoes recent evidence for altruistic punishment.
Access options
Subscribe to this journal
Receive 51 print issues and online access
$199.00 per year
only $3.90 per issue
Rent or buy this article
Prices vary by article type
from$1.95
to$39.95
Prices may be subject to local taxes which are calculated during checkout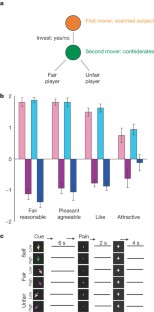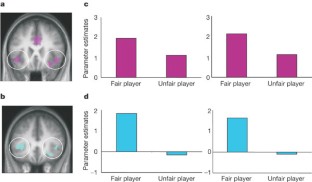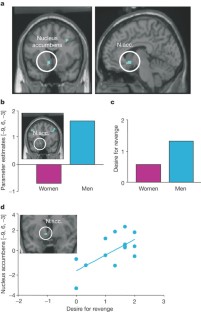 References
Preston, S. D. & de-Waal, F. B. M. Empathy: Its ultimate and proximate bases. Behav. Brain Sci. 25, 1–72 (2002)

Gallese, V., Keysers, C. & Rizzolatti, G. A unifying view of the basis of social cognition. Trends Cogn. Sci. 8, 396–403 (2004)

Decety, J. & Jackson, P. L. The functional architecture of human empathy. Behav. Cogn. Neurosci. Rev. 3, 71–100 (2004)

Rabin, M. Incorporating fairness into game theory and economics. Am. Econ. Rev. 83, 1281–1302 (1993)

Levine, D. K. Modeling altruism and spitefulness in experiments. Rev. Econ. Dynam. 1, 593–622 (1998)

Camerer, C. F. Behavioral Game Theory: Experiments in Strategic Interaction (Princeton Univ. Press, Princeton, 2003)

Fehr, E. & Schmidt, K. M. A theory of fairness, competition, and cooperation. Q. J. Econ. 114, 817–868 (1999)

Wicker, B. et al. Both of us disgusted in my insula: The common neural basis of seeing and feeling disgust. Neuron 40, 655–664 (2003)

Keysers, C. et al. A touching sight: SII/PV activation during the observation and experience of touch. Neuron 42, 335–346 (2004)

Singer, T. et al. Empathy for pain involves the affective but not sensory components of pain. Science 303, 1157–1162 (2004)

Jackson, P. L., Meltzoff, A. N. & Decety, J. How do we perceive the pain of others: A window into the neural processes involved in empathy. Neuroimage 3, 771–779 (2005)

Morrison, I., Lloyd, D., di Pellegrino, G. & Roberts, N. Vicarious responses to pain in anterior cingulate cortex: is empathy a multisensory issue? Cogn. Affect. Behav. Neurosci. 4, 270–278 (2004)

Craig, A. D. Human feelings: why are some more aware than others? Trends Cogn. Sci. 8, 239–241 (2004)

Singer, T., Kiebel, S. J., Winston, J. S., Dolan, R. J. & Frith, C. D. Brain responses to the acquired moral status of faces. Neuron 41, 653–662 (2004)

Fehr, E. & Gachter, S. Altruistic punishment in humans. Nature 415, 137–140 (2002)

Fehr, E. & Fischbacher, U. The nature of human altruism. Nature 425, 785–791 (2003)

Boyd, R., Gintis, H., Bowles, S. & Richerson, P. J. The evolution of altruistic punishment. Proc. Natl Acad. Sci. USA 100, 3531–3535 (2003)

Cardinal, R. N., Parkinson, J. A., Hall, J. & Everitt, B. J. Emotion and motivation: the role of the amygdala, ventral striatum, and prefrontal cortex. Neurosci. Biobehav. Rev. 26, 321–352 (2002)

O'Doherty, J. et al. Dissociable roles of ventral and dorsal striatum in instrumental conditioning. Science 304, 452–454 (2004)

Schultz, W. Multiple reward signals in the brain. Nature Rev. Neurosci. 1, 199–207 (2000)

de Quervain, D. J. et al. The neural basis of altruistic punishment. Science 305, 1254–1258 (2004)

Davis, M. A. A multidimensional approach to individual differences in empathy. JSAS Cat. Selected Docs Psychol. 10, 85 (1980)

Dayan, P. & Balleine, B. W. Reward, motivation, and reinforcement learning. Neuron 36, 285–298 (2002)

Montague, P. R., Hyman, S. E. & Cohen, J. D. Computational roles for dopamine in behavioural control. Nature 431, 760–767 (2004)

Berg, J., Dickhaut, J. & McCabe, K. Trust, reciprocity and social history. Games Econ. Behav. 10, 122–142 (1995)

Friston, K. J. et al. Spatial registration and normalization of images. Hum. Brain Mapp. 2, 165–189 (1995)

Josephs, O., Turner, R. & Friston, K. Event-related fMRI. Hum. Brain Mapp. 5, 243–248 (1997)

Friston, K. J. et al. Statistical parametric maps in functional imaging: A general linear approach. Hum. Brain Mapp. 2, 189–210 (1995)

Penny, W. & Holmes, A. P. in Human Brain Function (eds Frackowiak, R. S. J. et al.) 843–850 (Elsevier, San Diego, 2004)
Acknowledgements
We thank P. Aston, S. Kiebel and E. Featherstone for their help. This work was supported by the German Academy of Natural Sciences Leopoldina, Halle, from the Ministry of Education and Science, by the Medical Research Council (UK), and by Wellcome Trust Programme Grants to R.J.D. and C.D.F. Author Contributions T.S. designed, implemented, analysed and wrote the paper. B.S., K.E.S. and J.P.O. helped with scanning. All authors contributed to designing the study, discussing the data and preparing the manuscript.
Supplementary information
This file contains the Supplementary Methods section containing information about sample, experimental procedure, image acquisition and analysis. (PDF 28 kb)
This file contains Supplementary Tables 1–11. Supplementary Table 1 shows relevant descriptive statistics of sample, pain intensity and subjective ratings. Supplementary Tables 2–11 display brain coordinates and z-scores for all relevant brain analyses. The colours indicate whether analyses refer to female (pink) or male (blue) subjects. (PDF 82 kb)
This file contains Supplementary Figures 1–4 depicting the experimental procedure, correlations between empathy scores and brain activation in ACC and AI, mean level differences of the three revenge scales as a function of gender and their inter correlations and correlation between desire for revenge and brain activity in nucleus accumbens. (PDF 38 kb)
About this article
Cite this article
Singer, T., Seymour, B., O'Doherty, J. et al. Empathic neural responses are modulated by the perceived fairness of others. Nature 439, 466–469 (2006). https://doi.org/10.1038/nature04271
Received:

Accepted:

Published:

Issue Date:

DOI: https://doi.org/10.1038/nature04271
Comments
By submitting a comment you agree to abide by our Terms and Community Guidelines. If you find something abusive or that does not comply with our terms or guidelines please flag it as inappropriate.