Abstract
Comets spend most of their life in a low-temperature environment far from the Sun. They are therefore relatively unprocessed and maintain information about the formation conditions of the planetary system, but the structure and composition of their nuclei are poorly understood. Although in situ1 and remote2 measurements have derived the global properties of some cometary nuclei, little is known about their interiors. The Deep Impact mission3 shot a projectile into comet 9P/Tempel 1 in order to investigate its interior. Here we report the water vapour content (1.5 × 1032 water molecules or 4.5 × 106 kg) and the cross-section of the dust (330 km2 assuming an albedo of 0.1) created by the impact. The corresponding dust/ice mass ratio is probably larger than one, suggesting that comets are 'icy dirtballs' rather than 'dirty snowballs' as commonly believed4. High dust velocities (between 110 m s-1 and 300 m s-1) imply acceleration in the comet's coma, probably by water molecules sublimated by solar radiation. We did not find evidence of enhanced activity of 9P/Tempel 1 in the days after the impact, suggesting that in general impacts of meteoroids are not the cause of cometary outbursts.
Your institute does not have access to this article
Relevant articles
Open Access articles citing this article.
Mathieu Choukroun

,

Kathrin Altwegg

…

Nicolas Thomas

Space Science Reviews Open Access 08 April 2020
Access options
Subscribe to Journal
Get full journal access for 1 year
$199.00
only $3.90 per issue
All prices are NET prices.
VAT will be added later in the checkout.
Tax calculation will be finalised during checkout.
Buy article
Get time limited or full article access on ReadCube.
$32.00
All prices are NET prices.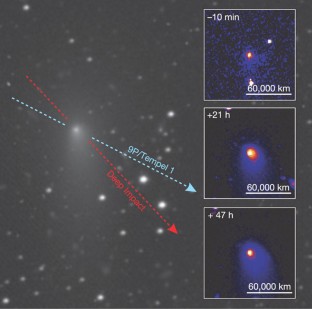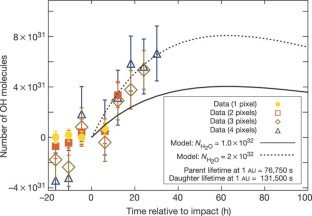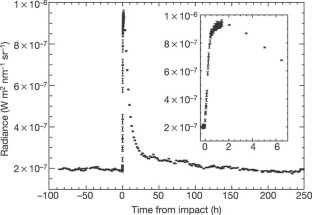 References
Keller, H. U., Britt, D., Buratti, B. J. & Thomas, N. in Comets II (eds Festou, M. C., Keller, H. U. & Weaver, H. A.) 211–222 (Univ. Arizona Press, Tucson, 2004)

Lamy, P. L., Toth, I., Fernández, Y. R. & Weaver, H. A. in Comets II (eds Festou, M. C., Keller, H. U. & Weaver, H. A.) 223–264 (Univ. Arizona Press, Tucson, 2004)

A'Hearn, M. A., Belton, M. J. S., Delamere, A. & Blume, W. H. Deep Impact: A large-scale active experiment on a cometary nucleus. Space Sci. Rev. 117, 1–21 (2005)

Whipple, F. A comet model. I. The acceleration of Comet Encke. Astrophys. J. 111, 375–394 (1950)

Schleicher, D. G. & A'Hearn, M. F. The fluorescence of cometary OH. Astrophys. J. 331, 1058–1077 (1988)

Haser, L. Distribution d'intensité dans la tête d'une comète. Bull. Acad. R. Sci. Liege 43, 740–750 (1957)

Krishna Swamy, K. S. Physics of Comets 2nd ed. (World Scientific Series in Astronomy and Astrophysics, Vol. 2, World Scientific Publishing, Singapore, 1997)

Budzien, S. A., Festou, M. C. & Feldman, P. D. Solar flux variability and the lifetimes of cometary H2O and OH. Icarus 164, 164–188 (1994)

Huebner, W. F., Keady, J. J. & Lyon, S. P. Solar photo rates for planetary atmospheres and atmospheric pollutants—Photo rate coefficients and excess. Astrophys. Space Sci. 195, 7–289 (1992)

Combi, M. R., Harris, W. M. & Smyth, W. H. in Comets II (eds Festou, M. C., Keller, H. U. & Weaver, H. A.) 523–552 (Univ. Arizona Press, Tucson, 2004)

A'Hearn, M. F. A., Millis, R. L., Schleicher, D. G., Osip, D. J. & Birch, P. V. The ensemble properties of comets: Results from narrowband photometry of 85 comets, 1976–1992. Icarus 118, 223–270 (1995)

Schleicher, D., Barnes, K. IAU Circ. No. 8546 (2005)

Schultz, P. R., Ernst, C. M. & Anderson, J. L. B. Expectations for crater size and photometric evolution from the Deep Impact collision. Space Sci. Rev. 117, 207–239 (2005)

Kolokolova, L., Hanner, M. S., Levasseur-Regourd, A-Ch. & Gustafson, B. Å. S. in Comets II (eds Festou, M. C., Keller, H. U. & Weaver, H. A.) 577–604 (Univ. Arizona Press, Tucson, 2004)

Fulle, M., Mikuz, H. & Bosio, S. Dust environment of comet Hyakutake 1996B2. Astron. Astrophys. 324, 1197–1205 (1997)

Fulle, M. et al. The dust tail of Comet Liller 1988 V. Astron. Astrophys. 253, 615–624 (1992)

O'Keefe, J. D. & Ahrens, T. J. Impact and explosion crater ejecta, fragment size, and velocity. Icarus 62, 328–338 (1985)

Holsapple, K. A. The scaling of impact processes in planetary sciences. Annu. Rev. Earth Planet. Sci. 21, 333–373 (1993)

Keller, H. U. in Proc. International Workshop on Physics and Mechanics of Cometary Materials (eds Hunt, J. & Guyeme, T. D.) 39–45 (ESA-SP 302, ESA, Publication Division, ESTEC, Noordwijk, 1989)

Belton, M. J. S. et al. Deep Impact: Working properties for the target Nucleus—Comet 9P/Tempel 1. Space Sci. Rev. 117, 137–160 (2005)

Iseli, M., Küppers, M., Benz, W. & Bochsler, P. Sungrazing comets: Properties of nuclei and in situ detectability of cometary Ions at 1 AU. Icarus 155, 350–364 (2002)

Koschny, D. & Grün, E. Impacts into ice-silicate mixtures: Ejecta mass and size distributions. Icarus 154, 402–411 (2001)
Acknowledgements
OSIRIS was built by a European consortium and is part of the payload of the Rosetta spacecraft, provided by the European Space Agency. We acknowledge the work of the Rosetta Science Operations Centre and the Rosetta Mission Operations Centre in coordinating the observation timelines and operating the spacecraft, in particular K. Wirth, V. Dhiri, P. Ferri, E. Montagnon, A. Hubault, J. Morales, V. Companys and M. Lauer. We acknowledge the funding of the national space agencies ASI, CNES, DLR, the Spanish Space Program (Ministerio de Educacion y Ciencia), SNSB and ESA.
Additional information
Lists of participants and affiliations appear at the end of the paper
About this article
Cite this article
Küppers, M., Bertini, I., Fornasier, S. et al. A large dust/ice ratio in the nucleus of comet 9P/Tempel 1. Nature 437, 987–990 (2005). https://doi.org/10.1038/nature04236
Received:

Accepted:

Issue Date:

DOI: https://doi.org/10.1038/nature04236
Further reading
Mathieu Choukroun
Kathrin Altwegg
Nicolas Thomas

Space Science Reviews (2020)

P. L. Lamy
A. Herique
I. Toth

Space Science Reviews (2015)
Comments
By submitting a comment you agree to abide by our Terms and Community Guidelines. If you find something abusive or that does not comply with our terms or guidelines please flag it as inappropriate.