Abstract
Parasitic plants are one of the most ubiquitous groups of generalist parasites in both natural and managed ecosystems, with over 3,000 known species worldwide1,2,3. Although much is known about how parasitic plants influence host peformance1,2,3,4, their role as drivers of community- and ecosystem-level properties remains largely unexplored5. Parasitic plants have the potential to influence directly the productivity and structure of plant communities because they cause harm to particular host plants, indirectly increasing the competitive status of non-host species6,7,8,9,10. Such parasite-driven above-ground effects might also have important indirect consequences through altering the quantity and quality of resources that enter soil, thereby affecting the activity of decomposer organisms3,11,12,13. Here we show in model grassland communities that the parasitic plant Rhinanthus minor, which occurs widely throughout Europe and North America14, has strong direct effects on above-ground community properties, increasing plant diversity and reducing productivity. We also show that these direct effects of R. minor on the plant community have marked indirect effects on below-ground properties, ultimately increasing rates of nitrogen cycling. Our study provides evidence that parasitic plants act as a major driver of both above-ground and below-ground properties of grassland ecosystems.
Relevant articles
Open Access articles citing this article.
Chengjie Ren

,

Pingsheng Sun

…

Gaihe Yang

Scientific Reports Open Access 23 June 2016

Jun-Min Li

,

Ze-Xin Jin

…

Mai-He Li

Scientific Reports Open Access 04 November 2014
Access options
Subscribe to Journal
Get full journal access for 1 year
$199.00
only $3.90 per issue
All prices are NET prices.
VAT will be added later in the checkout.
Tax calculation will be finalised during checkout.
Buy article
Get time limited or full article access on ReadCube.
$32.00
All prices are NET prices.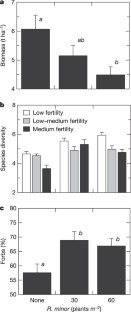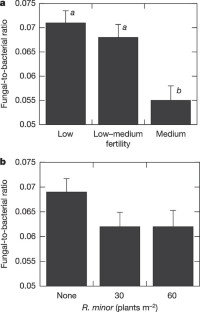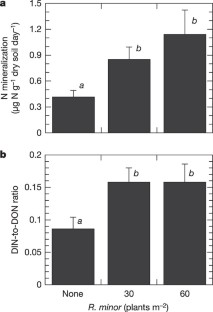 References
Kuijt, J. The Biology of Parasitic Flowering Plants (Univ. California Press, Berkeley, 1969)

Press, M. C. & Graves, J. D. Parasitic Plants (Chapman and Hall, London, 1995)

Press, M. C. Dracula or Robin Hood? A functional role for root hemiparasites in nutrient poor ecosystems. Oikos 82, 609–611 (1998)

Parker, C. A. & Riches, C. R. Parasitic Weeds of the World: Biology and Control (CAB International, Wallingford, 1993)

Thomas, F., Renaud, F. & Guégan, J. F. Parasites in the Grand Scheme of Things (Oxford Univ. Press, Oxford, 2005)

Gibson, C. C. & Watkinson, A. R. The role of the hemiparasitic annual Rhinanthus minor in determining grassland community structure. Oecologia 89, 62–68 (1992)

Pennings, S. C. & Callaway, R. M. Impact of a parasitic plant on the structure and dynamics of salt marsh vegetation. Ecology 77, 1410–1419 (1996)

Davies, D. M., Graves, J. D., Elias, C. O. & Williams, P. J. The impact of Rhinanthus spp. on sward productivity and composition: implications for the restoration of species-rich grassland. Biol. Conserv. 82, 87–93 (1997)

Marvier, M. A. Parasite impacts on host communities: plant parasitism in a Californian coastal prairie. Ecology 79, 2616–2623 (1998)

Smith, D. The population dynamics and community ecology of root hemiparasitic plants. Am. Nat. 155, 13–23 (2000)

Quested, H. M. et al. Decomposition of sub-arctic plants with differing nitrogen economies: a functional role for hemiparasites. Ecology 84, 3209–3221 (2003)

Quested, H. M., Press, M. C. & Callaghan, T. V. Litter of the hemiparasite Bartsia alpina enhances plant growth: evidence for a functional role in nutrient cycling. Oecologia 135, 606–614 (2003)

Quested, H. M., Press, M. C., Callaghan, T. V. & Cornelissen, J. H. C. The hemiparasite angiosperm Bartsia alpina has the potential to accelerate decomposition in sub-arctic communities. Oecologia 130, 88–95 (2002)

Westbury, D. B. Rhinanthus minor L. J. Ecol. 63, 335–344 (2004)

Grime, J. P., Hodgson, J. G. & Hunt, R. The Abridged Comparative Plant Ecology (Unwin Hyman, London, 1990)

Gibson, C. C. & Watkinson, A. R. Host selectivity and the mediation of competition by the root hemiparasite Rhinanthus minor. Oecologia 86, 81–87 (1991)

Pywell, R. F. et al. Facilitating grassland diversification using the hemiparasitic plant Rhinanthus minor. J. Appl. Ecol. 41, 880–887 (2004)

Rodwell, J. S. Grasslands and Montane Communities (Cambridge Univ. Press, Cambridge, 1992)

Smith, R. S. et al. Soil microbial community, fertility, vegetation and diversity as targets in the restoration of a meadow grassland. J. Appl. Ecol. 40, 51–64 (2003)

Smith, S. E. & Read, D. J. Mycorrhizal Symbiosis 2nd edn (Academic, London, 1997)

Bardgett, R. D. & Wardle, D. A. Herbivore mediated linkages between aboveground and belowground communities. Ecology 84, 2258–2268 (2002)

Wardle, D. A. et al. Ecological linkages between aboveground and belowground biota. Science 304, 1629–1633 (2004)

Bardgett, R. D. The Biology of Soil: A Community and Ecosystem (Oxford Univ. Press, Oxford, 2005)

Bardgett, R. D., Streeter, T. & Bol, R. Soil microbes compete effectively with plants for organic nitrogen inputs to temperate grasslands. Ecology 84, 1277–1287 (2003)

Stevens, C. J., Dise, N. B., Mountford, J. O. & Gowing, D. J. Impact of nitrogen deposition on the species richness of grasslands. Science 303, 1876–1879 (2004)

McNaughton, S. J., Banyikwa, F. F. & McNaughton, M. M. Promotion of the cycling of diet-enhancing nutrients by African grazers. Science 278, 1798–1800 (1997)

McGonigle, T. P., Miller, M. H., Evans, D. G., Fairchild, G. L. & Swan, J. A. A new method which gives an objective measure of colonisation of roots by vesicular-arbuscular mycorrhizal fungi. New Phytol. 115, 495–501 (1990)

Bardgett, R. D., Hobbs, P. J. & Frostegård, Å. Changes in fungal:bacterial biomass ratios following reductions in the intensity of management on an upland grassland. Biol. Fertil. Soils 22, 261–264 (1996)

ter Braak, C. J. F. & Smilauer, P. CANOCO Reference Manual and CANODRAW for Windows User's Guide: Software for Canonical Community Ordination (version 4.5) 265–268 (Microcomputer Power, Ithaca, New York, 2002)
Acknowledgements
We are grateful to the UK Department for Environment, Food and Rural Affairs (DEFRA) for funding this work under their species-rich grassland programme. We thank D. Wardle, L. Walker, E. Ayres, R. Van der Wal, K. Harrison, N. Ostle and K. Wilson for their comments on the manuscript, and R. Brand Hardy of DEFRA for his continued support of this work. Author Contributions R. S. Smith was the project leader, responsible for the experimental design and the vegetation aspects, with S.P. and J.M.S. responsible for most of the data collection and management of the mesocosm experiment. R.D.B. was responsible for below-ground aspects of the study, with assistance from H.Q. and P.J.H. R. S. Shiel provided statistical support.
Supplementary information
About this article
Cite this article
Bardgett, R., Smith, R., Shiel, R. et al. Parasitic plants indirectly regulate below-ground properties in grassland ecosystems. Nature 439, 969–972 (2006). https://doi.org/10.1038/nature04197
Received:

Accepted:

Issue Date:

DOI: https://doi.org/10.1038/nature04197
Comments
By submitting a comment you agree to abide by our Terms and Community Guidelines. If you find something abusive or that does not comply with our terms or guidelines please flag it as inappropriate.