Abstract
The anaphase-promoting complex/cyclosome (APC/C) is a multicomponent E3 ubiquitin ligase that, by targeting protein substrates for 26S proteasome-mediated degradation through ubiquitination, coordinates the temporal progression of eukaryotic cells through mitosis and the subsequent G1 phase of the cell cycle1,2,3,4. Other functions of the APC/C are, however, less well defined. Here we show that two APC/C components, APC5 and APC7, interact directly with the coactivators CBP and p300 through protein–protein interaction domains that are evolutionarily conserved in adenovirus E1A5,6,7,8. This interaction stimulates intrinsic CBP/p300 acetyltransferase activity and potentiates CBP/p300-dependent transcription. We also show that APC5 and APC7 suppress E1A-mediated transformation in a CBP/p300-dependent manner, indicating that these components of the APC/C may be targeted during cellular transformation. Furthermore, we establish that CBP is required in APC/C function; specifically, gene ablation of CBP by RNA-mediated interference markedly reduces the E3 ubiquitin ligase activity of the APC/C and the progression of cells through mitosis. Taken together, our results define discrete roles for the APC/C–CBP/p300 complexes in growth regulation.
Your institute does not have access to this article
Relevant articles
Open Access articles citing this article.
Chao-Chieh Lin

,

Mayumi Kitagawa

…

Jen-Tsan Chi

Nature Communications Open Access 12 March 2018

Zhen-Lin Nie

,

Yu-Qin Pan

…

Ji-Fan Hu

Molecular Cancer Open Access 21 November 2012

E Bicaku

,

Y Xiong

…

J M Lancaster

British Journal of Cancer Open Access 17 May 2012
Access options
Subscribe to Journal
Get full journal access for 1 year
$199.00
only $3.90 per issue
All prices are NET prices.
VAT will be added later in the checkout.
Tax calculation will be finalised during checkout.
Buy article
Get time limited or full article access on ReadCube.
$32.00
All prices are NET prices.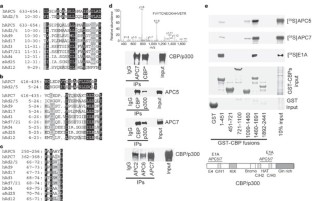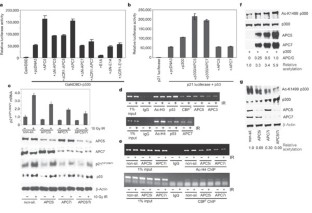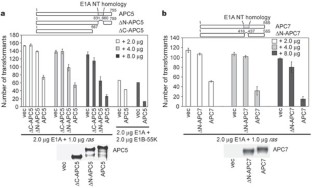 References
Harper, J. W., Burton, J. L. & Solomon, M. J. The anaphase-promoting complex: it's not just for mitosis anymore. Genes Dev. 16, 2179–2206 (2002)

Peters, J.-M. The anaphase-promoting complex: proteolysis in mitosis and beyond. Mol. Cell 9, 931–943 (2002)

Bashir, T., Dorrello, N. V., Amador, V., Guardavaccaro, D. & Pagano, M. Control of the SCFSkp2-Cks1 ubiquitin ligase by the APC/CCdh1 ubiquitin ligase. Nature 428, 190–193 (2004)

Wei, W. et al. Degradation of the SCF component Skp2 in cell-cycle phase G1 by the anaphase-promoting complex. Nature 428, 194–198 (2004)

Eckner, R. et al. Molecular cloning and functional analysis of the adenovirus E1A-associated 300-kD protein (p300) reveals a protein with properties of a transcriptional adaptor. Genes Dev. 8, 869–884 (1994)

Lundblad, J. R., Kwok, R. P. S., Laurance, M. E., Harter, M. L. & Goodman, R. H. Adenoviral E1A-associated protein p300 as a functional homologue of the transcriptional co-activator CBP. Nature 374, 85–88 (1995)

O'Connor, M. J., Zimmermann, H., Nielsen, S., Bernard, H.-U. & Kouzarides, T. Characterization of an E1A–CBP interaction defines a novel transcriptional adapter motif (TRAM) in CBP/p300. J. Virol. 73, 3574–3581 (1999)

Gallimore, P. H. & Turnell, A. S. Adenovirus E1A: remodelling the host cell, a life or death experience. Oncogene 20, 7824–7835 (2001)

Vodermaier, H. C., Gieffers, C., Maurer-Stroh, S., Eisenhaber, F. & Peters, J.-M. TPR subunits of the anaphase-promoting complex mediate binding to the activator protein CDH1. Curr. Biol. 13, 1459–1468 (2003)

Turnell, A. S. et al. Regulation of the 26S proteasome by adenovirus E1A. EMBO J. 19, 4759–4773 (2000)

Zhang, X. et al. The targeting of the proteasomal regulatory subunit S2 by adenovirus E1A causes inhibition of proteasomal activity and increased p53 expression. J. Biol. Chem. 279, 25122–25133 (2004)

Kwok, R. P. S. et al. Nuclear protein CBP is a coactivator for the transcription factor CREB. Nature 370, 223–226 (1994)

Bannister, A. J. & Kouzarides, T. The CBP coactivator is a histone acetyltransferase. Nature 384, 641–643 (1996)

Ogryzko, V. V., Schiltz, R. L., Russanova, V., Howard, B. H. & Nakatani, Y. The transcriptional coactivators p300 and CBP are histone acetyltransferases. Cell 87, 953–959 (1996)

Yuan, W., Condorelli, G., Caruso, M., Felasani, A. & Giordano, A. Human p300 protein is a coactivator for the transcription factor MyoD. J. Biol. Chem. 271, 9009–9013 (1996)

Chakravarti, D. et al. Role of CBP/p300 in nuclear receptor signalling. Nature 383, 99–103 (1996)

Kamei, Y. et al. A CBP integrator complex mediates transcriptional activation and AP-1 inhibition by nuclear receptors. Cell 85, 403–414 (1996)

Gu, W., Shi, X. L. & Roeder, R. G. Synergistic activation of transcription by CBP and p53. Nature 387, 819–823 (1997)

Lill, N. L., Grossman, S. R., Ginsberg, D., DeCaprio, J. & Livingston, D. M. Binding and modulation of p53 by p300/CBP coactivators. Nature 387, 823–827 (1997)

Avantaggiati, M. L. et al. Recruitment of p300/CBP in p53-dependent signal pathways. Cell 89, 1175–1184 (1997)

Trouche, D., Cook, A. & Kouzarides, T. The CBP co-activator stimulates E2F1/DP1 activity. Nucleic Acids Res. 24, 4139–4145 (1996)

El-Deiry, W. S. et al. WAF1, a potential mediator of p53 tumour suppression. Cell 75, 817–825 (1993)

Thompson, P. R. et al. Regulation of the p300 HAT domain via a novel activation loop. Nature Struct. Mol. Biol. 11, 308–315 (2004)

Salghetti, S. E., Kim, S. Y. & Tansey, W. P. Destruction of Myc by ubiquitin-mediated proteolysis: cancer-associated and transforming mutations stabilize Myc. EMBO J. 18, 717–726 (1999)

Lillie, J. W., Green, M. & Green, M. R. An adenovirus E1a protein region required for transformation and transcriptional repression. Cell 46, 1043–1045 (1986)

Jelsma, T. N. et al. Sequences in E1A proteins of human adenovirus 5 required for cell transformation, repression of a transcriptional enhancer, and induction of proliferating cell nuclear antigen. Virology 170, 120–130 (1989)

Wang, H. G. H. et al. Identification of specific adenovirus-E1A N-terminal residues critical to the binding of cellular proteins and to the control of cell growth. J. Virol. 67, 476–488 (1993)

Grossmann, S. R. et al. Polyubiquitination of p53 by a ubiquitin ligase activity of p300. Science 300, 342–344 (2003)

Goodman, R. H. & Smolik, S. CBP/p300 in cell growth, transformation and development. Genes Dev. 14, 1553–1577 (2000)

Kramer, E. R., Gieffers, C., Holzl, G., Hengstschlager, M. & Peters, J. M. Activation of the human anaphase-promoting complex by proteins of the CDC20/Fizzy family. Curr. Biol. 8, 1207–1210 (1998)
Acknowledgements
We thank D. Brockmann, M. J. Campbell, R. T. Hay, D. P. Lane, M. W. Kirschner, T. Kouzarides, W. L. Kraus, E. Moran, J. S. Mymryk and J. Pines for reagents; C. J. McCabe for help with PCR analysis; and J.S.M for help with alignments and for critically reading the manuscript. This work was supported by a Cancer Research UK programme grant. P.H.G. is a Cancer Research UK Gibb Fellow. G.S.S. was supported by a Cancer Research UK career development fellowship and an EMBO long-term fellowship. H.Y. was supported by Marie Curie Cancer Care and the Association for International Cancer Research. S.J.E. is an investigator with the Howard Hughes Medical Institute and is supported by a grant from the NIH.
Supplementary information
About this article
Cite this article
Turnell, A., Stewart, G., Grand, R. et al. The APC/C and CBP/p300 cooperate to regulate transcription and cell-cycle progression. Nature 438, 690–695 (2005). https://doi.org/10.1038/nature04151
Received:

Accepted:

Issue Date:

DOI: https://doi.org/10.1038/nature04151
Comments
By submitting a comment you agree to abide by our Terms and Community Guidelines. If you find something abusive or that does not comply with our terms or guidelines please flag it as inappropriate.