Abstract
In mammals, social and reproductive behaviours are modulated by pheromones, which are chemical signals that convey information about sex and strain1,2. The vomeronasal organ, located at the base of the nasal septum, is responsible for mediating pheromone information in mice3,4,5,6,7,8,9. Two classes of putative pheromone receptor gene families, V1R and V2R, are expressed by vomeronasal sensory neurons in mutually segregated epithelial zones of the vomeronasal organ10,11,12,13,14. Although numerous studies have suggested that pheromones originate from urine15,16,17,18, direct recordings of behaving mice have shown that neuronal firing in the vomeronasal system is modulated by physical contact with the facial area19. Here we identify a male-specific 7-kDa peptide secreted from the extraorbital lacrimal gland. This peptide, which we named exocrine gland-secreting peptide 1 (ESP1), is encoded by a gene from a previously unrecognized large family clustered in proximity to the class I major histocompatibility complex (MHC) region. ESP1 is secreted from the eyes and is transferred to the female vomeronasal organ, where it stimulates V2R-expressing vomeronasal sensory neurons and elicits an electrical response. Our results indicate that mice respond to sex-specific peptides released from exocrine glands through the vomeronasal system during direct contact.
Relevant articles
Open Access articles citing this article.
Zicong Zhang

,

Atsuhiro Sakuma

…

Masato Nikaido

Scientific Reports Open Access 19 April 2022

Takuya Osakada

,

Takayuki Abe

…

Kazushige Touhara

Nature Communications Open Access 03 February 2022

Caitlin H. Miller

,

Polly Campbell

&

Michael J. Sheehan

BMC Evolutionary Biology Open Access 08 August 2020
Access options
Subscribe to this journal
Receive 51 print issues and online access
$199.00 per year
only $3.90 per issue
Rent or buy this article
Get just this article for as long as you need it
$39.95
Prices may be subject to local taxes which are calculated during checkout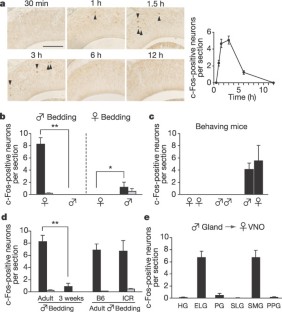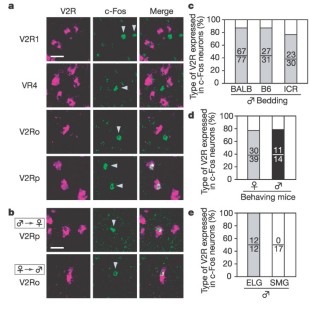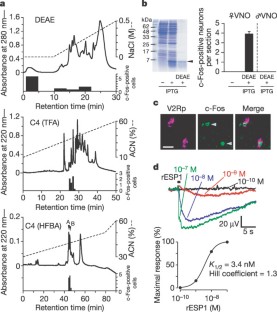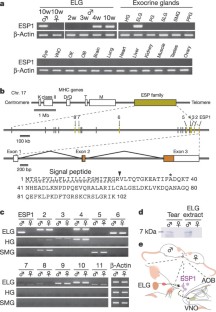 References
Dulac, C. & Torello, A. T. Molecular detection of pheromone signals in mammals: from genes to behaviour. Nature Rev. Neurosci. 4, 551–562 (2003)

Brennan, P. A. & Keverne, E. B. Something in the air? New insights into mammalian pheromones. Curr. Biol. 14, R81–R89 (2004)

Clancy, A. N., Coquelin, A., Macrides, F., Gorski, R. A. & Noble, E. P. Sexual behaviour and aggression in male mice: involvement of the vomeronasal system. J. Neurosci. 4, 2222–2229 (1984)

Wysocki, C. J. & Lepri, J. J. Consequences of removing the vomeronasal organ. J. Steroid Biochem. Mol. Biol. 39, 661–669 (1991)

Meredith, M. Chronic recording of vomeronasal pump activation in awake behaving hamsters. Physiol. Behav. 56, 345–354 (1994)

Stowers, L., Holy, T. E., Meister, M., Dulac, C. & Koentges, G. Loss of sex discrimination and male-male aggression in mice deficient for TRP2. Science 295, 1493–1500 (2002)

Leypold, B. G. et al. Altered sexual and social behaviors in trp2 mutant mice. Proc. Natl Acad. Sci. USA 99, 6376–6381 (2002)

Loconto, J. et al. Functional expression of murine V2R pheromone receptors involves selective association with the M10 and M1 families of MHC class Ib molecules. Cell 112, 607–618 (2003)

Norlin, E. M., Gussing, F. & Berghard, A. Vomeronasal phenotype and behavioural alterations in Gαi2 mutant mice. Curr. Biol. 13, 1214–1219 (2003)

Dulac, C. & Axel, R. A novel family of genes encoding putative pheromone receptors in mammals. Cell 83, 195–206 (1995)

Berghard, A. & Buck, L. B. Sensory transduction in vomeronasal neurons: evidence for Gαo, Gαi2, and adenylyl cyclase II as major components of a pheromone signalling cascade. J. Neurosci. 16, 909–918 (1996)

Herrada, G. & Dulac, C. A novel family of putative pheromone receptors in mammals with a topographically organized and sexually dimorphic distribution. Cell 90, 763–773 (1997)

Matsunami, H. & Buck, L. B. A multigene family encoding a diverse array of putative pheromone receptors in mammals. Cell 90, 775–784 (1997)

Ryba, N. J. & Tirindelli, R. A new multigene family of putative pheromone receptors. Neuron 19, 371–379 (1997)

Krieger, J. et al. Selective activation of G protein subtypes in the vomeronasal organ upon stimulation with urine-derived compounds. J. Biol. Chem. 274, 4655–4662 (1999)

Leinders-Zufall, T. et al. Ultrasensitive pheromone detection by mammalian vomeronasal neurons. Nature 405, 792–796 (2000)

Hurst, J. L. et al. Individual recognition in mice mediated by major urinary proteins. Nature 414, 631–634 (2001)

Boschat, C. et al. Pheromone detection mediated by a V1r vomeronasal receptor. Nature Neurosci. 5, 1261–1262 (2002)

Luo, M., Fee, M. S. & Katz, L. C. Encoding pheromonal signals in the accessory olfactory bulb of behaving mice. Science 299, 1196–1201 (2003)

Halem, H. A., Cherry, J. A. & Baum, M. J. Vomeronasal neuroepithelium and forebrain Fos responses to male pheromones in male and female mice. J. Neurobiol. 39, 249–263 (1999)

Kumar, A., Dudley, C. A. & Moss, R. L. Functional dichotomy within the vomeronasal system: distinct zones of neuronal activity in the accessory olfactory bulb correlate with sex-specific behaviors. J. Neurosci. 19, RC32 (1999)

Halem, H. A., Baum, M. J. & Cherry, J. A. Sex difference and steroid modulation of pheromone-induced immediate early genes in the two zones of the mouse accessory olfactory system. J. Neurosci. 21, 2474–2480 (2001)

Kimoto, H. & Touhara, K. Induction of c-Fos expression in mouse vomeronasal neurons by sex-specific non-volatile pheromone(s). Chem. Senses 30 (suppl. 1), i146–i147 (2005)

Ishii, T., Hirota, J. & Mombaerts, P. Combinatorial coexpression of neural and immune multigene families in mouse vomeronasal sensory neurons. Curr. Biol. 13, 394–400 (2003)

Kikuyama, S. et al. Sodefrin: a female-attracting peptide pheromone in newt cloacal glands. Science 267, 1643–1645 (1995)

Wabnitz, P. A., Bowie, J. H., Tyler, M. J., Wallace, J. C. & Smith, B. P. Aquatic sex pheromone from a male tree frog. Nature 401, 444–445 (1999)

Feldhoff, R. C., Rollmann, S. M. & Houck, L. D. in Advances in Chemical Signals in Vertebrates 117–25 (Kluwer-Plenum, New York, 1999)

Rollmann, S. M., Houck, L. D. & Feldhoff, R. C. Proteinaceous pheromone affecting female receptivity in a terrestrial salamander. Science 285, 1907–1909 (1999)

Leinders-Zufall, T. et al. MHC class I peptides as chemosensory signals in the vomeronasal organ. Science 306, 1033–1037 (2004)
Acknowledgements
We thank K. Yamamoto for helping protein sequence analysis, K. Mori for providing DHB and SBT, and S. Sakuda and H. Kataoka for discussions. This work was supported in part by grants from the Japan Society for the Promotion of Science (JSPS) and the Program for Promotion of Basic Research Activities for Innovative Biosciences (PROBRAIN) of Japan.
Ethics declarations
Competing interests
cDNA sequences have been deposited in GenBank under accession numbers AB194091 (ESP1), AB194093 (V2Rp1), AB194094 (V2Rp2) and AB194095 (V2Ro). Reprints and permissions information is available at npg.nature.com/reprintsandpermissions. The authors declare no competing financial interests.
Supplementary information
About this article
Cite this article
Kimoto, H., Haga, S., Sato, K. et al. Sex-specific peptides from exocrine glands stimulate mouse vomeronasal sensory neurons. Nature 437, 898–901 (2005). https://doi.org/10.1038/nature04033
Received:

Accepted:

Issue Date:

DOI: https://doi.org/10.1038/nature04033
Comments
By submitting a comment you agree to abide by our Terms and Community Guidelines. If you find something abusive or that does not comply with our terms or guidelines please flag it as inappropriate.