Abstract
Highly pathogenic H5N1 influenza A viruses are now endemic in avian populations in Southeast Asia, and human cases continue to accumulate. Although currently incapable of sustained human-to-human transmission, H5N1 represents a serious pandemic threat owing to the risk of a mutation or reassortment generating a virus with increased transmissibility. Identifying public health interventions that might be able to halt a pandemic in its earliest stages is therefore a priority. Here we use a simulation model of influenza transmission in Southeast Asia to evaluate the potential effectiveness of targeted mass prophylactic use of antiviral drugs as a containment strategy. Other interventions aimed at reducing population contact rates are also examined as reinforcements to an antiviral-based containment policy. We show that elimination of a nascent pandemic may be feasible using a combination of geographically targeted prophylaxis and social distancing measures, if the basic reproduction number of the new virus is below 1.8. We predict that a stockpile of 3 million courses of antiviral drugs should be sufficient for elimination. Policy effectiveness depends critically on how quickly clinical cases are diagnosed and the speed with which antiviral drugs can be distributed.
Access options
Subscribe to Journal
Get full journal access for 1 year
$199.00
only $3.83 per issue
All prices are NET prices.
VAT will be added later in the checkout.
Rent or Buy article
Get time limited or full article access on ReadCube.
from$8.99
All prices are NET prices.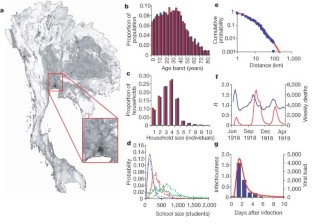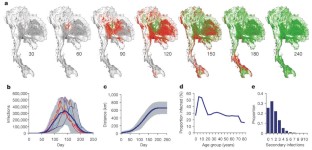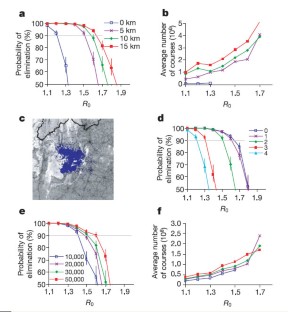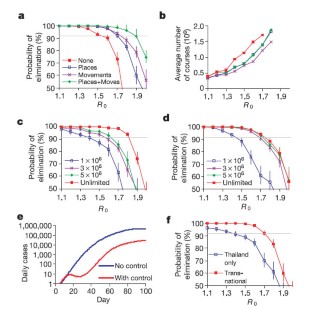 References
1

World Health Organisation. Avian influenza: assessing the pandemic threat. http://www.who.int/csr/disease/influenza/WHO_CDS_2005_29/en/index.html (2005).

2

Abbott, A. & Pearson, H. Fear of human pandemic grows as bird flu sweeps through Asia. Nature 427, 472–473 (2004)

3

Spicer, C. C. & Lawrence, C. J. Epidemic influenza in Greater London. J. Hyg. (Lond.) 93, 105–112 (1984)

4

Fleming, D. M., Zambon, M., Bartelds, A. I. M. & de Jong, J. C. The duration and magnitude of influenza epidemics: A study of surveillance data from sentinel general practices in England, Wales and the Netherlands. Eur. J. Epidemiol. 15, 467–473 (1999)

5

Mills, C. E., Robins, J. M. & Lipsitch, M. Transmissibility of 1918 pandemic influenza. Nature 432, 904–906 (2004)

6

Anderson, R. M. & May, R. M. Infectious Diseases of Humans: Dynamics and Control (Oxford Univ. Press, Oxford, 1992)

7

Stohr, K. & Esveld, M. Will vaccines be available for the next influenza pandemic? Science 306, 2195–2196 (2004)

8

Leneva, I. A., Roberts, N., Govorkova, E. A., Goloubeva, O. G. & Webster, R. G. The neuraminidase inhibitor GS4104 (oseltamivir phosphate) is efficacious against A/Hong Kong/156/97 (H5N1) and A/Hong Kong/1074/99 (H9N2) influenza viruses. Antiviral Res. 48, 101–115 (2000)

9

Brooks, M. J., Sasadeusz, J. J. & Tannock, G. A. Antiviral chemotherapeutic agents against respiratory viruses: where are we now and what's in the pipeline? Curr. Opin. Pulm. Med. 10, 197–203 (2004)

10

Coombes, R. UK stocks up on antiviral drug to tackle flu outbreak. Br. Med. J. 330, 495 (2005)

11

Longini, I. M. Jr, Halloran, M. E., Nizam, A. & Yang, Y. Containing pandemic influenza with antiviral agents. Am. J. Epidemiol. 159, 623–633 (2004)

12

Viboud, C. et al. Risk factors of influenza transmission in households. Br. J. Gen. Pract. 54, 684–689 (2004)

13

Principi, N., Esposito, S., Gasparini, R., Marchisio, P. & Crovari, P. Burden of influenza in healthy children and their households. Arch. Dis. Child. 89, 1002–1007 (2004)

14

Heymann, A., Chodick, G., Reichman, B., Kokia, E. & Laufer, J. Influence of school closure on the incidence of viral respiratory diseases among children and on health care utilization. Pediatr. Infect. Dis. J. 23, 675–677 (2004)

15

Hayden, F. G. et al. Local and systemic cytokine responses during experimental human influenza A virus infection. Relation to symptom formation and host defense. J. Clin. Invest. 101, 643–649 (1998)

16

Elveback, L. R. et al. An influenza simulation model for immunization studies. Am. J. Epidemiol. 103, 152–165 (1976)

17

Longini, I. M. Jr, Koopman, J. S., Haber, M. & Cotsonis, G. A. Statistical inference for infectious diseases. Risk-specific household and community transmission parameters. Am. J. Epidemiol. 128, 845–859 (1988)

18

Fox, J. P., Hall, C. E., Cooney, M. K & Foy, H. M. Influenzavirus infections in Seattle families, 1975–1979. I. Study design, methods and the occurrence of infections by time and age. Am. J. Epidemiol. 116, 212–227 (1982)

19

Ferguson, N. M., Fraser, C., Donnelly, C. A., Ghani, A. C. & Anderson, R. M. Public health risk from the avian H5N1 influenza epidemic. Science 304, 968–969 (2004)

20

Riley, S. et al. Transmission dynamics of the etiological agent of SARS in Hong Kong: Impact of public health interventions. Science 300, 1961–1966 (2003)

21

World Health Organisation. WHO inter-country consultation influenza A/H5N1 in humans in Asia. http://www.who.int/csr/disease/avian_influenza/H5N1%20Intercountry%20Assessment%20final.pdf (2005).

22

Ferguson, N. M., Mallett, S., Jackson, H., Roberts, N. & Ward, P. A population-dynamic model for evaluating the potential spread of drug-resistant influenza virus infections during community-based use of antivirals. J. Antimicrob. Chemother. 51, 977–990 (2003)

23

Herlocher, M. L. et al. Influenza viruses resistant to the antiviral drug oseltamivir: transmission studies in ferrets. J. Infect. Dis. 190, 1627–1630 (2004)

24

Oakridge National Laboratory. Landscan global population data. http://www.ornl.gov/sci/gist/landscan (2003).

25

National Statistical Office Thailand. Population Census 2000. http://web.nso.go.th/pop2000/pop_e2000.htm (2000).

26

National Statistical Office Thailand. Population and Labor Statistics. http://web.nso.go.th/eng/stat/subject/subject.htm#cata1 (1999).

27

National Statistical Office Thailand. National Migration Survey. http://web.nso.go.th/eng/stat/migrant/migrant.htm and http://opr.princeton.edu/archive/nmst/ (1994).

28

Chamratrithirong, A. et al. National Migration Survey of Thailand (Institute for Population and Social Research, Mahidol Univ., Bangkok, 1995)

29

Ministry of Labour Thailand. Yearbook of Labour Statistics. http://www1.mol.go.th/download/chap031-2.pdf (2003).

30

Axtell, R. L. Zipf distribution of U.S. firm sizes. Science 293, 1818–1820 (2001)

31

Moser, M. R. et al. An outbreak of influenza aboard a commercial airliner. Am. J. Epidemiol. 110, 1–6 (1979)

32

Fraser, C., Riley, S., Anderson, R. M. & Ferguson, N. M. Factors that make an infectious disease outbreak controllable. Proc. Natl Acad. Sci. USA 101, 6146–6151 (2004)

33

Hayden, F. G. et al. Use of the oral neuraminidase inhibitor Oseltamivir in experimental human influenza. J. Am. Med. Assoc. 282, 1240–1246 (1999)

34

Carrat, F. et al. Influenza burden of illness: estimates from a national prospective survey of household contacts in France. Arch. Intern. Med. 162, 1842–1848 (2002)

35

Cauchemez, S., Carrat, F., Viboud, C., Valleron, A. J. & Boelle, P. Y. A Bayesian MCMC approach to study transmission of influenza: application to household longitudinal data. Stat. Med. 23, 3469–3487 (2004)

36

Flahault, A. et al. Modelling the 1985 influenza epidemic in France. Stat. Med. 7, 1147–1155 (1988)

37

Yang, Y., Longini, I. M. & Halloran, M. E. Design and evaluation of prophylactic interventions using infectious disease incidence data from close contact groups. Department of Biostatistics, Emory University, Technical Report 04-09 (2004).
Acknowledgements
We thank the National Institute of General Medical Sciences MIDAS Program (N.M.F., D.A.T.C. and D.S.B.), the Medical Research Council (N.M.F.), the Royal Society (N.M.F. and C.F.), the Howard Hughes Medical Institute (N.M.F.), the Research Fund for the Control of Infectious Diseases of the Hong Kong SAR government (S.R.) and INSERM (S.C.) for research funding. We thank F. Carrat for providing household data used in this study, and N. Cox, F. Hayden, B. Schwartz, K. Stohr and members of the MIDAS consortium for useful discussions. We thank the MIDAS informatics group for computational resources. Author Contributions N.M.F. designed, implemented and ran the model, integrated the demographic and disease datasets used, and drafted and revised the text. All other authors edited or commented on the text. D.A.T.C. identified, collated and processed the Thai demographic and travel datasets used and provided input on model assumptions. S.C. analysed the French household dataset used to estimate key epidemiological parameters. C.F. performed analytical modelling of household transmission, which aided the verification of the simulation and gave suggestions on control strategies to be modelled. S.R. contributed to the design of some algorithms within the simulation model. A.M. assisted with collating data on Thai schools and administrative boundaries. S.I. provided feedback on the realism of model assumptions and the likely feasibility of different control options. D.S.B. provided input into model design and assumptions, advised on the presentation of results, assisted with data collection and organized meetings with stakeholders.
Supplementary information
About this article
Cite this article
Ferguson, N., Cummings, D., Cauchemez, S. et al. Strategies for containing an emerging influenza pandemic in Southeast Asia. Nature 437, 209–214 (2005). https://doi.org/10.1038/nature04017
Received:

Accepted:

Published:

Issue Date:
Comments
By submitting a comment you agree to abide by our Terms and Community Guidelines. If you find something abusive or that does not comply with our terms or guidelines please flag it as inappropriate.