Abstract
The formation process for stars with masses several times that of the Sun is still unclear. The two main theories are mergers of several low-mass young stellar objects1, which requires a high stellar density, or mass accretion from circumstellar disks in the same way as low-mass stars are formed2, accompanied by outflows during the process of gravitational infall. Although a number of disks have been discovered around low- and intermediate-mass young stellar objects3,4, the presence of disks around massive young stellar objects is still uncertain and the mass of the disk system detected around one such object5, M17, is disputed6. Here we report near-infrared imaging polarimetry that reveals an outflow/disk system around the Becklin–Neugebauer protostellar object, which has a mass of at least seven solar masses (M⊙). This strongly supports the theory that stars with masses of at least 7M⊙ form in the same way as lower mass stars.
Relevant articles
Open Access articles citing this article.
Tsubasa Fukue

,

Motohide Tamura

…

Jun Hashimoto

Origins of Life and Evolution of Biospheres Open Access 07 March 2010
Access options
Subscribe to Journal
Get full journal access for 1 year
$199.00
only $3.90 per issue
All prices are NET prices.
VAT will be added later in the checkout.
Tax calculation will be finalised during checkout.
Buy article
Get time limited or full article access on ReadCube.
$32.00
All prices are NET prices.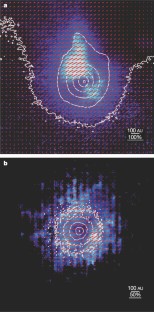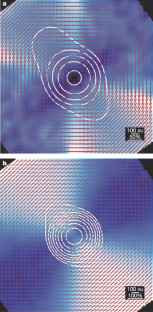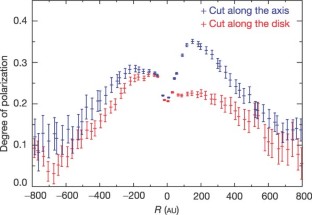 References
Bonnell, I. A., Bate, M. R. & Zinnecker, H. On the formation of massive stars. Mon. Not. R. Astron. Soc. 298, 93–102 (1998)

Shu, F. H., Adams, F. C. & Lizano, S. Star formation in molecular clouds—Observation and theory. Annu. Rev. Astron. Astrophys. 25, 23–81 (1987)

O'Dell, C. R. & Wen, Z. Postrefurbishment mission Hubble Space Telescope images of the core of the Orion Nebula: Proplyds, Herbig-Haro objects, and measurements of a circumstellar disk. Astrophys. J. 435, 194–202 (1994)

Perrin, M. D. et al. Laser guide star adaptive optics imaging polarimetry of Herbig Ae/Be stars. Science 303, 1345–1348 (2004)

Chini, R. et al. The formation of a massive protostar through the disk accretion of gas. Nature 429, 155–157 (2004)

Sako, S. et al. No high-mass protostars in the young stellar object M17–S01. Nature 434, 995–998 (2005)

Becklin, E. E. & Neugebauer, G. Observations of an infrared star in the Orion nebula. Astrophys. J. 147, 799–802 (1967)

Genzel, R. & Stutzki, J. The Orion molecular cloud and star-forming region. Annu. Rev. Astron. Astrophys. 27, 41–85 (1989)

Gezari, D. Y., Backman, D. E. & Werner, M. W. Mid-infrared imaging of Orion BN/KL. II. Luminosity sources, extinction distribution, and the nature of IRc2. Astrophys. J. 509, 283–298 (1998)

Tan, J. C. The Becklin-Neugegauer object as a runaway B star, ejected 4000 years ago from the θ1 Orionis C system. Astrophys. J. 607, L47–L50 (2004)

Hillenbrand, L. A., Carpenter, J. M. & Skrutskie, M. F. Periodic photometric variability in the Becklin-Neugegauer object. Astrophys. J. 547, L53–L56 (2001)

Davis, L. & Greenstein, H. L. The polarization of starlight by aligned dust grains. Astrophys. J. 114, 206–240 (1951)

Jones, T. J. Infrared polarimetry and the interstellar magnetic field. Astrophys. J. 346, 728–734 (1989)

Minchin, N. R. et al. Near-infrared imaging polarimetry of bipolar nebulae—I. The BN-KL region of OMC-1. Mon. Not. R. Astron. Soc. 248, 715–729 (1991)

Chrysostomou, A., Hough, J. H., Burton, M. G. & Tamura, M. Twisting magnetic fields in the core region of OMC-1. Mon. Not. R. Astron. Soc. 268, 325–334 (1994)

Schultz, A. S. B. et al. NICMOS narrowband images of OMC-1. Astrophys. J. 511, 282–288 (1999)

Shuping, R. Y. & Morris, M. A new mid-infrared map of the BN/KL region using the Keck telescope. Astron. J. 128, 363–374 (2004)

Lucas, P. W. et al. High-resolution imaging polarimetry of HL Tau and magnetic field structure. Mon. Not. R. Astron. Soc. 352, 1347–1364 (2004)

Hough, J. H. et al. Infrared polarization in OMC-1—discovery of a molecular hydrogen reflection nebula. Mon. Not. R. Astron. Soc. 222, 629–644 (1986)

Cohen, R. J., Rowland, P. R. & Blair, M. M. The source of bipolar outflow in Cepheus A. Mon. Not. R. Astron. Soc. 210, 425–438 (1984)

Tamura, M. et al. Infrared polarimetry of dark clouds—III. The relationship between the magnetic field and star formation in the NGC 1333 region. Mon. Not. R. Astron. Soc 231, 445–453 (1988)

Matsumoto, T. & Tomisaka, K. Directions of outflows, disks, magnetic fields, and rotation of young stellar objects in collapsing molecular cloud cores. Astrophys. J. 616, 266–282 (2004)

Wolfire, M. & Cassinelli, J. Conditions for the formation of massive stars. Astrophys. J. 319, 850–867 (1987)

Yorke, H. W. & Sonnhalter, C. On the formation of massive stars. Astrophys. J. 569, 846–862 (2002)

Krumholz, M. R., McKee, C. F. & Klein, R. I. How protostellar outflows help massive stars form. Astrophys. J. 618, L33–L36 (2005)

Blum, R. D. et al. Accretion signatures from massive young stellar objects. Astrophys. J. 617, 1167–1176 (2004)

Tamura, M. et al. Coronagraph imager with adaptive optics (CIAO): description and first results. Proc. SPIE 4008, 1153–1161 (2000)

Tamura, M. et al. Near-infrared polarimeter for the Subaru telescope. Proc. SPIE 4843, 190–195 (2003)
Acknowledgements
This paper is based on data collected at Subaru Telescope, which is operated by the National Astronomical Observatory of Japan. This work is supported by a Grant-in-Aid from MEXT, Japan, and NSFC of China. Author Contributions M.T., M.F., H.S. and M.I. collected the data. P.L. and M.F. did the modelling. M.T., J.H., P.L. and J.Y. contributed to the scientific discussion. Z.J. conducted data reduction and wrote the paper with help from all co-authors.
About this article
Cite this article
Jiang, Z., Tamura, M., Fukagawa, M. et al. A circumstellar disk associated with a massive protostellar object. Nature 437, 112–115 (2005). https://doi.org/10.1038/nature04012
Received:

Accepted:

Issue Date:

DOI: https://doi.org/10.1038/nature04012
Comments
By submitting a comment you agree to abide by our Terms and Community Guidelines. If you find something abusive or that does not comply with our terms or guidelines please flag it as inappropriate.