A worrying development could help to spread this dangerous virus beyond its stronghold in southeast Asia.
Abstract
The highly pathogenic H5N1 influenza virus has become endemic in poultry in southeast Asia since 2003 and constitutes a major pandemic threat to humans1. Here we describe cases of disease caused by H5N1 and transmission of the virus among migratory geese populations in western China. This outbreak may help to spread the virus over and beyond the Himalayas and has important implications for developing control strategies.
Access options
Subscribe to Journal
Get full journal access for 1 year
$199.00
only $3.90 per issue
All prices are NET prices.
VAT will be added later in the checkout.
Rent or Buy article
Get time limited or full article access on ReadCube.
from$8.99
All prices are NET prices.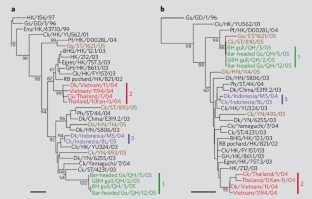 References
1

World Health Organization Inter-country Consultation Influenza A/H5N1 in Humans in Asia, Manila, May 6–7 2005http://www.who.int/csr/disease/avian_influenza/H5N1IntercountryAssessment.pdf (2005).

2

Ellis, T. M. et al. Avian Pathol. 33, 492–505 (2004).

3

Food and Agricultural Organization of the United Nations Avian Influenza Disease Emergency Bulletin Issue 30http://www.fao.org/ag/againfo/subjects/en/health/diseases-cards/avian_update.html (2005).

4

Hatta, M., Gao, P., Halfmann, P. & Kawaoka, Y. Science 293, 1773–1775 (2001).

5

Li, K. S. et al. Nature 430, 209–213 (2004).

6

Clements, J. F. Birds of the World: A Checklist (Ibis, Vista, California, 2000).
Ethics declarations
Competing interests
The authors declare no competing financial interests.
Supplementary information
About this article
Cite this article
Chen, H., Smith, G., Zhang, S. et al. H5N1 virus outbreak in migratory waterfowl. Nature 436, 191–192 (2005) doi:10.1038/nature03974
Comments
By submitting a comment you agree to abide by our Terms and Community Guidelines. If you find something abusive or that does not comply with our terms or guidelines please flag it as inappropriate.