Abstract
Predation can be intense, creating strong direct and indirect effects throughout food webs1,2,3,4. In addition, ecologists increasingly recognize that fluxes of organisms across ecosystem boundaries can have major consequences for community dynamics5,6. Species with complex life histories often shift habitats during their life cycles7 and provide potent conduits coupling ecosystems5,6. Thus, local interactions that affect predator abundance in one ecosystem (for example a larval habitat) may have reverberating effects in another (for example an adult habitat). Here we show that fish indirectly facilitate terrestrial plant reproduction through cascading trophic interactions across ecosystem boundaries. Fish reduce larval dragonfly abundances in ponds, leading to fewer adult dragonflies nearby. Adult dragonflies consume insect pollinators and alter their foraging behaviour. As a result, plants near ponds with fish receive more pollinator visits and are less pollen limited than plants near fish-free ponds. Our results confirm that strong species interactions can reverberate across ecosystems, and emphasize the importance of landscape-level processes in driving local species interactions.
Relevant articles
Open Access articles citing this article.
Nian-Feng Wan

,

Liwan Fu

…

Christoph Scherber

Nature Communications Open Access 27 November 2022

Jolan Hogreve

&

Frank Suhling

Journal of Insect Conservation Open Access 27 April 2022

Babasola Adu

,

Omolola Dada

&

Victor Tunwase

Bulletin of the National Research Centre Open Access 01 April 2022
Access options
Subscribe to this journal
Receive 51 print issues and online access
$199.00 per year
only $3.90 per issue
Rent or buy this article
Get just this article for as long as you need it
$39.95
Prices may be subject to local taxes which are calculated during checkout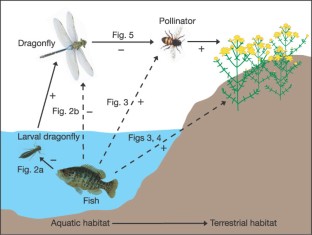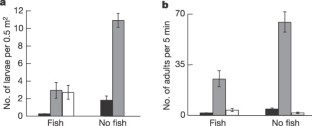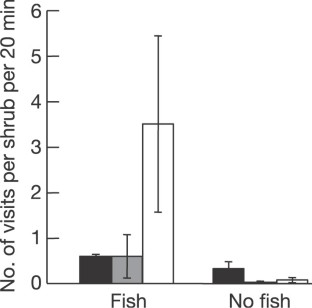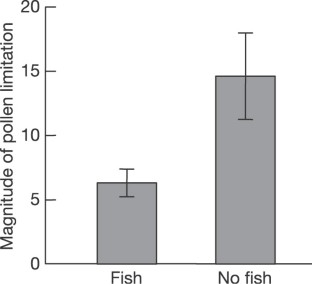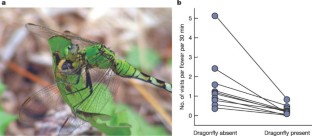 References
Terborgh, J. L. et al. Ecological meltdown in predator-free forest fragments. Science 294, 1923–1926 (2001)

Worm, B., Lotze, H. K., Hillebrand, H. & Sommer, U. Consumer versus resource control of species diversity and ecosystem functioning. Nature 417, 848–851 (2002)

Sinclair, A. R. E., Mduma, S. & Brashares, J. S. Patterns of predation in a diverse predator-prey system. Nature 425, 288–290 (2003)

Finke, D. L. & Denno, R. F. Predator diversity dampens trophic cascades. Nature 429, 407–410 (2004)

Polis, G. A., Anderson, W. B. & Holt, R. D. Towards an integration of landscape and food web ecology: the dynamics of spatially subsidized food webs. Annu. Rev. Ecol. Syst. 28, 289–316 (1997)

Polis, G. A., Power, M. E. & Huxel, G. R. Food Webs at the Landscape Level (Univ. of Chicago Press, Chicago, 2004)

Werner, E. E. & Gilliam, J. F. The ontogenetic niche and species interactions in size-structured populations. Annu. Rev. Ecol. Syst. 15, 393–425 (1984)

Pace, M. L., Cole, J. J., Carpenter, S. R. & Kitchell, J. F. Trophic cascades revealed in diverse ecosystems. Trends Ecol. Evol. 14, 483–488 (1999)

Knight, T. M. et al. Pollen limitation of plant reproduction: ecological and evolutionary causes and consequences. Annu. Rev. Ecol. Syst. 36, 467–497 (2005)

Kremen, C. & Ricketts, T. H. Global perspectives on pollination disruptions. Conserv. Biol. 14, 1226–1228 (2000)

Dukas, R. & Morse, D. H. Crab spiders affect flower visitation by bees. Oikos 101, 157–163 (2003)

Suttle, K. B. Pollinators as mediators of top-down effects on plants. Ecol. Lett. 6, 688–694 (2003)

Muñoz, A. A. & Arroyo, M. T. K. Negative impacts of a vertebrate predator on insect pollinator visitation and seed output in Chuquiraga oppositifolia, a high Andean shrub. Oecologia 138, 66–73 (2004)

Shurin, J. B. et al. A cross-ecosystem comparison of the strength of trophic cascades. Ecol. Lett. 5, 785–791 (2002)

Nakano, S. & Murakami, M. Reciprocal subsidies: Dynamic interdependence between terrestrial and aquatic food webs. Proc. Natl Acad. Sci. USA 98, 166–170 (2001)

Murakami, M. & Nakano, S. Indirect effect of aquatic insect emergence on a terrestrial insect population through predation by birds. Ecol. Lett. 5, 333–337 (2002)

Sabo, J. L. & Power, M. E. River-watershed exchange: Effects of riverine subsidies on riparian lizards and their terrestrial prey. Ecology 83, 1860–1869 (2002)

Morin, P. J. The impact of fish exclusion on the abundance and species composition of larval odonates: results of short-term experiments in a North Carolina farm pond. Ecology 65, 53–60 (1984)

Johansson, F. & Brodin, T. Effects of fish predators and abiotic factors on dragonfly community structure. J. Freshwat. Ecol. 18, 415–423 (2003)

Byers, C. F. A Contribution to the Knowledge of Florida Odonata (Univ. of Florida Press, Gainesville, Florida, 1930)

Wright, M. Some random observations on dragonfly habits with notes on their predaceousness on bees. J. Tennessee Acad. Sci. 19, 295–301 (1944)

Needham, J. G. Notes on some dragonflies of southwest peninsular Florida. Bull. Brooklyn. Entomol. Soc. 40, 104–110 (1945)

Takhtajan, A. Diversity and Classification of Flowering Plants (Columbia Univ. Press, New York, 1997)

Corbet, P. S. Dragonflies: Behavior and Ecology of Odonata (Cornell Univ. Press, Ithaca, New York, 1999)

Leibold, M. A. et al. The metacommunity concept: a framework for multi-scale community ecology. Ecol. Lett. 7, 601–613 (2004)

Knapp, R. A., Matthews, K. R. & Sarnelle, O. Resistance and resilience of alpine lake fauna to fish introductions. Ecol. Monogr. 71, 401–421 (2001)

Moyle, P. B. in Ecology of Biological Invasions of North America and Hawaii (eds Mooney, H. A. & Drake, J. A.) 27–43 (Springer, New York, 1986)

Dunkle, S. W. Dragonflies of the Florida Peninsula, Bermuda, and the Bahamas (Scientific Publishers, Gainesville, Florida, 1989)
Acknowledgements
We thank T.-L. Ashman, M. Barfield, J. Drake, L. Harmon, J. Knouft, J. Steets, J. M. Chase's lab group and the C. W. Osenberg, B. Bolker and C. St Mary lab group for discussion and comments, T. Kim for field assistance, and S. Coates for logistical support. Funding was provided by The University of Florida Foundation and Washington University in St Louis. Additional support to T.M.K. was through a fellowship from the National Center for Ecological Analysis and Synthesis during the preparation of this manuscript.
Supplementary information
Details of additional methods used to determine that there were no environmental or structural differences among pond types and a complementary experiment with another plant show similar trans-ecosystem cascades. (DOC 6735 kb)
About this article
Cite this article
Knight, T., McCoy, M., Chase, J. et al. Trophic cascades across ecosystems. Nature 437, 880–883 (2005). https://doi.org/10.1038/nature03962
Received:

Accepted:

Issue Date:

DOI: https://doi.org/10.1038/nature03962
Comments
By submitting a comment you agree to abide by our Terms and Community Guidelines. If you find something abusive or that does not comply with our terms or guidelines please flag it as inappropriate.