Abstract
In eukaryotic cells, transcription of every protein-coding gene begins with the assembly of an RNA polymerase II preinitiation complex (PIC) on the promoter1. The promoters, in conjunction with enhancers, silencers and insulators, define the combinatorial codes that specify gene expression patterns2. Our ability to analyse the control logic encoded in the human genome is currently limited by a lack of accurate information regarding the promoters for most genes3. Here we describe a genome-wide map of active promoters in human fibroblast cells, determined by experimentally locating the sites of PIC binding throughout the human genome. This map defines 10,567 active promoters corresponding to 6,763 known genes and at least 1,196 un-annotated transcriptional units. Features of the map suggest extensive use of multiple promoters by the human genes and widespread clustering of active promoters in the genome. In addition, examination of the genome-wide expression profile reveals four general classes of promoters that define the transcriptome of the cell. These results provide a global view of the functional relationships among transcriptional machinery, chromatin structure and gene expression in human cells.
Relevant articles
Open Access articles citing this article.
Sean J. Farley

,

Alla Grishok

&

Ella Zeldich

Epigenetics & Chromatin Open Access 03 December 2022

Bingbo Wang

,

Xianan Dong

…

Lin Gao

npj Systems Biology and Applications Open Access 29 November 2022

William M. Yashar

,

Garth Kong

…

Theodore P. Braun

Genome Biology Open Access 04 July 2022
Access options
Subscribe to this journal
Receive 51 print issues and online access
$199.00 per year
only $3.90 per issue
Rent or buy this article
Prices vary by article type
from$1.95
to$39.95
Prices may be subject to local taxes which are calculated during checkout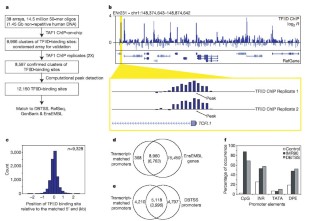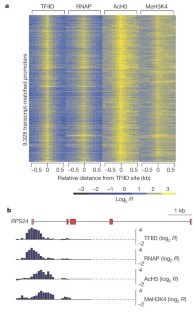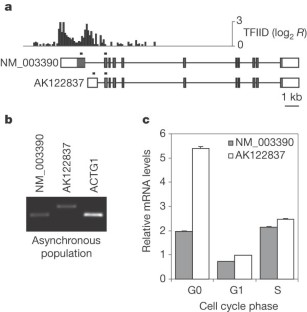 References
Smale, S. T. & Kadonaga, J. T. The RNA polymerase II core promoter. Annu. Rev. Biochem. 72, 449–479 (2003)

Tjian, R. & Maniatis, T. Transcriptional activation: a complex puzzle with few easy pieces. Cell 77, 5–8 (1994)

Trinklein, N. D., Aldred, S. J., Saldanha, A. J. & Myers, R. M. Identification and functional analysis of human transcriptional promoters. Genome Res. 13, 308–312 (2003)

Reinberg, D. et al. The RNA polymerase II general transcription factors: past, present, and future. Cold Spring Harb. Symp. Quant. Biol. 63, 83–103 (1998)

Ren, B. et al. Genome-wide location and function of DNA binding proteins. Science 290, 2306–2309 (2000)

Kim, T. H. et al. Direct isolation and identification of promoters in the human genome. Genome Res. 15, 830–839 (2005)

The ENCODE Project Consortium, The ENCODE (ENCyclopedia Of DNA Elements) Project. Science 306, 636–640 (2004)

Singh-Gasson, S. et al. Maskless fabrication of light-directed oligonucleotide microarrays using a digital micromirror array. Nature Biotechnol. 17, 974–978 (1999)

Ruppert, S., Wang, E. H. & Tjian, R. Cloning and expression of human TAFII250: a TBP-associated factor implicated in cell-cycle regulation. Nature 362, 175–179 (1993)

Suzuki, Y., Yamashita, R., Sugano, S. & Nakai, K. DBTSS, DataBase of Transcriptional Start Sites: progress report 2004. Nucleic Acids Res. 32 (database issue), D78–81 (2004)

Pruitt, K. D., Tatusova, T. & Maglott, D. R. NCBI Reference Sequence project: update and current status. Nucleic Acids Res. 31, 34–37 (2003)

Benson, D. A., Karsch-Mizrachi, I., Lipman, D. J., Ostell, J. & Wheeler, D. L. GenBank: update. Nucleic Acids Res. 32 (database issue)), D23–26 (2004)

Birney, E. et al. Ensembl 2004. Nucleic Acids Res. 32 (database issue), D468–470 (2004)

Antequera, F. & Bird, A. Number of CpG islands and genes in human and mouse. Proc. Natl Acad. Sci. USA 90, 11995–11999 (1993)

Ohler, U., Liao, G. C., Niemann, H. & Rubin, G. M. Computational analysis of core promoters in the Drosophila genome. Genome Biol. 3, RESEARCH0087 (2002)

Schubeler, D. et al. The histone modification pattern of active genes revealed through genome-wide chromatin analysis of a higher eukaryote. Genes Dev. 18, 1263–1271 (2004)

Griffiths-Jones, S. The microRNA Registry. Nucleic Acids Res. 32 (database issue), D109–111 (2004)

International Human Genome Sequencing Consortium, Finishing the euchromatic sequence of the human genome. Nature 431, 931–945 (2004)

Bertone, P. et al. Global identification of human transcribed sequences with genome tiling arrays. Science 306, 2242–2246 (2004)

Kampa, D. et al. Novel RNAs identified from an in-depth analysis of the transcriptome of human chromosomes 21 and 22. Genome Res. 14, 331–342 (2004)

Saha, S. et al. Using the transcriptome to annotate the genome. Nature Biotechnol. 20, 508–512 (2002)

Rinn, J. L. et al. The transcriptional activity of human chromosome 22. Genes Dev. 17, 529–540 (2003)

Su, A. I. et al. Large-scale analysis of the human and mouse transcriptomes. Proc. Natl Acad. Sci. USA 99, 4465–4470 (2002)

Spellman, P. T. & Rubin, G. M. Evidence for large domains of similarly expressed genes in the Drosophila genome. J. Biol. 1, 5 (2002)

Roy, P. J., Stuart, J. M., Lund, J. & Kim, S. K. Chromosomal clustering of muscle-expressed genes in Caenorhabditis elegans. Nature 418, 975–979 (2002)

Caron, H. et al. The human transcriptome map: clustering of highly expressed genes in chromosomal domains. Science 291, 1289–1292 (2001)

Maniatis, T. & Reed, R. An extensive network of coupling among gene expression machines. Nature 416, 499–506 (2002)

Krumm, A., Hickey, L. B. & Groudine, M. Promoter-proximal pausing of RNA polymerase II defines a general rate-limiting step after transcription initiation. Genes Dev. 9, 559–572 (1995)

Ambros, V. The functions of animal microRNAs. Nature 431, 350–355 (2004)

Yuh, C. H., Bolouri, H. & Davidson, E. H. Genomic cis-regulatory logic: experimental and computational analysis of a sea urchin gene. Science 279, 1896–1902 (1998)
Acknowledgements
We thank J. Kadonaga, R. A. Young, R. Kolodner, W. K. Cavenee, S. Van Calcar and C. K. Glass for discussion and comments on the manuscript. This research was supported by a Ruth L. Kirschstein National Research Service Award (T.H.K.) a Ford Foundation Predoctoral Fellowship (L.O.B.); the Ludwig Institute for Cancer Research (B.R.); NIH grants (B.R.) and the NSF (Y.W.). Author Contributions B.R. and T.H.K. conceived the experimental design; T.H.K. performed the experiments; data analysis was by L.O.B. and C.Q.; microarray fabrication, hybridization and data acquisition were by M.A.S., T.A.R. and R.D.G.; M.Z. and Y.W. worked on the computational peak detection program; writing of the manuscript was primarily by T.H.K. and B.R.
Ethics declarations
Competing interests
R.D.G., M.A.S. and T.A.R. work for NimbleGen Systems, Inc., which may profit from the publication of this paper.
Supplementary information
About this article
Cite this article
Kim, T., Barrera, L., Zheng, M. et al. A high-resolution map of active promoters in the human genome. Nature 436, 876–880 (2005). https://doi.org/10.1038/nature03877
Received:

Accepted:

Published:

Issue Date:

DOI: https://doi.org/10.1038/nature03877
Comments
By submitting a comment you agree to abide by our Terms and Community Guidelines. If you find something abusive or that does not comply with our terms or guidelines please flag it as inappropriate.