Abstract
Although numerous fundamental aspects of development have been uncovered through the study of individual genes and proteins, system-level models are still missing for most developmental processes. The first two cell divisions of Caenorhabditis elegans embryogenesis constitute an ideal test bed for a system-level approach. Early embryogenesis, including processes such as cell division and establishment of cellular polarity, is readily amenable to large-scale functional analysis. A first step toward a system-level understanding is to provide 'first-draft' models both of the molecular assemblies involved1 and of the functional connections between them. Here we show that such models can be derived from an integrated gene/protein network generated from three different types of functional relationship2: protein interaction3, expression profiling similarity4 and phenotypic profiling similarity5, as estimated from detailed early embryonic RNA interference phenotypes systematically recorded for hundreds of early embryogenesis genes6. The topology of the integrated network suggests that C. elegans early embryogenesis is achieved through coordination of a limited set of molecular machines. We assessed the overall predictive value of such molecular machine models by dynamic localization of ten previously uncharacterized proteins within the living embryo.
Relevant articles
Open Access articles citing this article.
Adriana San-Miguel

,

Peri T. Kurshan

…

Hang Lu

Nature Communications Open Access 23 November 2016

Joseph J Babcock

&

Min Li

Acta Pharmacologica Sinica Open Access 18 November 2013
Access options
Subscribe to Journal
Get full journal access for 1 year
$199.00
only $3.90 per issue
All prices are NET prices.
VAT will be added later in the checkout.
Tax calculation will be finalised during checkout.
Buy article
Get time limited or full article access on ReadCube.
$32.00
All prices are NET prices.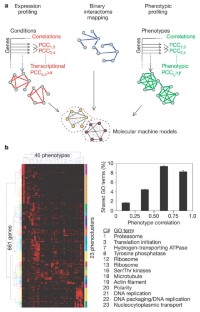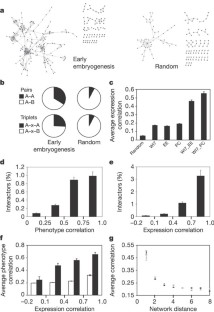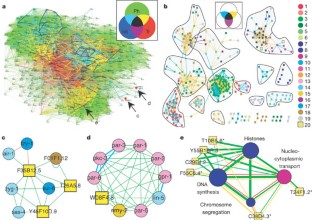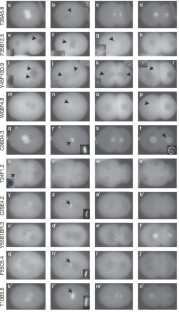 References
Alberts, B. The cell as a collection of protein machines: preparing the next generation of molecular biologists. Cell 92, 291–294 (1998)

Vidal, M. A biological atlas of functional maps. Cell 104, 333–339 (2001)

Li, S. et al. A map of the interactome network of the metazoan C. elegans. Science 303, 540–543 (2004)

Kim, S. K. et al. A gene expression map for Caenorhabditis elegans. Science 293, 2087–2092 (2001)

Piano, F. et al. Gene clustering based on RNAi phenotypes of ovary-enriched genes in C. elegans. Curr. Biol. 12, 1959–1964 (2002)

Sönnichsen, B. et al. Full-genome RNAi profiling of early embryogenesis in Caenorhabditis elegans. Nature 434, 462–469 (2005)

Marcotte, E. M., Pellegrini, M., Thompson, M. J., Yeates, T. O. & Eisenberg, D. A combined algorithm for genome-wide prediction of protein function. Nature 402, 83–86 (1999)

Ge, H., Liu, Z., Church, G. M. & Vidal, M. Correlation between transcriptome and interactome mapping data from Saccharomyces cerevisiae. Nature Genet. 29, 482–486 (2001)

Jansen, R., Greenbaum, D. & Gerstein, M. Relating whole-genome expression data with protein-protein interactions. Genome Res. 12, 37–46 (2002)

Walhout, A. J. et al. Integrating interactome, phenome, and transcriptome mapping data for the C. elegans germline. Curr. Biol. 12, 1952–1958 (2002)

Lee, I., Date, S. V., Adai, A. T. & Marcotte, E. M. A probabilistic functional network of yeast genes. Science 306, 1555–1558 (2004)

Bader, J. S., Chaudhuri, A., Rothberg, J. M. & Chant, J. Gaining confidence in high-throughput protein interaction networks. Nature Biotechnol. 22, 78–85 (2004)

Jansen, R. et al. A Bayesian networks approach for predicting protein-protein interactions from genomic data. Science 302, 449–453 (2003)

Boulton, S. J. et al. Combined functional genomic maps of the C. elegans DNA damage response. Science 295, 127–131 (2002)

Begley, T. J., Rosenbach, A. S., Ideker, T. & Samson, L. D. Damage recovery pathways in Saccharomyces cerevisiae revealed by genomic phenotyping and interactome mapping. Mol. Cancer Res. 1, 103–112 (2002)

Ashburner, M. et al. Gene ontology: tool for the unification of biology. The Gene Ontology Consortium. Nature Genet. 25, 25–29 (2000)

Bader, G. D. & Hogue, C. W. An automated method for finding molecular complexes in large protein interaction networks. BMC Bioinformatics 4, 2 (2003)

Giot, L. et al. A protein interaction map of Drosophila melanogaster. Science 302, 1727–1736 (2003)

O'Connell, K. F. et al. The C. elegans zyg-1 gene encodes a regulator of centrosome duplication with distinct maternal and paternal roles in the embryo. Cell 105, 547–558 (2001)

Schumacher, J. M., Ashcroft, N., Donovan, P. J. & Golden, A. A highly conserved centrosomal kinase, AIR-1, is required for accurate cell cycle progression and segregation of developmental factors in Caenorhabditis elegans embryos. Development 125, 4391–4402 (1998)

Kirkham, M., Muller-Reichert, T., Oegema, K., Grill, S. & Hyman, A. A. SAS-4 is a C. elegans centriolar protein that controls centrosome size. Cell 112, 575–587 (2003)

Leidel, S. & Gönczy, P. SAS-4 is essential for centrosome duplication in C. elegans and is recruited to daughter centrioles once per cell cycle. Dev. Cell 4, 431–439 (2003)

Kitagawa, R., Law, E., Tang, L. & Rose, A. M. The Cdc20 homolog, FZY-1, and its interacting protein, IFY-1, are required for proper chromosome segregation in Caenorhabditis elegans. Curr. Biol. 12, 2118–2123 (2002)

Delattre, M. et al. Centriolar SAS-5 is required for centrosome duplication in C. elegans. Nature Cell Biol. 6, 656–664 (2004)

Dammermann, A. et al. Centriole assembly requires both centriolar and pericentriolar material proteins. Dev. Cell 7, 815–829 (2004)

Leidel, S., Delattre, M., Cerutti, L., Baumer, K. & Gönczy, P. SAS-6 defines a protein family required for centrosome duplication in C. elegans and in human cells. Nature Cell Biol. 7, 115–125 (2005)

Schneider, S. Q. & Bowerman, B. Cell polarity and the cytoskeleton in the Caenorhabditis elegans zygote. Annu. Rev. Genet. 37, 221–249 (2003)

Brajenovic, M., Joberty, G., Kuster, B., Bouwmeester, T. & Drewes, G. Comprehensive proteomic analysis of human Par protein complexes reveals an interconnected protein network. J. Biol. Chem. 279, 12804–12811 (2004)

Baas, A. F., Smit, L. & Clevers, H. LKB1 tumour suppressor protein: PARtaker in cell polarity. Trends Cell Biol. 14, 312–319 (2004)

Cheeseman, I. M. et al. A conserved protein network controls assembly of the outer kinetochore and its ability to sustain tension. Genes Dev. 18, 2255–2268 (2004)
Acknowledgements
This work was supported by grants from NSF (to K.C.G. and D.S.G.), NIH/NHGRI (to M.V. and F.P.R.), NIH/NICHD (to F.P.) and Taplin Funds for Discovery (to F.P.R.). We thank members of our laboratories for discussions and comments on the manuscript.Author Contributions K.C.G., H.G., D.S.G., J.-D.J.H., T.H., N.B., N.L., J.H., G.F.B. and R.M. performed informatic analyses; A.J.S. and L.-S.C. performed cloning and localization experiments; K.C.G., F.P.R., M.V. and F.P. wrote the manuscript; B.S., C.E. and A.A.H. shared critical data before publication; and F.P.R., M.V. and F.P. provided guidance for experimental and informatic analyses and interpretation of results.
Supplementary information
About this article
Cite this article
Gunsalus, K., Ge, H., Schetter, A. et al. Predictive models of molecular machines involved in Caenorhabditis elegans early embryogenesis. Nature 436, 861–865 (2005). https://doi.org/10.1038/nature03876
Received:

Accepted:

Issue Date:

DOI: https://doi.org/10.1038/nature03876
Comments
By submitting a comment you agree to abide by our Terms and Community Guidelines. If you find something abusive or that does not comply with our terms or guidelines please flag it as inappropriate.