Abstract
Habit memory is thought to involve slowly acquired associations between stimuli and responses and to depend on the basal ganglia1. Habit memory has been well studied in experimental animals but is poorly understood in humans because of their strong tendency to acquire information as conscious (declarative) knowledge. Here we show that humans have a robust capacity for gradual trial-and-error learning that operates outside awareness for what is learned and independently of the medial temporal lobe. We tested two patients with large medial temporal lobe lesions and no capacity for declarative memory. Both patients gradually acquired a standard eight-pair object discrimination task over many weeks but at the start of each session could not describe the task, the instructions or the objects. The acquired knowledge was rigidly organized, and performance collapsed when the task format was altered.
Access options
Subscribe to Journal
Get full journal access for 1 year
$199.00
only $3.90 per issue
All prices are NET prices.
VAT will be added later in the checkout.
Rent or Buy article
Get time limited or full article access on ReadCube.
from$8.99
All prices are NET prices.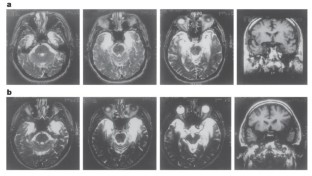 References
1

Mishkin, M. & Petri, H. L. in Neuropsychology of Memory (eds Squire, L. R. & Butters, N.) 287–296 (Guilford, New York, 1984)

2

Squire, L. R. & Zola-Morgan, S. The medial temporal lobe memory system. Science 253, 1380–1386 (1991)

3

Eichenbaum, H. & Cohen, N. J. From Conditioning to Conscious Recollection: Memory Systems of the Brain (Oxford Univ. Press, New York, 2001)

4

Squire, L. R. Memory and the hippocampus: a synthesis from findings with rats, monkeys, and humans. Psychol. Rev. 99, 195–231 (1992)

5

Squire, L. R. Memory systems of the brain: a brief history and current perspective. Neurobiol. Learn. Mem. 82, 171–177 (2004)

6

Schacter, D. L. & Tulving, E. Memory Systems 1994 (MIT Press, Cambridge, Massachusetts, 1994)

7

Buffalo, E. A., Stefanacci, L., Squire, L. R. & Zola, S. M. A reexamination of the concurrent discrimination learning task: the importance of anterior inferotemporal cortex, area TE. Behav. Neurosci. 112, 3–14 (1998)

8

Hayes, K. J., Thompson, R. & Hayes, C. Concurrent discrimination learning in chimpanzees. J. Comp. Physiol. Psychol. 46, 105–107 (1953)

9

Correll, R. E. & Scoville, W. B. Effects of medial temporal lesions on visual discrimination performance. J. Comp. Physiol. Psychol. 60, 175–181 (1965)

10

Squire, L. R., Zola-Morgan, S. & Chen, K. Human amnesia and animal models of amnesia: performance of amnesic patients on tests designed for the monkey. Behav. Neurosci. 11, 210–221 (1988)

11

Hood, K. L., Postle, B. R. & Corkin, S. An evaluation of the concurrent discrimination task as a measure of habit learning: performance of amnesic subjects. Neuropsychologia 37, 1375–1386 (1999)

12

Malamut, B. L., Saunders, R. C. & Mishkin, M. Monkeys with combined amygdalo-hippocampal lesions succeed in object discrimination learning despite 24-hour intertrial intervals. Behav. Neurosci. 98, 759–769 (1984)

13

Teng, E., Stefanacci, L., Squire, L. R. & Zola, S. M. Contrasting effects on discrimination learning following hippocampal lesions or conjoint hippocampal-caudate lesions in monkeys. J. Neurosci. 20, 3853–3863 (2000)

14

Fernandez-Ruiz, J., Wang, J., Aigner, T. G. & Mishkin, M. Visual habit formation in monkeys with neurotoxic lesions of the ventrocaudal neostriatum. Proc. Natl Acad. Sci. USA 98, 4196–4201 (2001)

15

Knowlton, B. J., Squire, L. R. & Gluck, M. Probabilistic classification learning in amnesia. Learn. Mem. 1, 106–120 (1994)

16

Myers, C. E. et al. Dissociating hippocampal versus basal ganglia contributions to learning and transfer. J. Cogn. Neurosci. 15, 185–193 (2003)

17

Hopkins, R. O., Myers, C. E., Shohamy, D., Grossman, S. & Gluck, M. A. Impaired probabilistic category learning in hypoxic subjects with hippocampal damage. Neuropsychologia 42, 524–535 (2004)

18

Gaffan, D. Memory, action and the corpus striatum: current developments in the memory-habit distinction. Semin. Neurosci. 8, 33–38 (1996)

19

Bayley, P. J., Gold, J. J., Hopkins, R. O. & Squire, L. R. The neuroanatomy of remote memory. Neuron 46, 799–810 (2005)

20

Stefanacci, L., Buffalo, E. A., Schmolck, H. & Squire, L. R. Profound amnesia following damage to the medial temporal lobe: a neuroanatomical and neuropsychological profile of patient E.P. J. Neurosci. 20, 7024–7036 (2000)

21

Levy, D. A., Bayley, P. J. & Squire, L. R. The anatomy of semantic knowledge: medial vs. lateral temporal lobe. Proc. Natl Acad. Sci. USA 101, 6710–6715 (2004)

22

Bayley, P. J. & Squire, L. R. Failure to acquire new semantic knowledge in patients with large medial temporal lobe lesions. Hippocampus 15, 273–280 (2005)

23

Wise, S. P. The role of the basal ganglia in procedural memory. Sem Neurosci. 8, 39–46 (1996)

24

Driscoll, I., Sutherland, R. J., Prusky, G. T. & Rudy, J. W. Damage to the hippocampal formation does not disrupt representational flexibility as measured by a novelty transfer test. Behav. Neurosci. 118, 1427–1432 (2004)

25

Shanks, D. R. & St.John, M. F. Characteristics of dissociable human learning systems. Behav. Brain Sci. 17, 367–447 (1994)

26

Nosofsky, R. M. & Zaki, S. R. Math modelling, neuropsychology, and category learning: Response to B. Knowlton (1999). Trends Cogn. Sci. 3, 125–126 (1999)

27

Insausti, R. et al. MR volumetric analysis of the human entorhinal, perirhinal, and temporopolar cortices. AJNR Am. J. Neuroradiol. 19, 659–671 (1998)

28

Amaral, D. G. & Insausti, R. in The Human Nervous System (ed. Paxinos, G.) 711–755 (Academic, San Diego, 1990)

29

Gold, J. J. & Squire, L. R. Quantifying medial temporal lobe damage in memory-impaired patients. Hippocampus 15, 79–85 (2005)
Acknowledgements
We thank B. Suchan for assistance, and R. Clark and J. Wixted for discussion. This work was supported by the Medical Research Service of the Department of Veterans Affairs, an NIMH grant, and the Metropolitan Life Foundation.
Supplementary information
Estimates of brain damage for patients E.P. and G.P. based on quantitative analysis of magnetic resonance images. (DOC 20 kb)
About this article
Cite this article
Bayley, P., Frascino, J. & Squire, L. Robust habit learning in the absence of awareness and independent of the medial temporal lobe. Nature 436, 550–553 (2005) doi:10.1038/nature03857
Received

Accepted

Issue Date
Comments
By submitting a comment you agree to abide by our Terms and Community Guidelines. If you find something abusive or that does not comply with our terms or guidelines please flag it as inappropriate.