Abstract
The position of the cytokinesis furrow in a cell determines the relative sizes of its two daughter cells as well as the distribution of their contents. In animal cells, the position of the cytokinesis furrow is specified by the position of the mitotic spindle1. The cytokinesis furrow bisects the spindle midway between the microtubule asters, at the site of the microtubule-based midzone, producing two daughter cells. Experiments in some cell types have suggested that the midzone positions the furrow2,3, but experiments in other cells have suggested that the asters position the furrow4,5. One possibility is that different organisms and cell types use different mechanisms to position the cytokinesis furrow. An alternative possibility is that both asters and the midzone contribute to furrow positioning6,7. Recent work in C. elegans has suggested that centrosome separation and the midzone are implicated in cytokinesis8. Here we examine the relative contributions of different parts of the mitotic spindle to positioning of the cytokinesis furrow in the C. elegans zygote. By spatially separating the spindle midzone from one of the asters using an ultraviolet laser, we show that the cytokinesis furrow is first positioned by a signal determined by microtubule asters, and then by a second signal that is derived from the spindle midzone. Thus, the position of the cytokinesis furrow is specified by two consecutive furrowing activities.
Relevant articles
Open Access articles citing this article.
Katarzyna A. Anton

,

Mihoko Kajita

…

Masazumi Tada

Nature Communications Open Access 08 November 2018

Maria Angeles Juanes

&

Simonetta Piatti

Cellular and Molecular Life Sciences Open Access 16 April 2016

Kian-Yong Lee

,

Behrooz Esmaeili

…

Masanori Mishima

Nature Communications Open Access 19 June 2015
Access options
Subscribe to Journal
Get full journal access for 1 year
$199.00
only $3.90 per issue
All prices are NET prices.
VAT will be added later in the checkout.
Tax calculation will be finalised during checkout.
Buy article
Get time limited or full article access on ReadCube.
$32.00
All prices are NET prices.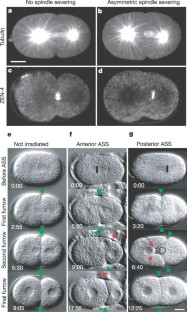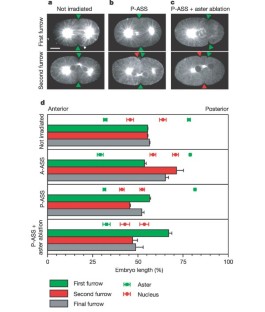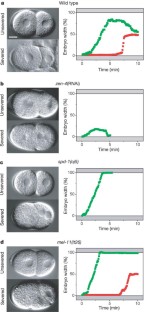 References
Rappaport, R. Cytokinesis in Animal Cells (Cambridge Univ. Press, Cambridge, 1996)

Bonaccorsi, S., Giansanti, M. G. & Gatti, M. Spindle self-organization and cytokinesis during male meiosis in asterless mutants of Drosophila melanogaster. J. Cell Biol. 142, 751–761 (1998)

Cao, L. G. & Wang, Y. L. Signals from the spindle midzone are required for the stimulation of cytokinesis in cultured epithelial cells. Mol. Biol. Cell 7, 225–232 (1996)

Rappaport, R. & Rappaport, B. N. Surface contractile activity associated with isolated asters in cylindrical sand dollar eggs. J. Exp. Zool. 235, 217–226 (1985)

Rappaport, R. Experiments concerning the cleavage stimulus in sand dollar eggs. J. Exp. Zool. 148, 81–89 (1961)

Wang, Y. L. The mechanism of cytokinesis: reconsideration and reconciliation. Cell Struct. Funct. 26, 633–638 (2001)

Canman, J. C. & Wells, W. A. Rappaport furrows on our minds: the ASCB Cytokinesis Meeting Burlington, VT July 22–25, 2004. J Cell Biol 166, 943–948 (2004)

Dechant, R. & Glotzer, M. Centrosome separation and central spindle assembly act in redundant pathways that regulate microtubule density and trigger cleavage furrow formation. Dev. Cell 4, 333–344 (2003)

Grill, S. W., Gonczy, P., Stelzer, E. H. & Hyman, A. A. Polarity controls forces governing asymmetric spindle positioning in the Caenorhabditis elegans embryo. Nature 409, 630–633 (2001)

Mishima, M., Pavicic, V., Gruneberg, U., Nigg, E. A. & Glotzer, M. Cell cycle regulation of central spindle assembly. Nature 430, 908–913 (2004)

Rappaport, R. Repeated furrow formation from a single mitotic apparatus in cylindrical sand dollar eggs. J. Exp. Zool. 234, 167–171 (1985)

Hiramoto, Y. Cell division without mitotic apparatus in sea urchin eggs. Exp. Cell Res. 11, 630–636 (1956)

Canman, J. C. et al. Determining the position of the cell division plane. Nature 424, 1074–1078 (2003)

Shelton, C. A., Carter, J. C., Ellis, G. C. & Bowerman, B. The nonmuscle myosin regulatory light chain gene mlc-4 is required for cytokinesis, anterior-posterior polarity, and body morphology during Caenorhabditis elegans embryogenesis. J. Cell Biol. 146, 439–451 (1999)

Severson, A. F., Baillie, D. L. & Bowerman, B. A Formin Homology protein and a profilin are required for cytokinesis and Arp2/3-independent assembly of cortical microfilaments in C. elegans. Curr. Biol. 12, 2066–2075 (2002)

Sonnichsen, B. et al. Full-genome RNAi profiling of early embryogenesis in Caenorhabditis elegans. Nature 434, 462–469 (2005)

Schumacher, J. M., Golden, A. & Donovan, P. J. AIR-2: An Aurora/Ipl1-related protein kinase associated with chromosomes and midbody microtubules is required for polar body extrusion and cytokinesis in Caenorhabditis elegans embryos. J. Cell Biol. 143, 1635–1646 (1998)

Raich, W. B., Moran, A. N., Rothman, J. H. & Hardin, J. Cytokinesis and midzone microtubule organization in Caenorhabditis elegans require the kinesin-like protein ZEN-4. Mol. Biol. Cell 9, 2037–2049 (1998)

Jantsch-Plunger, V. et al. CYK-4: A Rho family GTPase activating protein (GAP) required for central spindle formation and cytokinesis. J. Cell Biol. 149, 1391–1404 (2000)

Verbrugghe, K. J. & White, J. G. SPD-1 is required for the formation of the spindle midzone but is not essential for the completion of cytokinesis in C. elegans embryos. Curr. Biol. 14, 1755–1760 (2004)

Piekny, A. J. & Mains, P. E. Rho-binding kinase (LET-502) and myosin phosphatase (MEL-11) regulate cytokinesis in the early Caenorhabditis elegans embryo. J. Cell Sci. 115, 2271–2282 (2002)

Grill, S. W., Howard, J., Schaffer, E., Stelzer, E. H. & Hyman, A. A. The distribution of active force generators controls mitotic spindle position. Science 301, 518–521 (2003)

Simmer, F. et al. Loss of the putative RNA-directed RNA polymerase RRF-3 makes C. elegans hypersensitive to RNAi. Curr. Biol. 12, 1317–1319 (2002)

Kennedy, S., Wang, D. & Ruvkun, G. A conserved siRNA-degrading RNase negatively regulates RNA interference in C. elegans. Nature 427, 645–649 (2004)

Kamath, R. S. et al. Systematic functional analysis of the Caenorhabditis elegans genome using RNAi. Nature 421, 231–237 (2003)
Acknowledgements
We thank the Caenorhabditis Genetics Center, the UK HGMP Resource Centre, Cenix Bioscience, T. Stiernagle, J. Ahringer, M. Glotzer, M. Srayko, C. Cowan, L. Pelletier, P. E. Mains, A. Schwager and A. Pozniakovskiy for reagents; C. Cowan, S. Grill, S. Schoenegg, J. Stamford and M. Srayko for advice and help on the experimental setup; and C. Cowan, J. Howard and K. Verbrugghe for comments on the manuscript. H.B. was supported by a predoctoral fellowship from the Boehringer Ingelheim Foundation.
Supplementary information
About this article
Cite this article
Bringmann, H., Hyman, A. A cytokinesis furrow is positioned by two consecutive signals. Nature 436, 731–734 (2005). https://doi.org/10.1038/nature03823
Received:

Accepted:

Issue Date:

DOI: https://doi.org/10.1038/nature03823
Comments
By submitting a comment you agree to abide by our Terms and Community Guidelines. If you find something abusive or that does not comply with our terms or guidelines please flag it as inappropriate.