Abstract
Glasses are rigid, but flow when the temperature is increased. Similarly, granular materials are rigid, but become unjammed and flow if sufficient shear stress is applied. The rigid and flowing phases are strikingly different, yet measurements reveal that the structures of glass and liquid are virtually indistinguishable1,2. It is therefore natural to ask whether there is a structural signature of the jammed granular state that distinguishes it from its flowing counterpart. Here we find evidence for such a signature, by measuring the contact-force distribution between particles during shearing. Because the forces are sensitive to minute variations in particle position, the distribution of forces can serve as a microscope with which to observe correlations in the positions of nearest neighbours. We find a qualitative change in the force distribution at the onset of jamming. If, as has been proposed3,4,5,6,7,8,9, the jamming and glass transitions are related, our observation of a structural signature associated with jamming hints at the existence of a similar structural difference at the glass transition—presumably too subtle for conventional scattering techniques to uncover. Our measurements also provide a determination of a granular temperature that is the counterpart in granular systems to the glass-transition temperature in liquids.
Relevant articles
Open Access articles citing this article.
Holger Götz

&

Thorsten Pöschel

Granular Matter Open Access 12 July 2023

Milad Tatari

,

Soroush Kamrava

…

Ashkan Vaziri

Scientific Reports Open Access 13 October 2020

Thanh Trung Vo

,

Saeid Nezamabadi

…

Farhang Radjai

Nature Communications Open Access 19 March 2020
Access options
Subscribe to this journal
Receive 51 print issues and online access
$199.00 per year
only $3.90 per issue
Rent or buy this article
Prices vary by article type
from$1.95
to$39.95
Prices may be subject to local taxes which are calculated during checkout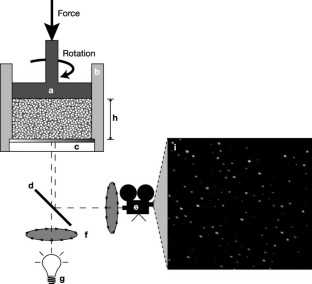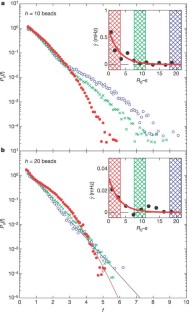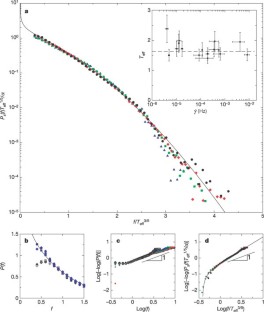 References
Frick, B. & Richter, D. The microscopic basis of the glass-transition in polymers from neutron-scattering studies. Science 267, 1939–1945 (1995)

Leheny, R. L. et al. Structural studies of an organic liquid through the glass transition. J. Chem. Phys. 105, 7783–7794 (1996)

Liu, A. J. & Nagel, S. R. Nonlinear dynamics—Jamming is not just cool any more. Nature 396, 21–22 (1998)

Liu, A. J., Nagel, S. R. (eds) Jamming and Rheology. Constrained Dynamics on Microscopic and Macroscopic Scales (Taylor and Francis, London, 2001)

Silbert, L. E., Ertas, D., Grest, G. S., Halsey, T. C. & Levine, D. Analogies between granular jamming and the liquid-glass transition. Phys. Rev. E 65, 051307 (2002)

Coniglio, A., Fierro, A., Herrmann, H. J. & Nicodemi, M. (eds) Unifying Concepts in Granular Media and Glasses (Elsevier, Amsterdam, 2004)

Trappe, V., Prasad, V., Cipelletti, L., Segre, P. N. & Weitz, D. A. Jamming phase diagram for attractive particles. Nature 411, 772–775 (2001)

Lacevic, N. & Glotzer, S. C. Dynamical heterogeneity and jamming in glass-forming liquids. Preprint at http://arxiv.org/cond-mat/0406451 (2004).

Howell, D., Behringer, R. P. & Veje, C. Stress fluctuations in a 2D granular Couette experiment: A continuous transition. Phys. Rev. Lett. 82, 5241–5244 (1999)

Liu, C. H. et al. Force fluctuations in bead packs. Science 269, 513–515 (1995)

Howell, D. & Behringer, R. P. in Powders and Grains 97 (eds Behringer, R. P. & Jenkins, J. T.) 337–340 (Balkema, Rotterdam, 1997)

Baxter, G. W. in Powders and Grains 97 (eds Behringer, R. P. & Jenkins, J. T.) 345–348 (Balkema, Rotterdam, 1997)

Blair, D. L., Mueggenburg, N. W., Marshall, A. H., Jaeger, H. M. & Nagel, S. R. Force distributions in three-dimensional granular assemblies: Effects of packing order and interparticle friction. Phys. Rev. E 63, 041304 (2001)

Løvoll, G., Måløy, K. J. & Flekkøy, E. G. Force measurements on static granular materials. Phys. Rev. E 60, 5872–5878 (1999)

Makse, H. A., Johnson, D. L. & Schwartz, L. M. Packing of compressible granular materials. Phys. Rev. Lett. 84, 4160–4163 (2000)

Mueth, D. M., Jaeger, H. M. & Nagel, S. R. Force distribution in a granular medium. Phys. Rev. E 57, 3164–3169 (1998)

Silbert, L. E., Grest, G. S. & Landry, J. W. Statistics of the contact network in frictional and frictionless granular packings. Phys. Rev. E 66, 061303 (2002)

O'Hern, C. S., Silbert, L. E., Liu, A. J. & Nagel, S. R. Jamming at zero temperature and zero applied stress: The epitome of disorder. Phys. Rev. E 68, 011306 (2003)

O'Hern, C. S., Langer, S. A., Liu, A. J. & Nagel, S. R. Force distributions near jamming and glass transitions. Phys. Rev. Lett. 86, 111–114 (2001)

Edwards, S. F. & Grinev, D. V. Statistical mechanics of granular materials: stress propagation and distribution of contact forces. Granular Matter 4, 147–153 (2003)

Snoeijer, J. H., Vlugt, T. J. H., van Hecke, M. & van Saarloos, W. Force network ensemble: A new approach to static granular matter. Phys. Rev. Lett. 92, 054302 (2004)

Conway, S. L., Shinbrot, T. & Glasser, B. J. A Taylor vortex analogy in granular flows. Nature 431, 433–437 (2004)

Landry, J. W., Grest, G. S. & Plimpton, S. J. Forces in granular hopper flow. Bull. Am. Phys. Soc. 48, 153 (2003)

Longhi, E., Easwar, N. & Menon, N. Large force fluctuations in a flowing granular medium. Phys. Rev. Lett. 89, 045501 (2002)

Ferguson, A., Fisher, B. & Chakraborty, B. Impulse distributions in dense granular flows: Signatures of large-scale spatial structures. Europhys. Lett. 66, 277–283 (2004)

Radjai, F., Roux, S. & Moreau, J. J. Contact forces in a granular packing. Chaos 9, 544–550 (1999)

Brujic, J., Edwards, S. F., Hopkinson, I. & Makse, H. A. Measuring the distribution of interdroplet forces in a compressed emulsion system. Physica A 327, 201–212 (2003)

Ono, I. K. et al. Effective temperatures of a driven system near jamming. Phys. Rev. Lett. 89, 095703 (2002)

Landau, L. D. & Lifshitz, E. M. Theory of Elasticity Ch. 1, 3rd edn, Sect. 9 (Butterworth-Heinemann, Oxford, 1986)
Acknowledgements
We thank A. Bushmaker, X. Cheng, M. Möbius and N. Mueggenburg for help with the experiment, and S. Coppersmith, B. Chakraborty, A. Ferguson, A. J. Liu, N. Menon, C. S. O'Hern and L. Silbert for discussions about effective temperatures and force distributions. This work was supported by NSF-MRSEC, NSF-CTS and DOE.
About this article
Cite this article
Corwin, E., Jaeger, H. & Nagel, S. Structural signature of jamming in granular media. Nature 435, 1075–1078 (2005). https://doi.org/10.1038/nature03698
Received:

Accepted:

Issue Date:

DOI: https://doi.org/10.1038/nature03698
Comments
By submitting a comment you agree to abide by our Terms and Community Guidelines. If you find something abusive or that does not comply with our terms or guidelines please flag it as inappropriate.