Abstract
Aberrations in post-translational modifications of histones have been shown to occur in cancer cells but only at individual promoters1; they have not been related to clinical outcome. Other than being targeted to promoters, modifications of histones, such as acetylation and methylation of lysine and arginine residues, also occur over large regions of chromatin including coding regions and non-promoter sequences, which are referred to as global histone modifications2. Here we show that changes in global levels of individual histone modifications are also associated with cancer and that these changes are predictive of clinical outcome. Through immunohistochemical staining of primary prostatectomy tissue samples, we determined the percentage of cells that stained for the histone acetylation and dimethylation of five residues in histones H3 and H4. Grouping of samples with similar patterns of modifications identified two disease subtypes with distinct risks of tumour recurrence in patients with low-grade prostate cancer. These histone modification patterns were predictors of outcome independently of tumour stage, preoperative prostate-specific antigen levels, and capsule invasion. Thus, widespread changes in specific histone modifications indicate previously undescribed molecular heterogeneity in prostate cancer and might underlie the broad range of clinical behaviour in cancer patients.
Your institute does not have access to this article
Relevant articles
Open Access articles citing this article.
Stefano Zoroddu

,

Irene Marchesi

&

Luigi Bagella

Clinical Epigenetics Open Access 09 August 2021

Roberta Noberini

,

Evelyn Oliva Savoia

…

Tiziana Bonaldi

Clinical Epigenetics Open Access 28 July 2021

Linchong Sun

,

Huafeng Zhang

&

Ping Gao

Protein & Cell Open Access 29 May 2021
Access options
Subscribe to Journal
Get full journal access for 1 year
$199.00
only $3.90 per issue
All prices are NET prices.
VAT will be added later in the checkout.
Tax calculation will be finalised during checkout.
Buy article
Get time limited or full article access on ReadCube.
$32.00
All prices are NET prices.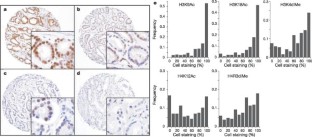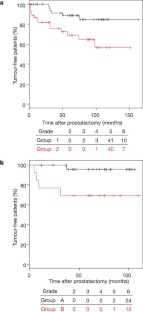 References
Jacobson, S. & Pillus, L. Modifying chromatin and concepts of cancer. Curr. Opin. Genet. Dev. 9, 175–184 (1999)

Vogelauer, M., Wu, J., Suka, N. & Grunstein, M. Global histone acetylation and deacetylation in yeast. Nature 408, 495–498 (2000)

Jemal, A. et al. Cancer statistics, 2003. CA Cancer J. Clinicians 53, 5–26 (2003)

Gleason, D. F. Classification of prostatic carcinomas. Cancer Chemother. Rep. 50, 125–128 (1966)

Bunting, P. S. Screening for prostate cancer with prostate-specific antigen: beware the biases. Clin. Chim. Acta 315, 71–97 (2002)

Han, M., Partin, A. W., Piantadosi, S., Epstein, J. I. & Walsh, P. C. Era specific biochemical recurrence-free survival following radical prostatectomy for clinically localized prostate cancer. J. Urol. 166, 416–419 (2001)

Farkas, A., Schneider, D., Perrotti, M., Cummings, K. B. & Ward, W. S. National trends in the epidemiology of prostate cancer, 1973 to 1994: evidence for the effectiveness of prostate-specific antigen screening. Urology 52, 444–448 (1998)

Giles, R. H., Peters, D. J. & Breuning, M. H. Conjunction dysfunction: CBP/p300 in human disease. Trends Genet. 14, 178–183 (1998)

Gayther, S. A. et al. Mutations truncating the EP300 acetylase in human cancers. Nature Genet. 24, 300–303 (2000)

Muraoka, M. et al. p300 gene alterations in colorectal and gastric carcinomas. Oncogene 12, 1565–1569 (1996)

Debes, J. D. et al. p300 in prostate cancer proliferation and progression. Cancer Res. 63, 7638–7640 (2003)

Reid, J. L., Iyer, V. R., Brown, P. O. & Struhl, K. Coordinate regulation of yeast ribosomal protein genes is associated with targeted recruitment of Esa1 histone acetylase. Mol. Cell 6, 1297–1307 (2000)

Krebs, J. E., Fry, C. J., Samuels, M. L. & Peterson, C. L. Global role for chromatin remodeling enzymes in mitotic gene expression. Cell 102, 587–598 (2000)

Peterson, C. L. & Laniel, M. A. Histones and histone modifications. Curr. Biol. 14, R546–R551 (2004)

Suka, N., Suka, Y., Carmen, A. A., Wu, J. & Grunstein, M. Highly specific antibodies determine histone acetylation site usage in yeast heterochromatin and euchromatin. Mol. Cell 8, 473–479 (2001)

Kononen, J. et al. Tissue microarrays for high-throughput molecular profiling of tumour specimens. Nature Med. 4, 844–847 (1998)

Kurdistani, S. K., Tavazoie, S. & Grunstein, M. Mapping global histone acetylation patterns to gene expression. Cell 117, 721–733 (2004)

Rezai-Zadeh, N. et al. Targeted recruitment of a histone H4-specific methyltransferase by the transcription factor YY1. Genes Dev. 17, 1019–1029 (2003)

Breiman, L. Classification and Regression Trees (Wadsworth International, Belmont, California, 1984)

Breiman, L. Random forests. Mach. Learn. 45, 5–32 (2001)

Shi, T., Seligson, D., Belldegrun, A. S., Palotie, A. & Horvath, S. Tumor classification by tissue microarray profiling: random forest clustering applied to renal cell carcinoma. Mod. Pathol. 18, 547–557 (2005)

Kaplan, E. & Meier, P. Nonparametric estimation from incomplete observations. J. Am. Stat. Assoc. 53, 457–481 (1958)

Cleveland, W. S. Visualizing Data (Hobart Press, Murray Hill, New Jersey, 1993)

Fraga, M. F. et al. Loss of acetylation at Lys16 and trimethylation at Lys20 of histone H4 is a common hallmark of human cancer. Nature Genet. 37, 391–400 (2005)
Acknowledgements
We thank M. Vogelauer for suggestions on the manuscript, and V. Minin for help with the statistical analyses. T.S. was a doctoral trainee supported by the UCLA Integrative Graduate Education and Research Traineeship (IGERT) Bioinformatics Program funded by the NSF Division of Graduate Education (DGE). This work was funded partly by a National Cancer Institute (NCI)] grant through the Jonsson Comprehensive Cancer Center to D.B.S. and a Howard Hughes Medical Institute Fellowship and a UCLA Specialized Program Of Research Excellence (SPORE) in Prostate Cancer Career Development grant to S.K.K.
Supplementary information
About this article
Cite this article
Seligson, D., Horvath, S., Shi, T. et al. Global histone modification patterns predict risk of prostate cancer recurrence. Nature 435, 1262–1266 (2005). https://doi.org/10.1038/nature03672
Received:

Accepted:

Issue Date:

DOI: https://doi.org/10.1038/nature03672
Comments
By submitting a comment you agree to abide by our Terms and Community Guidelines. If you find something abusive or that does not comply with our terms or guidelines please flag it as inappropriate.