Abstract
Despite a lack of reliable deterministic earthquake precursors, seismologists have significant predictive information about earthquake activity from an increasingly accurate understanding of the clustering properties of earthquakes1,2,3,4. In the past 15 years, time-dependent earthquake probabilities based on a generic short-term clustering model have been made publicly available in near-real time during major earthquake sequences. These forecasts describe the probability and number of events that are, on average, likely to occur following a mainshock of a given magnitude, but are not tailored to the particular sequence at hand and contain no information about the likely locations of the aftershocks. Our model builds upon the basic principles of this generic forecast model in two ways: it recasts the forecast in terms of the probability of strong ground shaking, and it combines an existing time-independent earthquake occurrence model based on fault data and historical earthquakes5 with increasingly complex models describing the local time-dependent earthquake clustering1,2. The result is a time-dependent map showing the probability of strong shaking anywhere in California within the next 24 hours. The seismic hazard modelling approach we describe provides a better understanding of time-dependent earthquake hazard, and increases its usefulness for the public, emergency planners and the media.
Relevant articles
Open Access articles citing this article.
Scientific Reports Open Access 23 May 2022

John Douglas

&

Alireza Azarbakht

Natural Hazards Open Access 16 September 2020
Access options
Subscribe to Journal
Get full journal access for 1 year
$199.00
only $3.90 per issue
All prices are NET prices.
VAT will be added later in the checkout.
Tax calculation will be finalised during checkout.
Buy article
Get time limited or full article access on ReadCube.
$32.00
All prices are NET prices.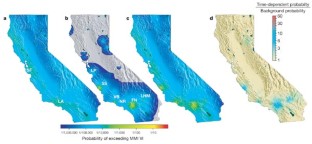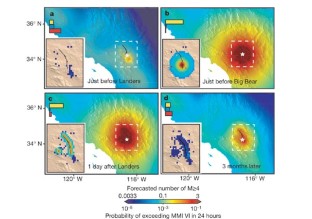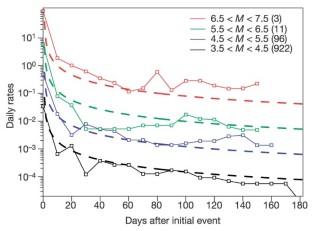 References
Reasenberg, P. A. & Jones, L. M. Earthquake aftershocks: Update. Science 265, 1251–1252 (1994)

Reasenberg, P. A. & Jones, L. M. Earthquake hazard after a mainshock in California. Science 243, 1173–1176 (1989)

Helmstetter, A. & Sornette, D. Sub-critical and supercritical regimes in epidemic models of aftershock sequences, D. J. Geophys. Res. 107, 2237, doi:10.1029/2001JB001580 (2002)

Felzer, K. R., Abercrombie, R. E. & Ekstrom, G. A common origin for aftershocks and multiplets. Bull. Seismol. Soc. Am. 94, 88–99 (2004)

Frankel, A. et al. National seismic hazard maps. U. S. Geological Survey Open-File Report, 96–532 (1996)

Gutenberg, B. & Richter, C. F. Magnitude and energy of earthquakes. Ann. Geofis. 9, 1–15 (1954)

Utsu, T., Ogata, Y. & Matsu'ura, R. S. The centenary of the Omori formula for a decay law of aftershock activity. J. Phys. Earth 43, 1–33 (1995)

Reasenberg, P. A. Foreshock occurrence before large earthquakes. J. Geophys. Res. 104, 4755–4768 (1999)

Wiemer, S., Gerstenberger, M. & Hauksson, E. Properties of the aftershock sequence of the 1999 Mw 7.1 Hector Mine earthquake: implications for aftershock hazard. Bull. Seismol. Soc. Am. 92, 1227–1240 (2002)

Wiemer, S. & Katsumata, K. Spatial variability of seismicity parameters in aftershock zones. J. Geophys. Res. 104, 13135–13151 (1999)

Burnham, K. P. & Anderson, D. R. Model Selection and Multimodel Inference A Practical Information-Theoretic Approach 488 (Springer, New York, 2002)

Boore, D. M., Joyner, W. B. & Fumal, T. E. Equations for estimating horizontal response spectra and peak acceleration from western North America earthquakes: A summary of recent work. Seismol. Res. Lett. 68, 128–153 (1997)

Wald, D. J., Quitoriano, V. & Heaton, T. H. TriNet "ShakeMaps": rapid generation of instrumental ground motion and intensity maps for earthquakes in southern California. Earthquake Spectra 15, 537–556 (1999)

Toda, S., Stein, R. S., Reasenberg, P. A. & Dieterich, J. H. Stress transferred by the Mw = 6.9 Kobe, Japan, shock: effect on aftershocks and future earthquake probabilities. J. Geophys. Res. 103, 24543–24565 (1998)

Geller, R. J. Earthquake prediction: a critical review. Geophys. J. Int. 131, 425–450 (1997)

Wiemer, S. Introducing probabilistic aftershock hazard mapping. Geophys. Res. Lett. 27, 3405–3408 (2000)
Acknowledgements
We are very grateful for the reviews from E. Field, D. Jackson, R. Simpson and A. Cornell. The work was supported by the Southern California Earthquake Center, ETH Zurich and the US Geological Survey.Author Contributions This work was completed as part of the PhD thesis of M.C.G. under the supervision of S.W. at ETH-Zürich. L.M.J. and P.A.R. provided significant contributions to the model development.
Supplementary information
In this section, the methodology for creating the real-time hazard maps is fully developed. Each step from the data collection, definition of an aftershock sequence to the hazard calculation is detailed. (PDF 502 kb)
About this article
Cite this article
Gerstenberger, M., Wiemer, S., Jones, L. et al. Real-time forecasts of tomorrow's earthquakes in California. Nature 435, 328–331 (2005). https://doi.org/10.1038/nature03622
Received:

Accepted:

Issue Date:

DOI: https://doi.org/10.1038/nature03622
Comments
By submitting a comment you agree to abide by our Terms and Community Guidelines. If you find something abusive or that does not comply with our terms or guidelines please flag it as inappropriate.