Abstract
In contrast to activated CD4+ T cells, resting human CD4+ T cells circulating in blood are highly resistant to infection with human immunodeficiency virus (HIV)1,2,3,4. Whether the inability of HIV to infect these resting CD4+ T cells is due to the lack of a key factor, or alternatively reflects the presence of an efficient mechanism for defence against HIV, is not clear. Here we show that the anti-retroviral deoxycytidine deaminase APOBEC3G5 strongly protects unstimulated peripheral blood CD4+ T cells against HIV-1 infection. In activated CD4+ T cells, cytoplasmic APOBEC3G resides in an enzymatically inactive, high-molecular-mass (HMM) ribonucleoprotein complex that converts to an enzymatically active low-molecular-mass (LMM) form after treatment with RNase. In contrast, LMM APOBEC3G predominates in unstimulated CD4+ T cells, where HIV-1 replication is blocked and reverse transcription is impaired1,2,3. Mitogen activation induces the recruitment of LMM APOBEC3G into the HMM complex, and this correlates with a sharp increase in permissivity for HIV infection in these stimulated cells. Notably, when APOBEC3G-specific small interfering RNAs are introduced into unstimulated CD4+ T cells, the early replication block encountered by HIV-1 is greatly relieved. Thus, LMM APOBEC3G functions as a potent post-entry restriction factor for HIV-1 in unstimulated CD4+ T cells. Surprisingly, sequencing of the reverse transcripts slowly formed in unstimulated CD4+ T cells reveals only low levels of dG → dA hypermutation, raising the possibility that the APOBEC3G-restricting activity may not be strictly dependent on deoxycytidine deamination.
Relevant articles
Open Access articles citing this article.
Jeffrey Kuniholm

,

Carolyn Coote

&

Andrew J. Henderson

Retrovirology Open Access 28 June 2022

Jianjun Wu

,

Zhongwang Hu

…

Hongxiong Guo

BMC Infectious Diseases Open Access 28 June 2019

Fumiaki Ito

,

Hanjing Yang

…

Xiaojiang S. Chen

Scientific Reports Open Access 28 February 2018
Access options
Subscribe to Journal
Get full journal access for 1 year
$199.00
only $3.90 per issue
All prices are NET prices.
VAT will be added later in the checkout.
Tax calculation will be finalised during checkout.
Buy article
Get time limited or full article access on ReadCube.
$32.00
All prices are NET prices.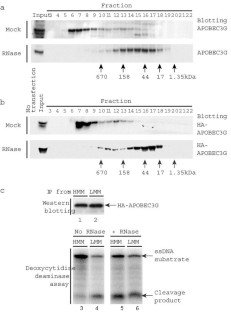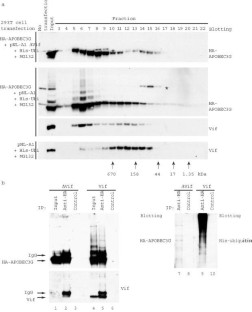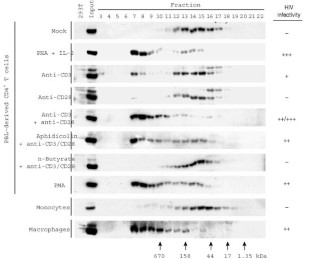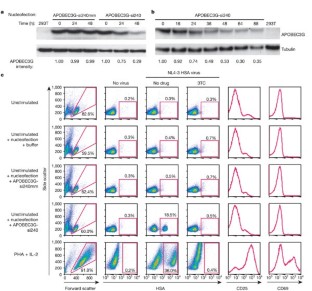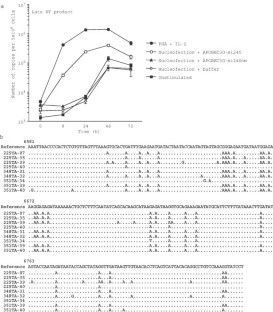 References
Zack, J. A. et al. HIV-1 entry into quiescent primary lymphocytes: molecular analysis reveals a labile, latent viral structure. Cell 61, 213–222 (1990)

Korin, Y. D. & Zack, J. A. Progression to the G1b phase of the cell cycle is required for completion of human immunodeficiency virus type 1 reverse transcription in T cells. J. Virol. 72, 3161–3168 (1998)

Pierson, T. C. et al. Molecular characterization of preintegration latency in human immunodeficiency virus type 1 infection. J. Virol. 76, 8518–8531 (2002)

Stevenson, M., Stanwick, T. L., Dempsey, M. P. & Lamonica, C. A. HIV-1 replication is controlled at the level of T cell activation and proviral integration. EMBO J 9, 1551–1560 (1990)

Sheehy, A. M., Gaddis, N. C., Choi, J. D. & Malim, M. H. Isolation of a human gene that inhibits HIV-1 infection and is suppressed by the viral Vif protein. Nature 418, 646–650 (2002)

Jarmuz, A. et al. An anthropoid-specific locus of orphan C to U RNA-editing enzymes on chromosome 22. Genomics 79, 285–296 (2002)

Harris, R. S., Petersen-Mahrt, S. K. & Neuberger, M. S. RNA editing enzyme APOBEC1 and some of its homologs can act as DNA mutators. Mol. Cell 10, 1247–1253 (2002)

Harris, R. S. et al. DNA deamination mediates innate immunity to retroviral infection. Cell 113, 803–809 (2003)

Mangeat, B. et al. Broad antiretroviral defence by human APOBEC3G through lethal editing of nascent reverse transcripts. Nature 424, 99–103 (2003)

Lecossier, D., Bouchonnet, F., Clavel, F. & Hance, A. J. Hypermutation of HIV-1 DNA in the absence of the Vif protein. Science 300, 1112 (2003)

Zhang, H. et al. The cytidine deaminase CEM15 induces hypermutation in newly synthesized HIV-1 DNA. Nature 424, 94–98 (2003)

Stopak, K., de Noronha, C., Yonemoto, W. & Greene, W. C. HIV-1 Vif blocks the antiviral activity of APOBEC3G by impairing both its translation and intracellular stability. Mol. Cell 12, 591–601 (2003)

Marin, M., Rose, K. M., Kozak, S. L. & Kabat, D. HIV-1 Vif protein binds the editing enzyme APOBEC3G and induces its degradation. Nature Med. 9, 1398–1403 (2003)

Sheehy, A. M., Gaddis, N. C. & Malim, M. H. The antiretroviral enzyme APOBEC3G is degraded by the proteasome in response to HIV-1 Vif. Nature Med. 9, 1404–1407 (2003)

Mariani, R. et al. Species-specific exclusion of APOBEC3G from HIV-1 virions by Vif. Cell 114, 21–31 (2003)

Anant, S. & Davidson, N. O. Molecular mechanisms of apolipoprotein B mRNA editing. Curr. Opin. Lipidol. 12, 159–165 (2001)

Muramatsu, M. et al. Class switch recombination and hypermutation require activation-induced cytidine deaminase (AID), a potential RNA editing enzyme. Cell 102, 553–563 (2000)

Bransteitter, R., Pham, P., Scharff, M. D. & Goodman, M. F. Activation-induced cytidine deaminase deaminates deoxycytidine on single-stranded DNA but requires the action of RNase. Proc. Natl Acad. Sci. USA 100, 4102–4107 (2003)

Yu, X. et al. Induction of APOBEC3G ubiquitination and degradation by an HIV-1 Vif-Cul5-SCF complex. Science 302, 1056–1060 (2003)

Triques, K. & Stevenson, M. Characterization of restrictions to human immunodeficiency virus type 1 infection of monocytes. J. Virol. 78, 5523–5527 (2004)

Eckstein, D. A. et al. HIV-1 actively replicates in naive CD4(+ ) T cells residing within human lymphoid tissues. Immunity 15, 671–682 (2001)

Newman, E. N. et al. Antiviral function of APOBEC3G can be dissociated from cytidine deaminase activity. Curr. Biol. 15, 166–170 (2005)

Turelli, P., Mangeat, B., Jost, S., Vianin, S. & Trono, D. Inhibition of hepatitis B virus replication by APOBEC3G. Science 303, 1829 (2004)

Bishop, K. N. et al. Cytidine deamination of retroviral DNA by diverse APOBEC proteins. Curr. Biol. 14, 1392–1396 (2004)

Liddament, M. T., Brown, W. L., Schumacher, A. J. & Harris, R. S. APOBEC3F properties and hypermutation preferences indicate activity against HIV-1 in vivo . Curr. Biol. 14, 1385–1391 (2004)

Wiegand, H. L., Doehle, B. P., Bogerd, H. P. & Cullen, B. R. A second human antiretroviral factor, APOBEC3F, is suppressed by the HIV-1 and HIV-2 Vif proteins. EMBO J. 23, 2451–2458 (2004)

Zheng, Y. H. et al. Human APOBEC3F is another host factor that blocks human immunodeficiency virus type 1 replication. J. Virol. 78, 6073–6076 (2004)

Stremlau, M. et al. The cytoplasmic body component TRIM5α restricts HIV-1 infection in Old World monkeys. Nature 427, 848–853 (2004)

Ganesh, L. et al. The gene product Murr1 restricts HIV-1 replication in resting CD4+ lymphocytes. Nature 426, 853–857 (2003)

Camaur, D. & Trono, D. Characterization of human immunodeficiency virus type 1 Vif particle incorporation. J. Virol. 70, 6106–6111 (1996)
Acknowledgements
We thank K. Strebel for the gift of the pNL-A1 plasmid, X.-F. Yu for the gift of the Myc-Cul5 plasmid, D. Bohmann for the gift of the His6-tagged ubiquitin expression vector DNA, N. R. Landau for the gift of NL4-3 HSA R-E- reporter provirus through the AIDS Research and Reference Reagent Program at NIH, J. Burns for the gift of expression plasmid pVSV-G, and M. Malim for providing the monoclonal anti-Vif (319) antibody. We thank A. O'Mahony and H. Kwon for assistance with the FPLC experiments; J. Neidleman for assistance preparing the primary cells; M. Cavrois, D. Fenard, A. Yonezawa, J. Bohuslav, L.-F. Chen, C. Martin and S. Williams for discussions; G. Howard and S. Ordway for editorial assistance; and S. Cammack, R. Givens and J. Carroll for assistance in preparation of the manuscript and the graphics. Different components of this work were supported by funding from the National Institutes of Health (Women's HIV Interdisciplinary Network and NIMH; W.C.G.) and the Universitywide AIDS Research Program (W.C.G.) and the American Foundation for AIDS Research (Y.-L.C.).
Ethics declarations
Competing interests
The authors declare that they have no competing financial interests.
Supplementary information
About this article
Cite this article
Chiu, YL., Soros, V., Kreisberg, J. et al. Cellular APOBEC3G restricts HIV-1 infection in resting CD4+ T cells. Nature 435, 108–114 (2005). https://doi.org/10.1038/nature03493
Received:

Accepted:

Published:

Issue Date:

DOI: https://doi.org/10.1038/nature03493
Comments
By submitting a comment you agree to abide by our Terms and Community Guidelines. If you find something abusive or that does not comply with our terms or guidelines please flag it as inappropriate.