Abstract
Defining the molecular strategies that integrate diverse signalling pathways in the expression of specific gene programmes that are critical in homeostasis and disease remains a central issue in biology. This is particularly pertinent in cancer biology because downregulation of tumour metastasis suppressor genes is a common occurrence1,2, and the underlying molecular mechanisms are not well established. Here we report that the downregulation of a metastasis suppressor gene, KAI1, in prostate cancer cells involves the inhibitory actions of β-catenin, along with a reptin chromatin remodelling complex. This inhibitory function of β-catenin–reptin requires both increased β-catenin expression and recruitment of histone deacetylase activity. The coordinated actions of β-catenin–reptin components that mediate the repressive state serve to antagonize a Tip60 coactivator complex3,4,5,6,7,8 that is required for activation; the balance of these opposing complexes controls the expression of KAI1 and metastatic potential. The molecular mechanisms underlying the antagonistic regulation of β-catenin–reptin and the Tip60 coactivator complexes for the metastasis suppressor gene, KAI1, are likely to be prototypic of a selective downregulation strategy for many genes, including a subset of NF-κB target genes.
Relevant articles
Open Access articles citing this article.
Hui Wang

,

Boyuan Li

…

Xiong Ji

Nature Communications Open Access 28 September 2022

Bokyung Kim

&

Kong-Joo Lee

Experimental & Molecular Medicine Open Access 22 March 2021

Semih Can Akincilar

,

Claire Hian Tzer Chan

…

Vinay Tergaonkar

Cellular and Molecular Life Sciences Open Access 18 February 2021
Access options
Subscribe to this journal
Receive 51 print issues and online access
$199.00 per year
only $3.90 per issue
Rent or buy this article
Prices vary by article type
from$1.95
to$39.95
Prices may be subject to local taxes which are calculated during checkout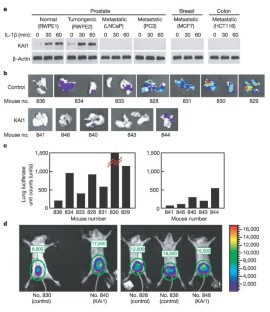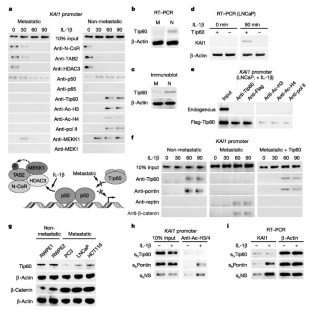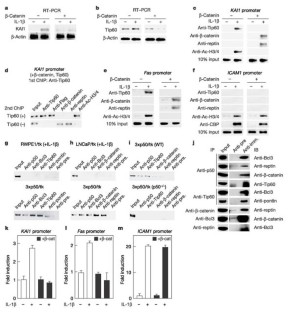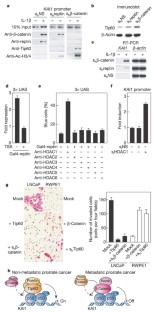 References
Shevde, L. A. & Welch, D. R. Metastasis suppressor pathways-an evolving paradigm. Cancer Lett.198, 1–20 (2003)

Steeg, P. S. Metastasis suppressors alter the signal transduction of cancer cell. Nature Rev. Cancer3, 55–63 (2002)

Feng, Y., Lee, N. & Fearon, E. R. Tip49 regulates β-catenin-mediated neoplastic transformation and T-cell factor target gene induction via effects on chromatin remodeling. Cancer Res.63, 8726–8734 (2003)

Bauer, A., Huber, O. & Kemler, R. Pontin52, an interaction partner of β-catenin binds to the TATA box binding protein. Proc. Natl Acad. Sci. USA95, 14787–14792 (1998)

Bauer, A. et al. Pontin52 and Reptin52 function as antagonistic regulators of β-catenin signaling activity. EMBO J.19, 6121–6130 (2000)

Wood, M. A., McMahon, S. B. & Cole, M. D. An ATPase/helicase complex is an essential cofactor for oncogenic transformation by c-Myc. Mol. Cell5, 321–330 (2000)

Rottbauer, W. et al. Reptin and pontin antagonistically regulate heart growth in zebrafish embryos. Cell111, 661–672 (2002)

Ikura, T. et al. Involvement of the Tip60 histone acetylase complex in DNA repair and apoptosis. Cell102, 463–473 (2000)

Petrylak, D. P. Metastases suppressors and prostate cancer. Nature Med.1, 739–740 (1995)

Dong, J.-T. et al. KAI1, a metastasis suppressor gene for prostate cancer on human chromosome 11p11.2. Science268, 884–886 (1995)

Dong, J.-T. et al. Down-regulation of the KAI1 metastasis suppressor gene during the progression of human prostatic cancer infrequently involves gene mutation or allelic loss. Cancer Res.56, 4387–4390 (1996)

Baek, S. H. et al. Exchange of N-CoR corepressor and Tip60 coactivator complexes links gene expression by NF-κB and β-amyloid precursor protein. Cell110, 55–67 (2002)

Elbashir, S. M. et al. Duplexes of 21-nucleotide RNAs mediate RNA interference in cultured mammalian cells. Nature411, 494–498 (2001)

Hannon, G. J. RNA interference. Nature418, 244–251 (2002)

Aberle, H., Bauer, A., Stappert, J., Kispert, A. & Kemler, R. β-Catenin is a target for the ubiquitin-proteasome pathway. EMBO J.16, 3797–3804 (1997)

Orford, K., Crockett, C., Jensen, J. P., Weissman, A. M. & Byers, S. W. Serine phosphorylation-regulated ubiquitination and degradation of β-catenin. J. Biol. Chem.272, 24735–24738 (1997)

Cheshire, D. R. & Isaacs, W. B. β-Catenin signaling in prostate cancer: an early perspective. Endocr. Relat. Cancer10, 537–560 (2003)

Clever, H. Wnt breakers in colon cancer. Cancer Cell5, 5–6 (2004)

Moon, R. T., Bowerman, B., Boutros, M. & Perrimon, N. The promise and perils of Wnt signaling through β-catenin. Science296, 1644–1646 (2002)

Chesire, D. R., Ewing, C. M., Gage, W. R. & Isaacs, W. B. In vitro evidence for complex modes of nuclear β-catenin signaling during prostate growth and tumorigenesis. Oncogene21, 2679–2694 (2002)

Deng, J. et al. β-Catenin interacts with and inhibits NF-κB in human colon and breast cancer. Cancer Cell2, 323–334 (2002)

Li, J. et al. Novel NEMO/IκB kinase and NF-κB target genes at the pre-B to immature B cell transition. J. Biol. Chem.276, 18579–18590 (2001)

Albini, A. et al. A rapid in vitro assay for quantiating the invasive potential of tumor cells. Cancer Res.47, 3239–3245 (1987)

Kobayashi, H. et al. Inhibition of in vitro ovarian cancer cell invasion by modulation of urokinase-type plasminogen activator and cathespin B. Cancer Res.52, 3610–3614 (1992)

Madrid, L. V. & Baldwin, A. S. Jr Regulation of NF-κB by oncoproteins and tumor suppressor protein. Methods Mol. Biol.223, 523–532 (2003)
Acknowledgements
We thank A. Hoffman for providing p50-knockout immortalized 3T3 cells; E. H. Koo and colleague for making KAI1-expressing LNCaP cells; D. A. Galloway for HPV-E6/E7 retroviral constructs; J.-T. Dong for KAI1 promoter clone; L. B. Owen-Schaub for Fas promoter reporter constructs; M.-C. Hung for mutant β-catenin constructs; K. Matsumoto for 293IL-RI cells; K. I. Kim, Y. K. Park and J. M. Lee for critical reading; and J. Hightower and M. Fisher for figure and manuscript preparation. We acknowledge support from the National R&D programme for cancer control from Ministry of Health & Welfare, Korea Research Foundation grant, and the BK21 Research Fellowship from the Ministry of Education and Human Resources Development (S.H.B.), the NIH (M.G.R., C.L.S., D.W.R.), and the Prostate Cancer Foundation (PCF) and the National Cancer Institute (NCI) (M.G.R.). M.G.R. is an HHMI Investigator.
Ethics declarations
Competing interests
The authors declare that they have no competing financial interests.
Supplementary information
About this article
Cite this article
Kim, J., Kim, B., Cai, L. et al. Transcriptional regulation of a metastasis suppressor gene by Tip60 and β-catenin complexes. Nature 434, 921–926 (2005). https://doi.org/10.1038/nature03452
Received:

Accepted:

Published:

Issue Date:

DOI: https://doi.org/10.1038/nature03452
Comments
By submitting a comment you agree to abide by our Terms and Community Guidelines. If you find something abusive or that does not comply with our terms or guidelines please flag it as inappropriate.