Abstract
Covalent bonding is commonly described by Lewis's theory1, with an electron pair shared between two atoms constituting one full bond. Beginning with the valence bond description2 for the hydrogen molecule, quantum chemists have further explored the fundamental nature of the chemical bond for atoms throughout the periodic table, confirming that most molecules are indeed held together by one electron pair for each bond. But more complex binding may occur when large numbers of atomic orbitals can participate in bond formation. Such behaviour is common with transition metals. When involving heavy actinide elements, metal–metal bonds might prove particularly complicated. To date, evidence for actinide–actinide bonds is restricted to the matrix-isolation3 of uranium hydrides, including H2U–UH2, and the gas-phase detection4 and preliminary theoretical study5 of the uranium molecule, U2. Here we report quantum chemical calculations on U2, showing that, although the strength of the U2 bond is comparable to that of other multiple bonds between transition metals, the bonding pattern is unique. We find that the molecule contains three electron-pair bonds and four one-electron bonds (that is, 10 bonding electrons, corresponding to a quintuple bond), and two ferromagnetically coupled electrons localized on one U atom each—so all known covalent bonding types are contributing.
Relevant articles
Open Access articles citing this article.
Jiaxin Zhuang

,

Roser Morales-Martínez

…

Ning Chen

Nature Communications Open Access 22 April 2021

Morgan P. Kelley

,

Ivan A. Popov

…

Ping Yang

Nature Communications Open Access 25 March 2020

Chaoxian Chi

,

Jia-Qi Wang

…

Jun Li

Nature Communications Open Access 17 October 2019
Access options
Subscribe to Journal
Get full journal access for 1 year
$199.00
only $3.90 per issue
All prices are NET prices.
VAT will be added later in the checkout.
Tax calculation will be finalised during checkout.
Buy article
Get time limited or full article access on ReadCube.
$32.00
All prices are NET prices.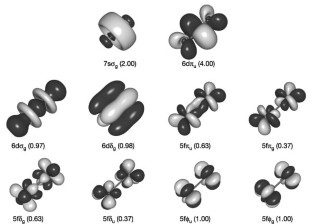 References
Lewis, G. N. The atom and the molecule. J. Am. Chem. Soc. 38, 762–786 (1916)

Heitler, W. & London, F. Wechselwirkung neutraler Atome und homöopolare Bindung nach der Quantenmechanik. Z. Phys. 44, 455–472 (1927)

Souter, P. F., Kushto, G. P., Andrews, L. & Neurock, M. Experimental and theoretical evidence for the formation of several uranium hydride molecules. J. Am. Chem. Soc. 119, 1682–1687 (1997)

Gorokhov, L. N., Emelyanov, A. M. & Khodeev, Y. S. Mass-spectroscopic investigation of stability of gaseous molecules of U2O2 and U2 . High Temp. 12, 1156–1158 (1974)

Pepper, M. & Bursten, B. E. Ab initio studies of the electronic structure of the diuranium molecule. J. Am. Chem. Soc. 112, 7803–7804 (1990)

Cotton, F. A. & Harris, C. B. The crystal and molecular structure of dipotassium octachlorodirhenate(III) dihydrate, K2 [Re2Cl8]2H2O. Inorg. Chem. 4, 330–333 (1965)

Cotton, F. A. & Walton, R. A. Multiple Bonds between Metal Atoms (Wiley & Sons, New York, 1982)

Roos, B. O. The ground state potential for the chromium dimer revisited. Collect. Czech. Chem. Commun. 68, 265–274 (2003)

Roos, B. O. in Advances in Chemical Physics; Ab Initio Methods in Quantum Chemistry – II Ch. 69 (ed. Lawley, K. P.) 399–445 (Wiley & Sons, Chichester, 1987)

Andersson, K., Malmqvist, P.-Å., Roos, B. O., Sadlej, A. J. & Wolinski, K. J. Second-order perturbation theory with a CASSCF reference function. Phys. Chem. 94, 5483–5488 (1990)

Pyykkö, P. Relativistic effects in structural chemistry. Chem. Rev. 88, 563–594 (1988)

Karlström, G. et al. MOLCAS: a program package for computational chemistry. Comput. Mater. Sci. 28, 222–239 (2003)

Gagliardi, L., Heaven, M. C., Wisborg Krogh, J. & Roos, B. O. The electronic spectrum of the UO2 molecule. J. Am. Chem. Soc. (in the press)

Roos, B. O. & Malmqvist, P.-Å. Relativistic quantum chemistry–the multiconfigurational approach. Phys. Chem. Chem. Phys. 6, 2919–2927 (2004)
Acknowledgements
We thank P. Pyykkö and C. J. Cramer for comments on the manuscript, P.-Å. Malmqvist and B. E. Bursten for discussions, and V. Veryazov for graphical assistance. This work was partially supported by Ministero dell'Istruzione, dell'Università e della Ricerca (MIUR), the Swedish Research council (VR) and the Swedish Foundation for Strategic Research (SSF).
Ethics declarations
Competing interests
The authors declare that they have no competing financial interests.
About this article
Cite this article
Gagliardi, L., Roos, B. Quantum chemical calculations show that the uranium molecule U2 has a quintuple bond. Nature 433, 848–851 (2005). https://doi.org/10.1038/nature03249
Received:

Accepted:

Issue Date:

DOI: https://doi.org/10.1038/nature03249
Comments
By submitting a comment you agree to abide by our Terms and Community Guidelines. If you find something abusive or that does not comply with our terms or guidelines please flag it as inappropriate.