Abstract
The Wnt gene family encodes secreted signalling molecules that control cell fate in animal development and human diseases1. Despite its significance, the evolution of this metazoan-specific protein family is unclear. In vertebrates, twelve Wnt subfamilies were defined, of which only six have counterparts in Ecdysozoa (for example, Drosophila and Caenorhabditis)2. Here, we report the isolation of twelve Wnt genes from the sea anemone Nematostella vectensis3, a species representing the basal group4 within cnidarians. Cnidarians are diploblastic animals and the sister-group to bilaterian metazoans5. Phylogenetic analyses of N. vectensis Wnt genes reveal a thus far unpredicted ancestral diversity within the Wnt family2,6,7. Cnidarians and bilaterians have at least eleven of the twelve known Wnt gene subfamilies in common; five subfamilies appear to be lost in the protostome lineage. Expression patterns of Wnt genes during N. vectensis embryogenesis indicate distinct roles of Wnts in gastrulation, resulting in serial overlapping expression domains along the primary axis of the planula larva. This unexpectedly complex inventory of Wnt family signalling factors evolved in early multi-cellular animals about 650 million years (Myr) ago, predating the Cambrian explosion by at least 100 Myr (refs 5, 8). It emphasizes the crucial function of Wnt genes in the diversification of eumetazoan body plans9.
Relevant articles
Open Access articles citing this article.
Cuili Pan

,

Shuzhe Wang

…

Yun Ma

Scientific Reports Open Access 11 January 2022

Jiaqi Liu

,

Qing Xiao

…

Gang Yin

Signal Transduction and Targeted Therapy Open Access 03 January 2022

Tatiana Lebedeva

,

Andrew J. Aman

…

Grigory Genikhovich

Nature Communications Open Access 29 June 2021
Access options
Subscribe to Journal
Get full journal access for 1 year
$199.00
only $3.90 per issue
All prices are NET prices.
VAT will be added later in the checkout.
Tax calculation will be finalised during checkout.
Buy article
Get time limited or full article access on ReadCube.
$32.00
All prices are NET prices.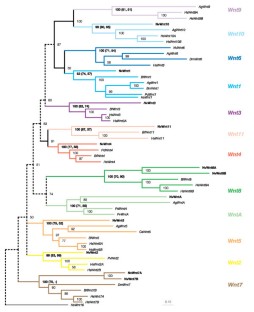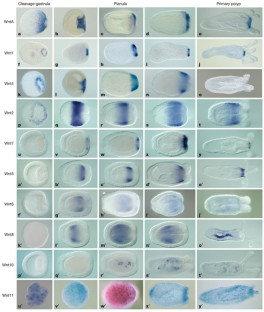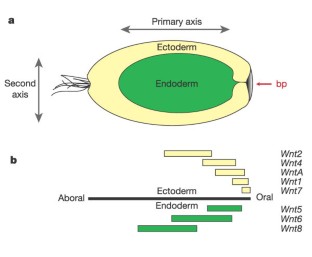 References
Nelson, W. J. & Nusse, R. Convergence of Wnt, beta-catenin, and cadherin pathways. Science 303, 1483–1487 (2004)

Prud'homme, B., Lartillot, N., Balavoine, G., Adoutte, A. & Vervoort, M. Phylogenetic analysis of the Wnt gene family. Insights from lophotrochozoan members. Curr. Biol. 12, 1395–1400 (2002)

Ball, E. E., Hayward, D. C., Saint, R. & Miller, D. J. A simple plan—cnidarians and the origins of developmental mechanisms. Nature Rev. Genet. 5, 567–577 (2004)

Bridge, D., Cunningham, C. W., DeSalle, R. & Buss, L. W. Class-level relationships in the phylum Cnidaria: molecular and morphological evidence. Mol. Biol. Evol. 12, 679–689 (1995)

Peterson, K. J. et al. Estimating metazoan divergence times with a molecular clock. Proc. Natl Acad. Sci. USA 101, 6536–6541 (2004)

Hobmayer, B. et al. WNT signalling molecules act in axis formation in the diploblastic metazoan Hydra. Nature 407, 186–189 (2000)

Holland, L. Z. Heads or tails? Amphioxus and the evolution of anterior-posterior patterning in deuterostomes. Dev. Biol. 241, 209–228 (2002)

Conway Morris, S. The Cambrian "explosion": slow-fuse or megatonnage? Proc. Natl Acad. Sci. USA 97, 4426–4429 (2000)

Primus, A. & Freeman, G. The cnidarian and the canon: the role of Wnt/beta-catenin signaling in the evolution of metazoan embryos. Bioessays 26, 474–478 (2004)

Marsal, M., Pineda, D. & Salo, E. Gtwnt-5, a member of the wnt family, expressed in a subpopulation of the nervous system of the planarian Girardia tigrina. Gene Expr. Patterns 3, 489–495 (2003)

Nusse, R. An ancient cluster of Wnt paralogues. Trends Genet. 17, 443 (2001)

King, N., Hittinger, C. T. & Carroll, S. B. Evolution of key cell signaling and adhesion protein families predates animal origins. Science 301, 361–363 (2003)

Fritzenwanker, J. H., Saina, M. & Technau, U. Analysis of forkhead and snail expression reveals epithelialmesenchymal transitions during embryonic and larval development of Nematostella vectensis . Dev. Biol. 275, 389–402 (2004)

Salvini-Plawen, L. On the origin and evolution of the lower Metazoa. Z. Zool. Syst. Evol. 16, 40–88 (1978)

Finnerty, J. R., Pang, K., Burton, P., Paulson, D. & Martindale, M. Q. Origins of bilateral symmetry: Hox and dpp expression in a sea anemone. Science 304, 1335–1337 (2004)

Angerer, L. M. & Angerer, R. C. Patterning the sea urchin embryo: gene regulatory networks, signaling pathways, and cellular interactions. Curr. Top. Dev. Biol. 53, 159–198 (2003)

Le Gouar, M. et al. Expression of a SoxB and a Wnt2/13 gene during the development of the mollusc Patella vulgata . Dev. Genes Evol. 214, 250–256 (2004)

Lengyel, J. A. & Iwaki, D. D. It takes guts: the Drosophila hindgut as a model system for organogenesis. Dev. Biol. 243, 1–19 (2002)

Technau, U. & Scholz, C. B. Origin and evolution of endoderm and mesoderm. Int. J. Dev. Biol. 47, 531–539 (2003)

Martindale, M. Q., Pang, K. & Finnerty, J. R. Investigating the origins of triploblasty: 'mesodermal' gene expression in a diploblastic animal, the sea anemone Nematostella vectensis (phylum, Cnidaria; class, Anthozoa). Development 131, 2463–2474 (2004)

Davidson, B. & Levine, M. Evolutionary origins of the vertebrate heart: Specification of the cardiac lineage in Ciona intestinalis . Proc. Natl Acad. Sci. USA 100, 11469–11473 (2003)

Christian, J. L., McMahon, J. A., McMahon, A. P. & Moon, R. T. Xwnt-8, a Xenopus Wnt-1/int-1-related gene responsive to mesoderm-inducing growth factors, may play a role in ventral mesodermal patterning during embryogenesis. Development 111, 1045–1055 (1991)

Hoppler, S. & Moon, R. T. BMP-2/-4 and Wnt-8 cooperatively pattern the Xenopus mesoderm. Mech. Dev. 71, 119–129 (1998)

McMahon, A. P. & Bradley, A. The Wnt-1 (int-1) proto-oncogene is required for development of a large region of the mouse brain. Cell 62, 1073–1085 (1990)

McGrew, L. L., Otte, A. P. & Moon, R. T. Analysis of Xwnt-4 in embryos of Xenopus laevis: a Wnt family member expressed in the brain and floor plate. Development 115, 463–473 (1992)

Landesman, Y. & Sokol, S. Y. Xwnt-2b is a novel axis-inducing Xenopus Wnt, which is expressed in embryonic brain. Mech. Dev. 63, 199–209 (1997)

Nakagawa, S., Takada, S., Takada, R. & Takeichi, M. Identification of the laminar-inducing factor: Wnt-signal from the anterior rim induces correct laminar formation of the neural retina in vitro . Dev. Biol. 260, 414–425 (2003)

Holland, P. W. & Garcia-Fernandez, J. Hox genes and chordate evolution. Dev. Biol. 173, 382–395 (1996)

Ng, M. & Yanofsky, M. F. Function and evolution of the plant MADS-box gene family. Nature Rev. Genet. 2, 186–195 (2001)

Vinh, L. S. & von Haeseler, A. IQPNNI: Moving fast through tree space and stopping in time. Mol. Biol. Evol. 21, 1565–1571 (2004)
Acknowledgements
This work was supported by grants from NASA and the NSF to M.Q.M. and the German Science Foundation (DFG) to U.T., B.H. and T.W.H. Some computations were carried out on the JUMP supercomputer at the ZAM/NIC of the Research Center Jülich. We thank A. Busch and C. Niehrs for critically reading the manuscript.
Ethics declarations
Competing interests
The authors declare that they have no competing financial interests.
Supplementary information
About this article
Cite this article
Kusserow, A., Pang, K., Sturm, C. et al. Unexpected complexity of the Wnt gene family in a sea anemone. Nature 433, 156–160 (2005). https://doi.org/10.1038/nature03158
Received:

Accepted:

Issue Date:

DOI: https://doi.org/10.1038/nature03158
Comments
By submitting a comment you agree to abide by our Terms and Community Guidelines. If you find something abusive or that does not comply with our terms or guidelines please flag it as inappropriate.