Abstract
High biodiversity has been shown to enhance ecological stability on small spatial scales and over intervals of weeks to decades1,2,3,4. It remains unclear, however, whether this diversity–stability relationship can be scaled up to regional scales, or to longer timescales5. Without empirical validation at larger scales, the implications of the diversity–stability relationship for both ecology and long-term conservation strategies cannot readily be resolved. Here I show that in biogenic reefs, ecological stability is related to taxonomic diversity on million-year timescales. The higher the mean reef diversity in a particular time interval, the smaller the change in skeletal density, style of reef building and biotic reef types in the subsequent time interval. Because the relationships apply to a wide spectrum of disturbance regimes and reef types, these results support the hypothesis that species richness itself promotes ecological stability3. Carbonate production by reefs, while closely correlated with reef diversity without temporal lag, is not stabilized by reef diversity over these long timescales. This suggests that ecological stability and productivity may be decoupled in natural ecosystems.
This is a preview of subscription content
Access options
Subscribe to Journal
Get full journal access for 1 year
$199.00
only $3.90 per issue
All prices are NET prices.
VAT will be added later in the checkout.
Tax calculation will be finalised during checkout.
Rent or Buy article
Get time limited or full article access on ReadCube.
from$8.99
All prices are NET prices.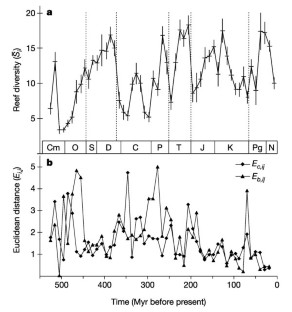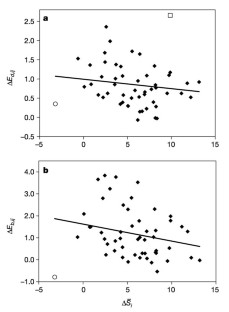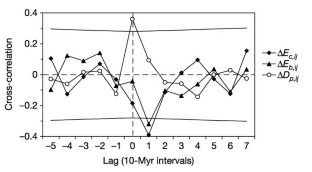 References
1

Tilman, D. & Downing, J. A. Biodiversity and stability in grasslands. Nature 367, 363–365 (1994)

2

McGrady-Steed, J., Harris, P. M. & Morin, P. J. Biodiversity regulates ecosystem predictability. Nature 390, 162–165 (1997)

3

Naeem, S. & Li, S. Biodiversity enhances ecosystem reliability. Nature 390, 507–509 (1997)

4

McCann, K. S. The diversity–stability debate. Nature 405, 228–233 (2000)

5

Loreau, M. et al. Biodiversity and ecosystem functioning: current knowledge and future challenges. Science 294, 804–808 (2001)

6

Webb, G. E. Was Phanerozoic reef history controlled by the distribution of non-enzymatically secreted reef carbonates (microbial carbonate and biologically induced cement)? Sedimentology 43, 947–971 (1996)

7

Kiessling, W. in Phanerozoic Reef Patterns (eds Kiessling, W., Flügel, E. & Golonka, J.) 625–690 (SEPM Special Publication 72, Tulsa, 2002)

8

Wood, R. Reef Evolution (Oxford Univ. Press, Oxford, 1999)

9

Kiessling, W., Flügel, E. & Golonka, J. in Carbonate Platform Systems: Components and Interactions (eds Insalaco, E., Skelton, P. W. & Palmer, T. J.) 191–215 (Geological Society Special Publication 178, London, 2000)

10

Golonka, J. & Kiessling, W. in Phanerozoic Reef Patterns (eds Kiessling, W., Flügel, E. & Golonka, J.) 11–20 (SEPM Special Publication 72, Tulsa, 2002)

11

Kirchner, J. W. & Weil, A. Delayed biological recovery from extinctions throughout the fossil record. Nature 404, 177–180 (2000)

12

Alroy, J. Are Sepkoski's evolutionary faunas dynamically coherent? Evol. Ecol. Res. 6, 1–32 (2004)

13

Jablonski, D. Background and mass extinctions: the alternation of macroevolutionary regimes. Science 231, 129–133 (1986)

14

Flügel, E. in Phanerozoic Reef Patterns (eds Kiessling, W., Flügel, E. & Golonka, J.) 391–463 (SEPM Special Publication 72, Tulsa, 2002)

15

Yachi, S. & Loreau, M. Biodiversity and ecosystem productivity in a fluctuating environment: The insurance hypothesis. Proc. Natl Acad. Sci USA 96, 1463–1468 (1999)

16

Sankaran, M. & McNaughton, S. J. Determinants of biodiversity regulate compositional stability of communities. Nature 401, 691–693 (1999)

17

Bellwood, D. R., Hoey, A. S. & Choat, J. H. Limited functional redundancy in high diversity systems: resilience and ecosystem function on coral reefs. Ecol. Lett. 6, 281–285 (2003)

18

Tilman, D. The ecological consequences of changes in biodiversity: a search for general principles. Ecology 80, 1455–1474 (1999)

19

Tilman, D. et al. Diversity and productivity in a long-term grassland experiment. Science 294, 843–845 (2001)

20

Pfisterer, A. B. & Schmid, B. Diversity-dependent production can decrease the stability of ecosystem functioning. Nature 416, 84–86 (2002)

21

Nyström, M., Folke, C. & Moberg, F. Coral reef disturbance and resilience in a human-dominated environment. Trends Ecol. Evol. 15, 413–417 (2000)

22

Pandolfi, J. M. Response of Pleistocene coral reefs to environmental change over long temporal scales. Am. Zool. 39, 113–130 (1999)

23

Pandolfi, J. M. et al. Global trajectories of the long-term decline of coral reef ecosystems. Science 301, 955–958 (2003)

24

Bellwood, D. R., Hughes, T. P., Folke, C. & Nyström, M. Confronting the coral reef crisis. Nature 429, 827–833 (2004)

25

Kiessling, W. & Flügel, E. in Phanerozoic Reef Patterns (eds Kiessling, W., Flügel, E. & Golonka, J.) 77–92 (SEPM Special Publication 72, Tulsa, 2002)

26

Bellwood, D. R. & Hughes, T. P. Regional-scale assembly rules and biodiversity of coral reefs. Science 292, 1532–1535 (2001)

27

McKinney, M. L. & Oyen, C. W. Causation and nonrandomness in biological and geological time series: temperature as a proximal control of extinction and diversity. Palaios 4, 3–15 (1989)
Acknowledgements
I thank the DFG and the NSF for support of this research and D. Unwin, D. Lazarus, J. Alroy and M. Aberhan for comments. This is Paleobiology Database publication no. 29.
Ethics declarations
Competing interests
The author declares that he has no competing financial interests.
Supplementary information
About this article
Cite this article
Kiessling, W. Long-term relationships between ecological stability and biodiversity in Phanerozoic reefs. Nature 433, 410–413 (2005). https://doi.org/10.1038/nature03152
Received:

Accepted:

Issue Date:
Comments
By submitting a comment you agree to abide by our Terms and Community Guidelines. If you find something abusive or that does not comply with our terms or guidelines please flag it as inappropriate.