Abstract
Transparent electronic devices formed on flexible substrates are expected to meet emerging technological demands where silicon-based electronics cannot provide a solution. Examples of active flexible applications include paper displays and wearable computers1. So far, mainly flexible devices based on hydrogenated amorphous silicon (a-Si:H)2,3,4,5 and organic semiconductors2,6,7,8,9,10 have been investigated. However, the performance of these devices has been insufficient for use as transistors in practical computers and current-driven organic light-emitting diode displays. Fabricating high-performance devices is challenging, owing to a trade-off between processing temperature and device performance. Here, we propose to solve this problem by using a novel semiconducting material—namely, a transparent amorphous oxide semiconductor from the In-Ga-Zn-O system (a-IGZO)—for the active channel in transparent thin-film transistors (TTFTs). The a-IGZO is deposited on polyethylene terephthalate at room temperature and exhibits Hall effect mobilities exceeding 10 cm2 V-1 s-1, which is an order of magnitude larger than for hydrogenated amorphous silicon. TTFTs fabricated on polyethylene terephthalate sheets exhibit saturation mobilities of 6–9 cm2 V-1 s-1, and device characteristics are stable during repetitive bending of the TTFT sheet.
Relevant articles
Open Access articles citing this article.
Sareh Vatani

,

Behdad Barahimi

&

Mohammad Kazem Moravvej-Farshi

Scientific Reports Open Access 13 December 2022

Han-Lin Zhao

,

Gergely Tarsoly

…

Sung-Jin Kim

Scientific Reports Open Access 14 November 2022

Sungwoo Kang

,

Wonseok Jeong

…

Seungwu Han

npj Computational Materials Open Access 12 May 2022
Access options
Subscribe to this journal
Receive 51 print issues and online access
$199.00 per year
only $3.90 per issue
Rent or buy this article
Get just this article for as long as you need it
$39.95
Prices may be subject to local taxes which are calculated during checkout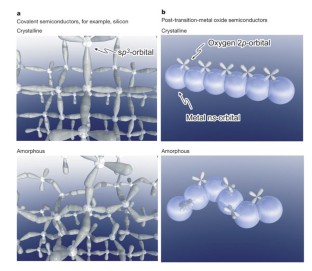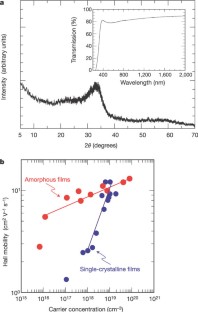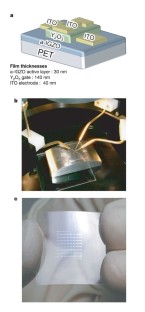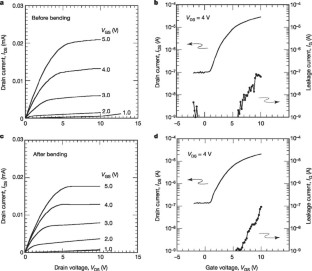 References
Huitema, H. E. A. et al. Plastic transistors in active-matrix displays. Nature 414, 599 (2001)

Kagan, C. R. & Andry, P. (eds) Thin Film Transistors (Marcel Dekker, New York, 2003)

Yang, C.-S., Smith, L. L., Arthur, C. B. & Parsons, G. N. Stability of low-temperature amorphous silicon thin film transistors formed on glass and transparent plastic substrates. J. Vac. Sci. Technol. B 18, 683–689 (2000)

Carey, P. G., Smith, P. M., Theiss, S. D. & Wickboldt, P. Polysilicon thin film transistors fabricated on low temperature plastic substrates. J. Vac. Sci. Technol. A 17, 1946–1949 (2000)

Wang, S. C. et al. Device transfer technology by backside etching for poly-Si thin-film transistors on glass/plastic substrate. Jpn. J. Appl. Phys. 42, 1044–1046 (2003)

Shaw, J. M. & Seidler, P. F. Organic electronics: Introduction. IBM J. Res. Dev. 45, 3–9 (2001)

Dimitrakopoulos, C. D. & Malenfant, P. R. L. Organic thin film transistors for large area electronics. Adv. Mater. 14, 99–117 (2002)

Choi, H. Y., Kim, S. H. & Jang, J. Self-organized organic thin-film transistors on plastic. Adv. Mater. 16, 732–736 (2004)

Lee, J. H. et al. Pentacene thin film transistors fabricated on plastic substrates. Synth. Metals 139, 445–451 (2003)

Dimitrakopoulos, C. D. & Mascaro, D. J. Organic thin-film transistors: A review of recent advances. IBM J. Res. Dev. 45, 11–27 (2001)

Taur, Y. & Ning, H. T. Fundamentals of Modern VLSI Devices (Cambridge Univ. Press, New York, 1988)

Kuo, Y. (ed.) Thin Film Transistors: Materials and Processes (Kluwer Academic, Dordrecht, 2004)

Thomas, G. Invisible circuits. Nature 389, 907–908 (1997)

Kawazoe, H. et al. P-type electrical conduction in transparent thin films of CuAlO2 . Nature 389, 939–942 (1997)

Ohta, H. & Hosono, H. Transparent oxide electronics. Mater. Today 7, 42–51 (2004)

Wager, J. F. Transparent electronics. Science 300, 1245–1246 (2003)

Hosono, H. Built-in nanostructures in transparent oxides for novel photonic and electronic functions materials. Int. J. Appl. Ceram.Technol 1, 106–118 (2004)

Madelung, O. (ed.) Technology and Application of Amorphous Silicon (Springer, Berlin, 2000)

Hosono, H. et al. Working hypothesis to explore novel wide band gap electrically conducting amorphous oxides and examples. J. Non-Cryst. Solids 198–200, 165–169 (1996)

Orita, M. et al. Amorphous transparent conductive oxide InGaO3(ZnO)m (m ≤ 4): a Zn 4s conductor. Phil. Mag. B 81, 501–515 (2001)

Mott, N. F. Silicon dioxide and the chalcogenide semiconductors; similarities and differences. Adv. Phys. 26, 363–391 (1977)

Narushima, S. et al. Electronic structure and transport properties in the transparent amorphous oxide semiconductor 2CdO·GeO2 . Phys. Rev. B 66, 35203 (2002)

Nomura, K. et al. Carrier transport in transparent oxide semiconductor with intrinsic structural randomness probed using single-crystalline InGaO3(ZnO)5 films. Appl. Phys. Lett. 85, 1993–1995 (2004)

Nomura, K. et al. Thin film transistor fabricated in single-crystalline transparent oxide semiconductor. Science 300, 1269–1272 (2003)

Kwo, J. et al. Properties of high k gate dielectrics Gd2O3 and Y2O3 for Si. J. Appl. Phys. 89, 3920–3927 (2001)

Narushima, S. et al. P-type amorphous oxide semiconductor, ZnRh2O4, and room temperature fabrication of amorphous oxide P-N hetero-junction diodes. Adv. Mater. 15, 1409–1413 (2003)
Ethics declarations
Competing interests
The authors declare that they have no competing financial interests.
About this article
Cite this article
Nomura, K., Ohta, H., Takagi, A. et al. Room-temperature fabrication of transparent flexible thin-film transistors using amorphous oxide semiconductors. Nature 432, 488–492 (2004). https://doi.org/10.1038/nature03090
Received:

Accepted:

Issue Date:

DOI: https://doi.org/10.1038/nature03090
Comments
By submitting a comment you agree to abide by our Terms and Community Guidelines. If you find something abusive or that does not comply with our terms or guidelines please flag it as inappropriate.