Abstract
Oscillations in cyclin-dependent kinase (CDK) activity drive the somatic cell cycle. After entry into mitosis, CDKs activate the anaphase-promoting complex (APC), which then promotes cyclin degradation and mitotic exit. The re-accumulation of cyclin A causes the inactivation of APC and entry into S phase, but how cyclin A can accumulate in the presence of active APC has remained unclear. Here we show that, during G1, APC autonomously switches to a state permissive for cyclin A accumulation. Crucial to this transition is the APCCdh1-dependent autoubiquitination and proteasomal degradation of the ubiquitin-conjugating enzyme (E2) UbcH10. Because APC substrates inhibit the autoubiquitination of UbcH10, but not its E2 function, APC activity is maintained as long as G1 substrates are present. Thus, through UbcH10 degradation and cyclin A stabilization, APC autonomously downregulates its activity. This indicates that the core of the metazoan cell cycle could be described as a self-perpetuating but highly regulated oscillator composed of alternating CDK and APC activities.
Relevant articles
Open Access articles citing this article.
Lev Brio

,

Danit Wasserman

…

Amit Tzur

Communications Biology Open Access 28 October 2022

Omar M. Khan

,

Jorge Almagro

…

Axel Behrens

Nature Communications Open Access 06 April 2021

Shivangee Bansal

&

Swati Tiwari

Cell Division Open Access 23 December 2019
Access options
Subscribe to this journal
Receive 51 print issues and online access
$199.00 per year
only $3.90 per issue
Rent or buy this article
Get just this article for as long as you need it
$39.95
Prices may be subject to local taxes which are calculated during checkout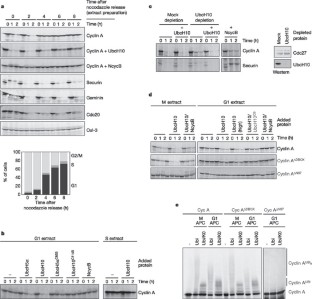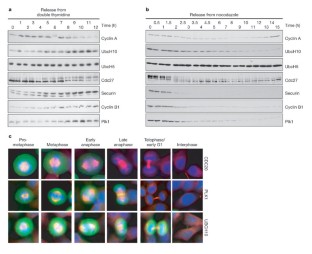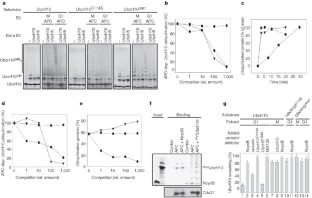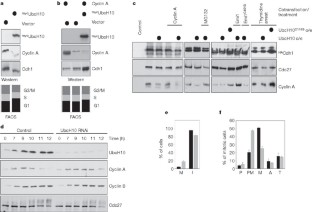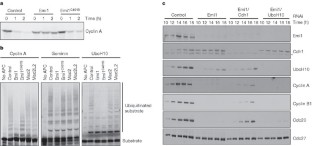 References
Geng, Y. et al. Cyclin E ablation in the mouse. Cell 114, 431–443 (2003)

Ortega, S. et al. Cyclin-dependent kinase 2 is essential for meiosis but not for mitotic cell division in mice. Nature Genet. 35, 25–31 (2003)

Pagano, M., Pepperkok, R., Verde, F., Ansorge, W. & Draetta, G. Cyclin A is required at two points in the human cell cycle. EMBO J. 11, 961–971 (1992)

Erlandsson, F., Linnman, C., Ekholm, S., Bengtsson, E. & Zetterberg, A. A detailed analysis of cyclin A accumulation at the G1/S border in normal and transformed cells. Exp. Cell Res. 259, 86–95 (2000)

Peters, J. M. The anaphase-promoting complex: proteolysis in mitosis and beyond. Mol. Cell 9, 931–943 (2002)

Petersen, B. O. et al. Cell-cycle- and cell growth-regulated proteolysis of mammalian CDC6 is dependent on APC-CDH1. Genes Dev. 14, 2330–2343 (2000)

Araki, M., Wharton, R. P., Tang, Z., Yu, H. & Asano, M. Degradation of origin recognition complex large subunit by the anaphase-promoting complex in Drosophila. EMBO J. 22, 6115–6126 (2003)

Hsu, J. Y., Reimann, J. D. R., Sorensen, C. S., Lukas, J. & Jackson, P. K. E2F-dependent accumulation of hEmi1 regulates S phase entry by inhibiting APCCdh1. Nature Cell Biol. 4, 358–366 (2002)

Lukas, C. et al. Accumulation of cyclin B1 requires E2F and cyclin A-dependent rearrangement of the anaphase-promoting complex. Nature 401, 815–818 (1999)

Kramer, E. R., Scheuringer, N., Podtelejnikov, A. V., Mann, M. & Peters, J. M. Mitotic regulation of APC activator proteins CDC20 and CDH1. Mol. Biol. Cell 11, 1555–1569 (2000)

Sorensen, C. S. et al. A conserved cyclin-binding domain determines functional interplay between anaphase-promoting complex-Cdh1 and cyclin A-Cdk2 during cell cycle progression. Mol. Cell. Biol. 21, 3692–3703 (2001)

Geley, S. et al. Anaphase-promoting complex/cyclosome-dependent proteolysis of human cyclin A starts at the beginning of mitosis and is not subject to the spindle assembly checkpoint. J. Cell Biol. 153, 137–148 (2001)

den Elzen, N. & Pines, J. Cyclin A is destroyed in prometaphase and can delay chromosome alignment and anaphase. J. Cell Biol. 153, 121–136 (2001)

Jacobs, H. W., Keidel, E. & Lehner, C. F. A complex degradation signal in Cyclin A required for G1 arrest, and a C-terminal region for mitosis. EMBO J. 20, 2376–2386 (2001)

Sigrist, S. J. & Lehner, C. F. Drosophila fizzy-related down-regulates mitotic cyclins and is required for cell proliferation arrest and entry into endocycles. Cell 90, 671–681 (1997)

Margottin-Goguet, F. et al. Prophase destruction of Emi1 by the SCF(βTrCP/Slimb) ubiquitin ligase activates the anaphase promoting complex to allow progression beyond metaphase. Dev. Cell 4, 813–826 (2003)

Sprenger, F., Yakubovich, N. & O'Farrell, P. H. S-phase function of Drosophila cyclin A and its downregulation in G1 phase. Curr. Biol. 7, 488–499 (1997)

Tang, Z. et al. APC2 cullin protein and APC11 RING protein comprise the minimal ubiquitin ligase module of the anaphase-promoting complex. Mol. Biol. Cell 12, 3839–3851 (2001)

Yamanaka, A. et al. Cell cycle-dependent expression of mammalian E2-C regulated by the anaphase-promoting complex/cyclosome. Mol. Biol. Cell 11, 2821–2831 (2000)

Listovsky, T. et al. Mammalian Cdh1/Fzr mediates its own degradation. EMBO J. 23, 1619–1626 (2004)

Kraft, C. et al. Mitotic regulation of the human anaphase-promoting complex by phosphorylation. EMBO J. 22, 6598–6609 (2003)
Acknowledgements
We are very grateful to P. Jackson for Emi1 constructs and the Emi1-antibody. We thank the members of the Kirschner laboratory for advice, especially S. Rankin, K. Kwan and N. Ayad; J. Schaletzky, O. Stemmann and M. Springer for discussions; and M. Overholczer for help with the FACS analysis. M.R. was funded by an EMBO long-term fellowship and by a fellowship of the Human Frontiers Science Organization. This work was supported by grants from the National Institutes of Health to M.W.K.
Ethics declarations
Competing interests
The authors declare that they have no competing financial interests.
Supplementary information
About this article
Cite this article
Rape, M., Kirschner, M. Autonomous regulation of the anaphase-promoting complex couples mitosis to S-phase entry. Nature 432, 588–595 (2004). https://doi.org/10.1038/nature03023
Received:

Accepted:

Published:

Issue Date:

DOI: https://doi.org/10.1038/nature03023
Comments
By submitting a comment you agree to abide by our Terms and Community Guidelines. If you find something abusive or that does not comply with our terms or guidelines please flag it as inappropriate.